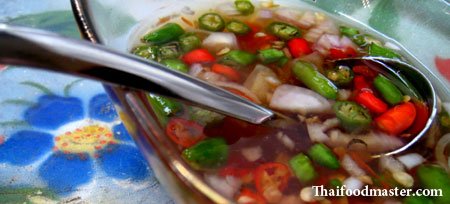 Mixing finely chopped fresh chilies including their seeds with fish sauce and a splash of lime juice makes the staple sauce accompanying almost every Thai dish. Restaurants reserve it an honor place on the table, next to the tissue paper and the tooth picks. The debate is on. Some call it "phrik naam bplaa" other will insist on "naam bplaa phrik". Whatever it's called, every Thai will admit that some foods just do not taste right without it. It is unimaginable having hot and crispy Thai omelette over rice without it. So, make a batch of it. It will keep for a few weeks in the fridge and will bring you closer to Thailand as it does to the millions of Thais abroad every day.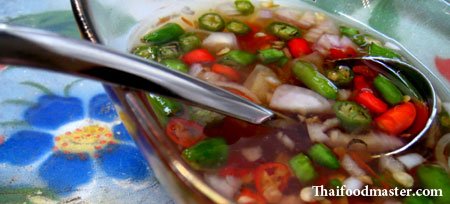 Chili & Lime Fish Sauce Recipeตรทำพริกน้ำปลา
Ingredients
3-6

fresh bird's eye chili (kee noo suan) (พริกขี้หนูสวนสด)

with the seeds, cut into very thin rounds

3

tbs

fish sauce (น้ำปลา)

lime juice (น้ำมะนาว)

3

shallots (หอมแดง)

chopped thinly

Pinch

granulated sugar (น้ำตาลทราย)
Instructions
Mix all the ingredients and keep in the fridge in a closed container. Sprinkle gently over food.
Tried this recipe?
We'd love to see it - tag it #THAIFOODMASTER on Instagram! Please leave a comment to let us know how it was!