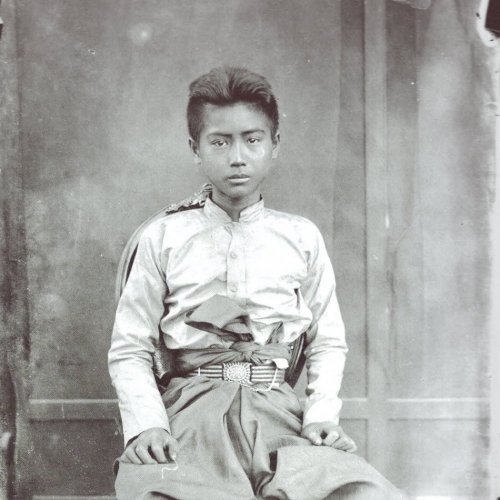 Thaan Khun (ท่านขุนฯ)
Regular Contributor, Consultant
"Thaan Khun" (ท่านขุนฯ) also known as "The cold-blooded royal chef" (In Thai: "Khun Wisaeht Leuuat Yen" ขุนวิเสทเลือดเย็น).
"The Cold-Blooded Royal Chef" ("Khun Wisaeht Leuuat Yen"), or in short "Thaan Khun" is the pen name of a former university professor who is devoting his time for studying and promoting the art of ancient Thai cuisine. Thaan Khun passion is the wisdom of age-old, traditional royal Thai cuisine to which he was exposed since early childhood.
During King Rama V reign (King Chulalongkorn the Great, 1868-1910), an era considered to be one of the most prosperous periods in the history of Siam. The royal court collected a vast number of precious recipes, culinary know-how, and techniques. Since the end of the monarchy rule of Siam in 1932, this knowledge is gradually vanishing.
With his diligent determination to promote and preserve the Art of Thai cuisine Thaan Khun offers consultations to restaurants and government organizations. He also helps setting up food stalls specializing in hard to find dishes, all across the kingdom, including locations such as the Royal Thai Air Force Airport and leading department stores.
In his research, Thaan Khun relay on historical data, archived documents and rare books dated from the 18th century (early Rattanakosin era) until 1932.
In July 2014 Thaan Khun had begun publishing a series of online articles about authentic, ancient Thai desserts. Within a short period of time, his unique style and well-researched articles drew a huge numbers of followers. Now, with over 200 articles published, Thaan Khun established the "Khun Wiset Culinary Center for the Study of Ancient Thai Cuisine." through which he disseminates his knowledge and writings.
Thaan Khun has joined Thaifoodmaster.com team in late 2015 as a regular contributor and a consultant.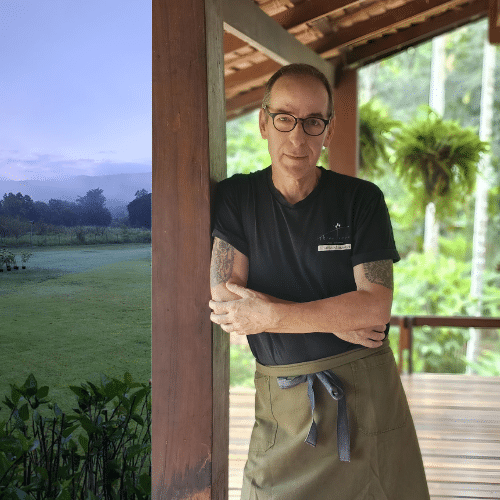 Hanuman
Thai food Scholar and founder of Thaifoodmaster.com
Co-founder of Three Trees Doi Saket
I'm Hanuman, your guide to unlocking the true potential of Thai cuisine. Since 1989, I've been deeply immersed in the cultural and culinary landscape of Thailand, and I've dedicated myself to breaking down misconceptions surrounding Thai food.
While Thai cuisine has gained international acclaim, it's often misunderstood. Its rich history and the ingenuity of the Thai people have been overlooked, often reduced to commercial stereotypes. I'm committed to changing that. My goal is to offer you the tools to not only cook Thai food but to truly understand its essence.
I specialize in transformative Thai Culinary Workshops, uniquely set against the backdrop of Thailand's scenic and natural countryside. These comprehensive workshops delve deeply into both Old-Fashioned and Modern Thai cuisine, catering to everyone from professional chefs to aspiring home cooks. Expect a significant enhancement of your culinary skills and a deepening understanding of the intricacies that make Thai cuisine exceptional.
Through my proven set of practical tools and analytical courses, I aim to show you how to structure your culinary learning in an effective and insightful manner. Whether you're a professional looking for specialized training or a serious Thai food enthusiast, my courses offer a one-of-a-kind culinary education in English, tailored for all skill levels.
I've put great effort into developing this platform and I invite you to explore its content. Feel free to reach out to me through the contact form for any comments, questions, or even recipe requests. You're also more than welcome to share your culinary creations inspired by this site.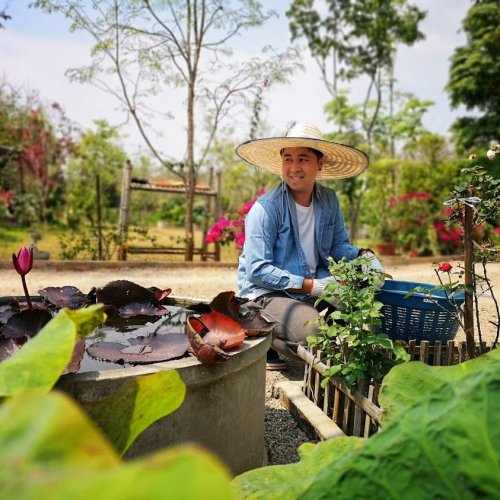 Noppadol Srinorakut (Ton)
Software developer and Internet Business
Ton brings over 20 years of Internet software expertise to Thaifoodmaster. Prior to Thaifoodmaster, Ton was a senior system analyst of The Ganoksin Project. Ton got his start in Internet marketing and community building in the early 90's. He enjoys his work now even better as he gets the chance to taste everything that we cook in our test kitchen.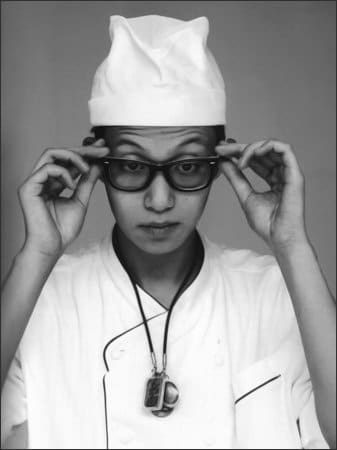 Thapakorn Lertviriyavit (Chef Gorn)
ฐาปกร เลิศวิริยะวิทย์ (เชฟกร)
Research, Recipe Development (2016-2017)
Gorn, doesn't like to be called a chef – he believes that his profession is more than just cooking tasty dishes at the famous restaurant for which he works for. His taste in music is trendy and modern, but his passion in cooking is old-school Thai style. He immerses himself in a stand still world of old books, recipe notes and life diaries of generations no longer with us. He looks backward in time to find his future career. He is passionate to gain wisdom, follows, records, and remains respectful for the skills and techniques of the old Thai culinary wisdom. Almost anyone can cook well by practicing the same dish many times and Gorn who is known for his knife techniques keeps his senses open. His passion is to experiment, to test and taste, and revive old and almost forgotten culinary texts into up-to-date dishes. We are proud in Gorn's talent for carefully examining and preserving the fading culinary arts of old Siam into tested recipes that he shares with us here on Thaifoodmaster.com