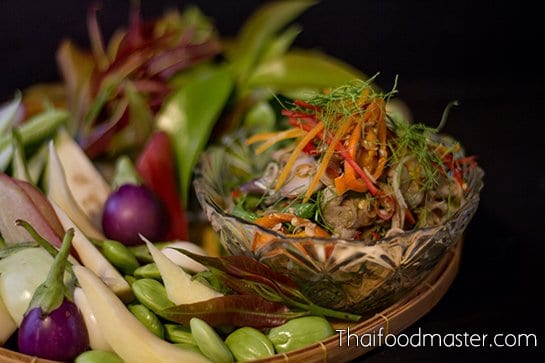 basic Thai cooking techniques
If we could strip away the spices, the seasonings, the vegetables and the herbs from savory dishes we could uncover their naked flavor profile core. There, we would encounter a strong savory-umami, sometimes coupled with other basic elements of smoke and fat. This flavor core is, for us humans, the sought-after taste of protein; our first sip of mother's milk, and the primal experience of burned game meat on the fire.
Today we would like to highlight a powerhouse for umami creation: the fermentation process. We will focus on fermented fish innards from southern Thailand (dtai bpla ไตปลา), one of about a dozen fermented products used in the country. We will show you how chefs for the capital's elite, as early as or, before the reign of King Phra Phutthaloetla Naphalai (Rama II, 1767-1824), harnessed its wild nature and created a dish similar to what we present today – a salad with infused fermented fish innards dressing.
Read More »