I had the great honor of being a guest in the talk show "Princess Diary" hosted by The Thai Princess Thun Kramom Ying Ubonrat. The show went on air on MCOT (Channel 9) late September 2010. In the show I had the honor to prepare Thai papaya salad and offered it to the Princess to taste.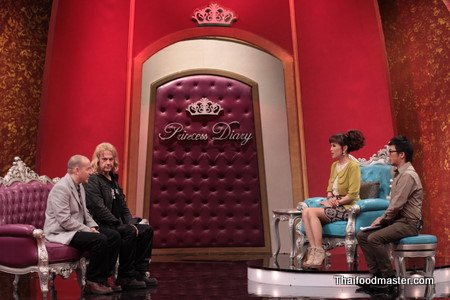 ผมได้รับเกียรติอย่างสูงไปออกรายการ Princess Diary ของทูลกระหม่อมหญิงอบุลรัตนฯ ซึ่งพระองค์เป็นผู้ดำเนินรายการ รายการออกอากาศปลายเดือนกันยายน 2553. ในรายการผมได้รับเกียรติที่จะทำส้มตำถวายแก่พระองค์ด้วยครับ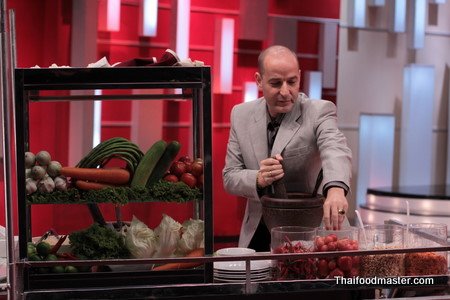 Newspaper Articles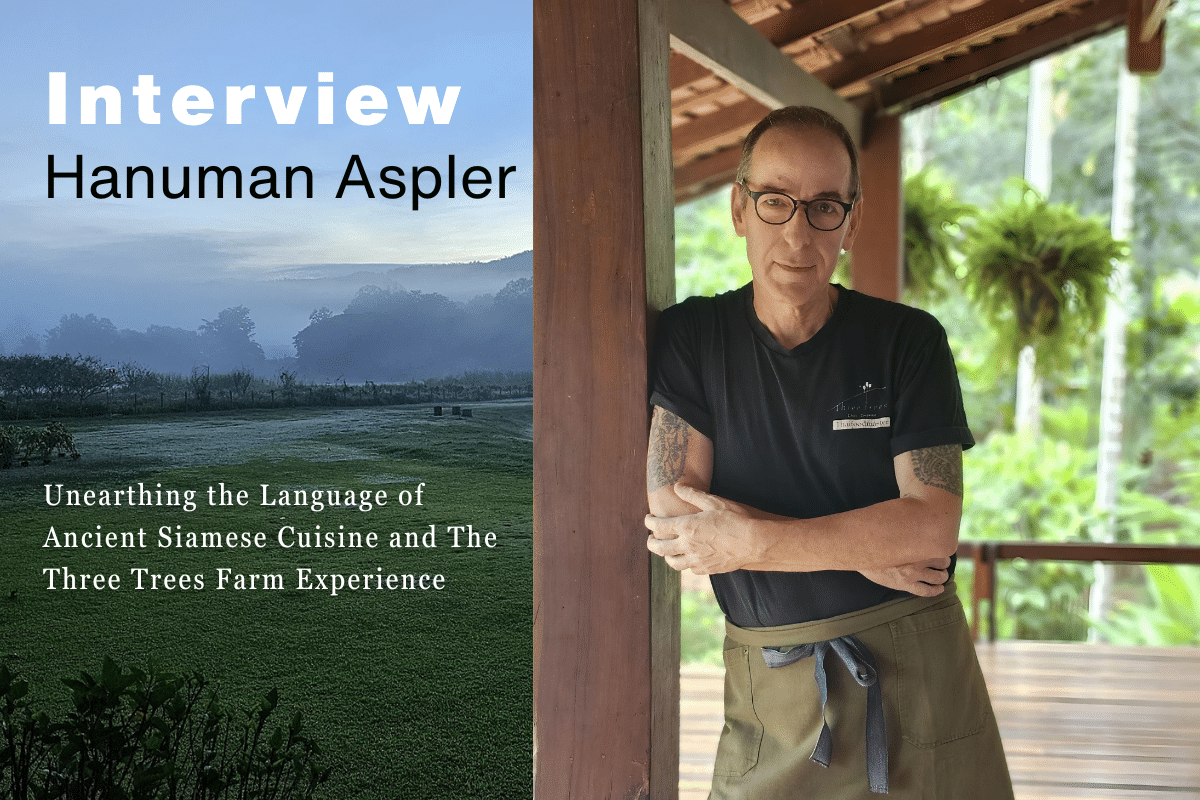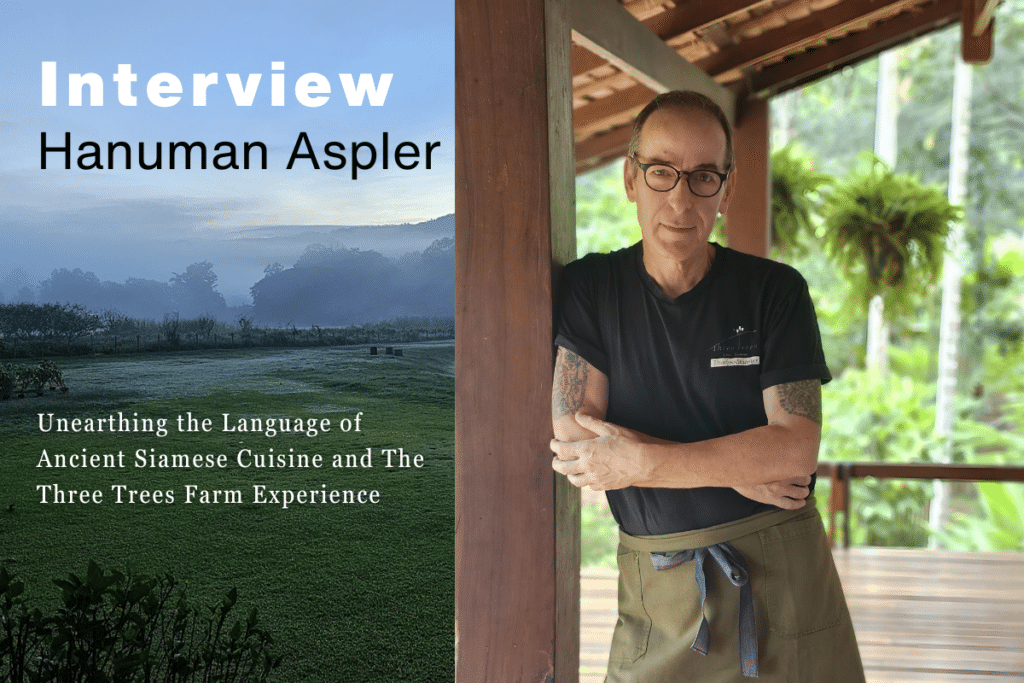 Interview: Hanuman Aspler – Unearthing the Language of Ancient Siamese Cuisine and The Three Trees Farm Experience
In this revealing interview, Asha Tanna sits down with Hanuman Aspler to explore his one-of-a-kind philosophy on Thai cooking. Located a mere 40 minutes from central Chiang Mai, Hanuman's Three Trees Farm offers more than just a cooking class—it provides an education in ancient Siamese cuisine. But Hanuman isn't interested in merely passing on recipes. Drawing from old manuscripts, he treats Thai cooking as a language with its own set of rules and syntax. His unique blend of historical understanding and hands-on practice makes his teaching style a standout in Thailand's culinary scene. Continue reading to delve into his unique approach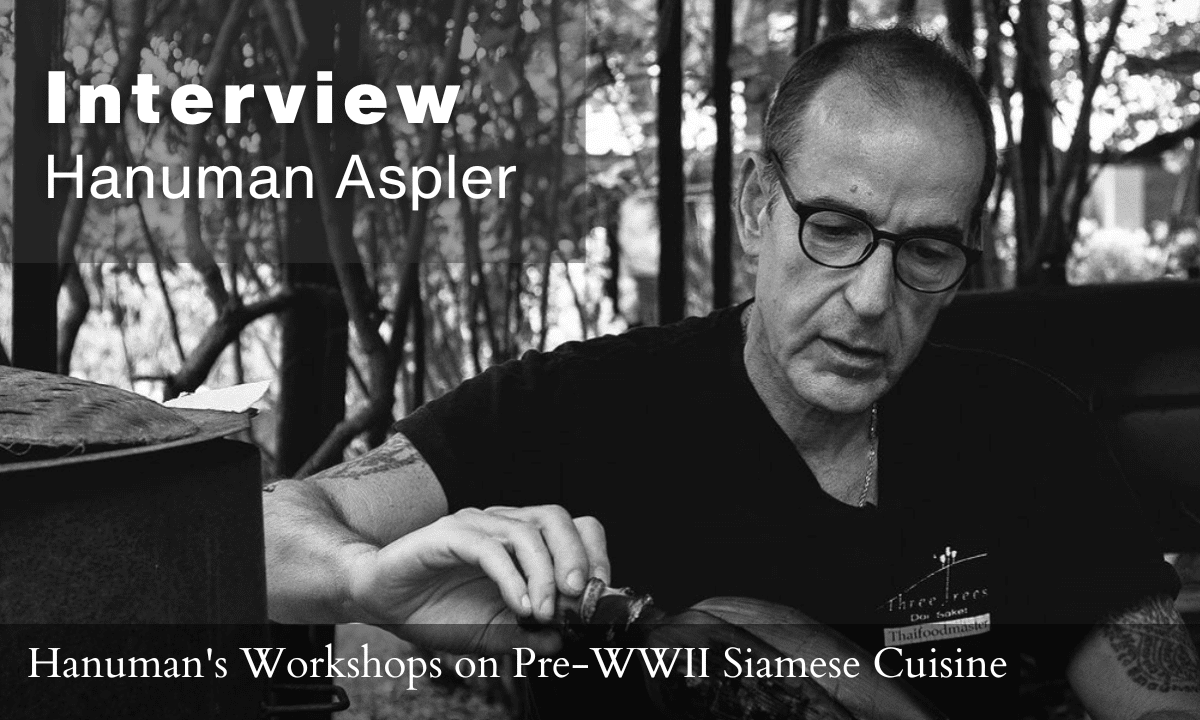 Unlock Thai Cuisine: Hanuman's Workshops on Pre-WWII Siamese Cuisine
Cracking the Culinary Code" offers an in-depth look into Hanuman's revolutionary approach to food and his exploration into the forgotten realm of Pre-World War II Siamese cuisine. Written by Beto Ortiz for Humans Of The Kitchen, this article challenges the conventional wisdom surrounding culinary education. While culinary schools offer valuable knowledge, they often fall short in preparing aspiring chefs for the real-world challenges of the kitchen. Hanuman, believes in a more hands-on, immersive experience that goes beyond mere recipes. His teaching philosophy aims to instill a deep understanding of the 'why' behind each dish, encouraging students to think critically and creatively. If you've ever questioned the value of traditional culinary schools or yearned for a more holistic understanding of food, this article is a must-read. Dive into Hanuman's unique layers of culinary understanding, from the ingredients to the cultural and technical aspects, and discover how you can elevate your own Thai cooking skills. Don't miss this opportunity to unlock the secrets of Thai cuisine from a whole new perspective.
הישראלי שהקים בית ספר לבישול באמצע היער התאילנדי
Haaretz Newspaper (In Hebrew),
by Ronit Vered
17 January 2018
הסודות הטעימים של צפון תאילנד
Ynet Food (In Hebrew),
By Michal Waxman
16 May 2017
Manager newspaper, 12 December 2016 (In Thai) (Read online)
A Day Magazine #192 The outsider: Does Authenticity Really Exist? (In Thai)
ตามหารากเหง้าของอาหารประจำชาติไปกับกลุ่มผู้สร้างพื้นที่รวบรวมสูตรอาหารไทยที่งดงามอย่างไม่มีใครเหมือน
August 2016
תאילנד פינת תל-אביב: 3 מתכונים
Ynet Food (In Hebrew),
By Michal Waxman
26 July 2016
שפת המטבח התאילנדי עם הנומן אספלר
Haaretz Newspaper (In Hebrew),
by Ronit Vered
13 April 2016
אבודים בבנגקוק
Ynet Food (In Hebrew),
By Michal Waxman
16 February 2016
!האנומן, מלך הקופים שולט
Beygale (In Hebrew),
By Naama Peled
11 January, 2016
הרופא הישראלי שהפך את האוכל התאילנדי לאמנותו
Haaretz Newspaper (In Hebrew),
by Ronit Vered and Guy Rubanenko
13 October 2014,
TV Shows
Full Episode: (Thai Version)
Spirit of Asia ตามหาความอร่อยกับหนุมาน อาสเปอร์
(18 ต.ค. 63) Thai PBS Channel
Full Episode: Mark Wiens visits Three Trees Doi Saket
Meet the UMAMI MASTER of Thai Food! | Northern Thai Food – Chiang Mai, Thailand

"Thai Tee Rak" TV show. NBT2 channel.
รายการเส้นทางประเทศไทย ชุดไทยที่รัก ตอนหนุมาน องครักษ์พิทักษ์อาหารไทย แบบเต็มมาแล้วครับ
ช่อง NBT2
Chan Rak Mueng Thai Show
Channel 9, MCOT
March 2010
Runtime: 40m 5s
Livin' Show
April 2010
Runtime: 15m 30s
Princess Diary Show
Channel 9, MCOT
September 2010
Runtime: 51m 52s