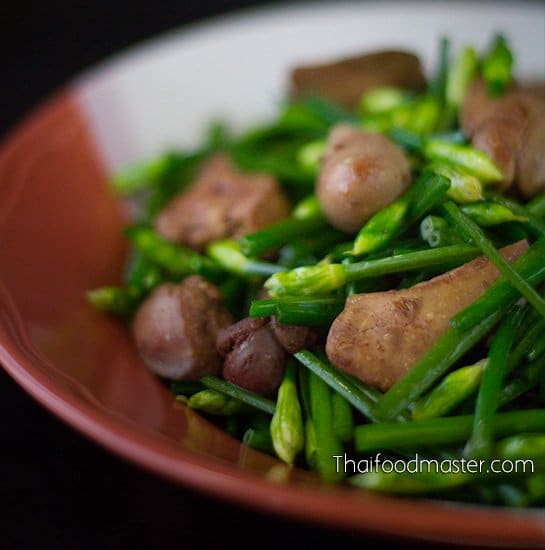 A quick and tasty dish from the hot mouth of the dragon with only three ingredients! Flowering Chives, Pork Liver and Garlic.
Flowering Chives are all year round favorites for their mild garlicky flavor, and can be purchased inexpensively at almost any Asian market.
In Thailand we like to fry them with pork, pork liver or shrimp. These flowering chives are actually the unopened bud stems of garlic chives, also known as Chinese chives.
Flowering chives have that lovely mild garlic chive flavor with sweet core inside the long fibered green stem. When choosing flowering chives, you should look for unopened flower buds with a thick and juicy steam. This will provide a full flavor and a soft bit through the fibrous stem.
Pork Liver Fried With Flowering Chives Recipe
Ingredients
200gr Flowering chives, cut into 4cm (1.5″) long pieces.
100gr Pork liver, cut into thin bite size pieces.
3 Cloves garlic, crushed and chopped roughly
2 tbs Light soy sauce
1/2 tbs Fermented yellow bean sauce (เต้าเจี้ยว) or 1 tbs Fish sauce.
1/2 tsp Ground white pepper
1/2 tsp Granulated sugar
1/4 Cup Pork stock or water
2 tbs Rice bran oil (or any neutral  taste cooking oil)
Preparation:
Add oil to an iron cast wok on a medium high-heat place.
Fry lightly the garlic until fragrant only.
Add liver slices and stir-fry quickly until almost done.
Add flowering chives, and keep stir frying until the chives get a shiny color from the juices.
Mix the seasoning sauce; light soy sauce, yellow bean sauce, sugar and white pepper – add to the wok and keep stir frying