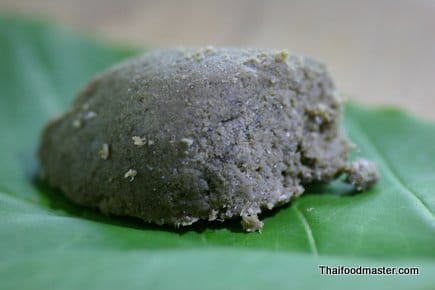 It is thought that gabpi maawn was introduced to Thai cuisine by the Mon people, an ethnic group of Burma.
gabpi maawn is made from the flesh of small fresh water fishes, such as Thai river sprat (ปลาชิว) and Siamese mud carp (ปลาสร้อย). The fishes are sun dried and then finely pounded. They are left to ferment with salt for a minimum of one month.
gabpi maawn is greenish-black in color and is less salty than shrimp made gabpi. It is an essential ingredient in curry pastes and can be substitute with only half the amount of fermented shrimp paste.
gabpi maawn refrigerated in a tight container last almost indefinitely.