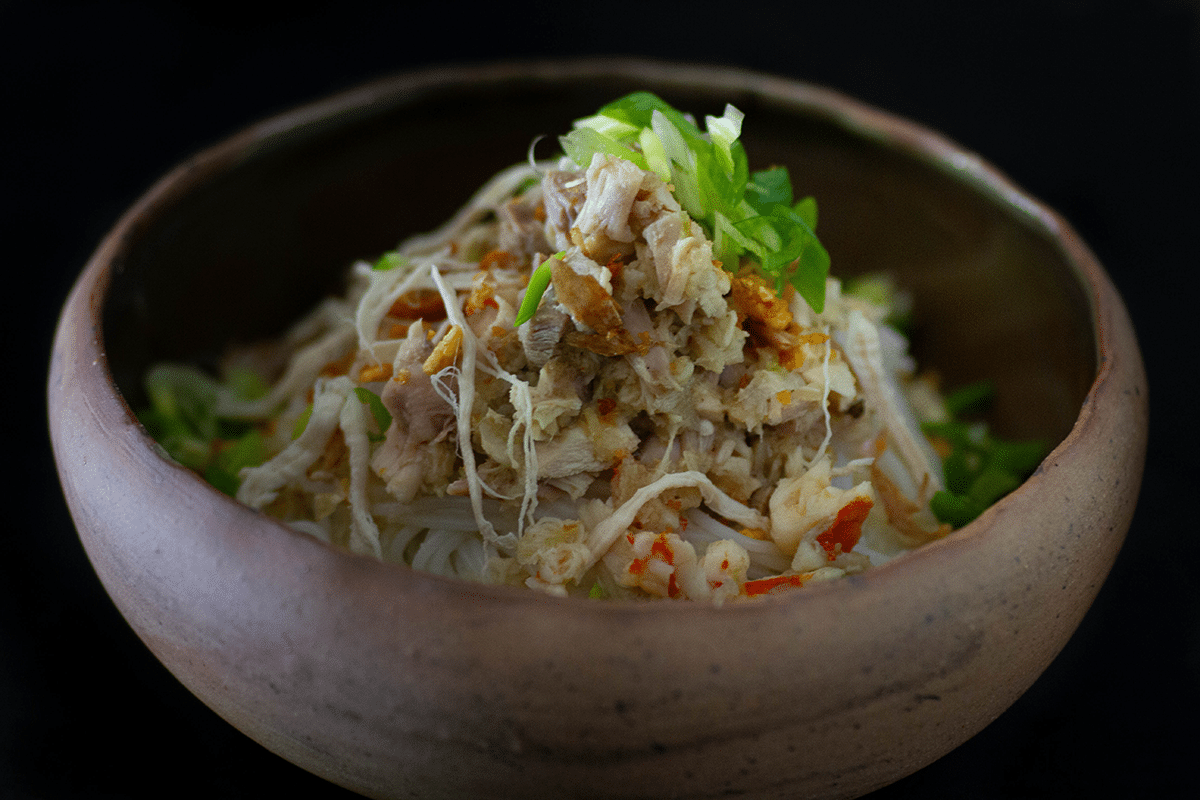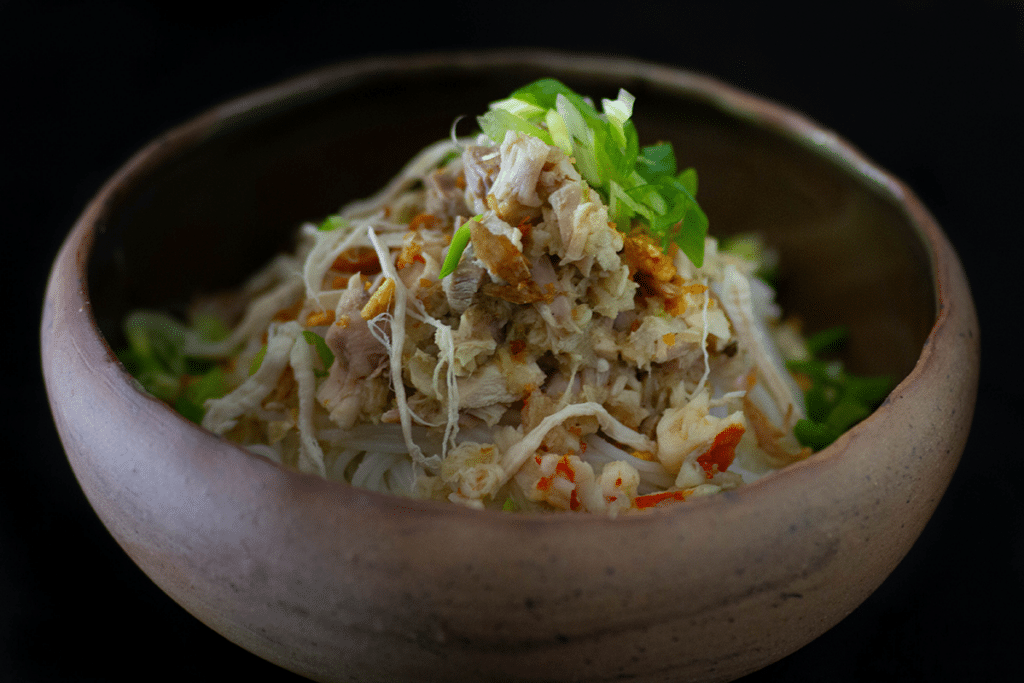 Among the various curries that can be poured over khanom jeen fermented rice noodles, this broth, known as Chinese-style "naam yaa," is unique in that it is a water-based curry that does not have chilies. As such, rather than the typical reddish-rust color of most coconut-based naam ya dishes from the Central Plains of the Kingdom, the sauce glows with a soft, light ivory hue, beautifully reflecting the dish's natural sweet-savoriness, which is derived from slow-braising three proteins – chicken, pork and shrimp – along with a curry paste galvanized by smoke-dried fish and aromatic roots like galangal, fingerroot and sand ginger. The naam ya broth is served over a bed of fermented rice noodles and garnished with toppings such as delicate pulled chicken breast threads, golden-crispy fried shallots and garlic, and vivid green fresh coriander leaves and spring onion. All these elements add a visual grace and a hint of freshness to the robust broth – the signature dish of Prince Krom Luang Pitak Montri (กรมหลวงพิทักษ์มนตรี).
His Royal Highness Prince Krom Luang Pitak Montri was born in 1760, to an aristocratic family with roots in Ayutthaya. In the aftermath of the city's catastrophic destruction by the Burmese, the prince's family, like many other affluent families of the time, sought refuge, safety and a new beginning in the emerging Thonburi Kingdom. Prince Krom Luang Pitak Montri lived during a period of revival and transition, marked by the cultural fusion propelled by Chinese influences and the determined recovery after the fall of Ayutthaya in 1765.
This cultural synthesis, paired with the resilience of the Ayutthayans, eventually led to the fall of the Thonburi Kingdom and the rise of the Rattanakosin Kingdom. As a young man, the prince would have witnessed Bangkok rise upon the opposite bank of the Chao Phraya River as Siam's new capital city in 1782. He lived through the reigns of three kings, and when he died in 1822 at the age of 62, he left behind an impressive legacy in the arts, the theater, dance and engineering. Among his numerous contributions is this recipe, preserved by his descendants and ultimately shared with us by Lady Plean Passakornrawong in her 1908 book Maae Khruaa Huaa Bpaa (MKHP) – and echoing the ancient culinary traditions and taste awareness of the Siamese aristocracy as far back as the Kingdom of Ayutthaya.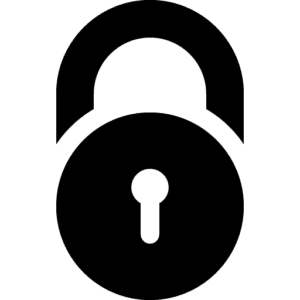 Unlock exclusive content!
Log in now or become a valued subscriber 
Login