This page is also available in: Thai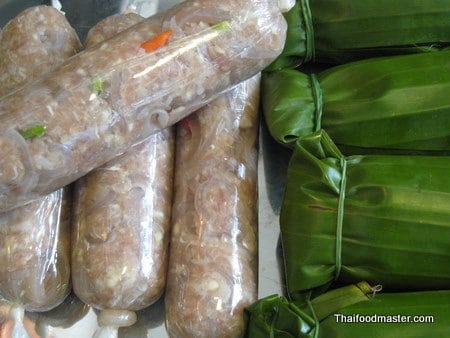 Search the luggage of Thai people travelling aboard and you will surely find food items rolled with a newspaper or a piece of cloth, hidden deep in their bags. Thai students will never travel without a jar of their favorite Roasted Chili Jam and Thai Housewives will always carry their preferred Fermented Shrimp Paste. Both will probably also carry couple of fermented Thai sausages as well.
You see, the intense and defined flavors of Thai cuisine, so harmonically coming together to a full whole, is simply irreplaceable. Thai people will not survive long without their loved Thai food.
Naem is a fermented sausage made with pork, pork skins, cooked sticky rice (gelatinous), fresh garlic, salt, sugar and bird's eye chilies. The sausage is wrapped in banana leaves or synthetic casings and fermented for 3-5 to days at about 30C and 50% humidity. The fermentation process enables the growth of Lactic acid bacteria and yeasts, mostly lactobacilli, which accounts to the sourness of the sausage. The salt acts as an inhibitor preventing the meat from going rotten, allowing Lactic acid bacteria and yeasts to feed on the rice and sugar, fermenting the meat to perfection.
Naem is usually eaten with sliced ginger, chopped shallots, peanuts, bird's eye chilies and spring onions. The fresh shallots give the dish a sweet heat that harmonizes well with the sourness of the naem.
Naem is also used in many recipes, the better known are fried rice with naem and naem fried with eggs.
Whether eaten raw or used for cooking, Thai sausages are packed with flavors!
So, for You, Thai people living abroad and for you, the lover of Thai food, I prepared this step by step tutorial on how to prepare a homemade fermented Thai sausage.
Fermented Thai Pork Sausage Recipe
Ingredients:
1kg Pork lean Meat, Minced
350 gr Pork Skin
25 cloves Garlic
2 1/2 tbs Sea salt
1/2 tbs Sugar
1 tsp Monosodium Glutamate
1 Cup Cooked sticky rice (gelatinous rice)
40 bird's eye chilies
Steps
Trim and discard all the fat from the pork, leaving only lean red meat.
Mince the pork meat. I use an old fashioned heavy duty manual meat grinder to do the job and rarely relay on the butcher for help.
Clean the pork skin by rubbing vigorously with rough sea salt and white vinegar. Wash with running water. Repeat as necessary until the skin is clean and smooth.
Cook the skin in boiling water until the skin become transparent and break easily when pinched. This can take up to 40 minutes.
Shred the skin into thin strips of approximately 2mm wide and 4cm long
In a mixing bowl combine all the ingredients; the pork meat, skin, garlic, rice, salt, sugar and MSG and work everything with your hands until the mixture is well and evenly mixed.
According to the size of the sausage you make, arrange pork mixture on one corner of 20 x 20 cm banana leaf. Top with bird's eye chilies, and roll as shown in the picture. If you do not have access to banana leaves you can use plastic wraps to create the sausage.
Allow to ferment for 3-5 to days at about 30C and 50% humidity.