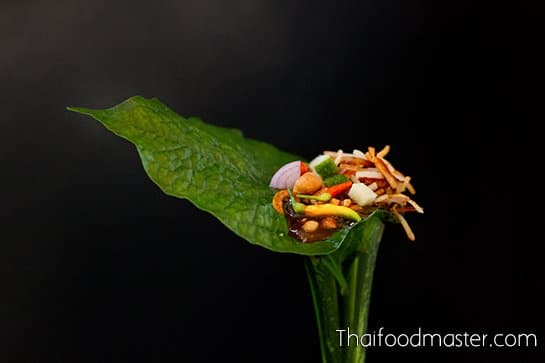 Miang kham is a leaf-wrapped hors d'oeuvre that, in addition to its ingredients, binds together the history of two kingdoms, tea culture and the life of one queen.
Pouches of Goodness
Miang kham is made from wrapping various ingredients into wild piper leaves (chaphlu, ชะพลู, Piper sarmentosum, wild betel), composing a single bite parcel.
Each leaf-wrapped parcel is a kaleidoscope of flavors and richness, textures, aromas and sensations. Fresh green-earthy-chlorophyll-herby-tobacco-peppery wild betel leaves enfold bursts of flavor from nutty roasted peanuts and crispy roasted coconut matches, the umami of savory dry shrimp, pungent-sweet diced shallots, small ginger cubes with a warm bite, sour and bitter unpeeled lime cubes, citrusy perfumed diced bitter orange (som za), naughty whole fresh tiny bird's eye chilies, and small slices of the sharp and sour dtaling bpling (Averrhoa bilimbi, a relative of the carambola/starfuit). All of which is blended with a thick paste of sweet-sour and salty palm sugar and tamarind sauce.
The miang kham takes every taste bud on a fascinating pleasure trip through sweetness, saltiness, sourness, bitterness, and umami, piquancy, sharpness and spiciness, with an array of textures that slowly subside as the journey ends, leading to a familiar post orgasmic expression, a smile and the desire for more.
This desire for more is most likely what underlay ML Neuuang Ninrat's (หม่อมหลวงเนื่อง นิลรัตน์) version of the leaf rolls she calls miang yaak, ("desired for" miang, เมี่ยงอยาก). In a memoir describing her life in the royal courts of Kings Rama V and VI, ML Ninrat utilizes pork crackling, palm sugar, fermented shrimp paste and other common ingredients found in every traditional Thai kitchen to compose the ultimate bite.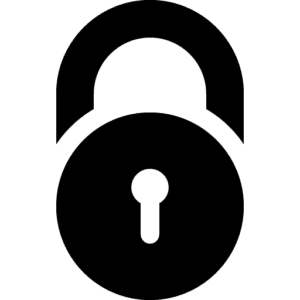 Unlock exclusive content!
Log in now or become a valued subscriber 
Login