This page is also available in: Thai
Introduction
This is the first article in series of posts that I have prepared in the last few months, covering over a dozen Laotian dishes.
Stay tuned and read about my special Laotian Taste Adventure here on thaifoodmaster.com
I feel that content related to Laotian Cuisine is appropriate on a Thai Food blog since Northern Thai cuisine (Lanna) and North-Eastern Thai cuisine (Issarn) bear similarities to the Laotian cuisine, and historically, they share similar ethnic origins.
While these regions show a wide ethnic diversity, they are mostly populated by descendants of "Tai" people, whom around the seventh century A.D started migrating from what is known today as Yunnan province in China and settled in these areas.
Whereas Thai Cuisine has embraced new ingredients and techniques over the years, most Laotian Cuisine, apart from some French influence, remained mostly untouched. In this context, the authenticity of the Food Culture of both countries is well related and preserved across the barriers of language, ingredients and the regional tastes; we can view Laotian Kitchen as a close relative to Thai Cuisine.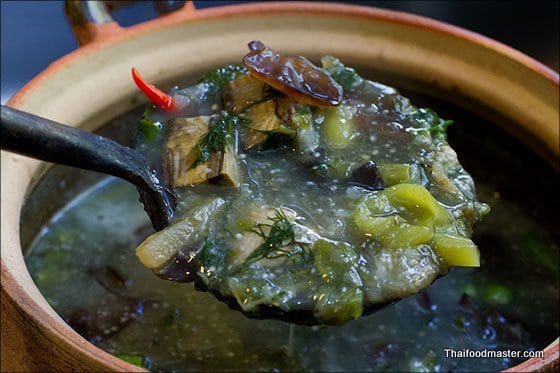 Or Lam (Aw-Laam, Thai: เอาะหลาม, Lao: ເອາະຫຼາມ)
This Laotian dish is popular in the mountainous region of Luang Prabang, the magical city in the northern part of Central Laos.
It is a complex and mildly spicy stew, multi layered with flavors and textures, creating a unique, nutritious and delicious dish. It possesses a subtle harmony within a charismatic orchestra of flavors and textures; the taste of meat coupled with the sweetness of vegetables, opposing the bitterness of the greens and willingly surrendering to the aroma of fresh dill and fragrant lemon basil… but it's not all yet….
The stew's base is a mild peppery broth prepared by slowly simmering lemongrass, chili and pepper wood (sakhaan) with the preferred meat, depends on the type of meat, it can be used fresh, dried, salted or grilled.
The meat of choice is usually dried and salted buffalo meat, but really, any meat can be used – game meat (usually roasted first), quails, small jungle birds, deer, beef and even the common chicken will make a great Or Lam.
Occasionally, stripes of sun-dried buffalo skin are also added, precooked in salty water to eliminate the leathery odor, to the point where they are soft and gelatinous, with a jelly-like consistency.
Also commonly used in Or Lam is the wild pepper vine (Piper ribesioides) (Sakhaan, Thai: สะค้าน Lao: ໄມ້ສະຄານ) (Other names: jakhaan จะค้าน,  dtakhaanlek ตะค้านเล็ก, dtakhaanyuaak, ตะค้านหยวก ), also known as chili wood due to its spicy, strong peppery flavor and light bitter notes. It gives the dish an unmistakable spicy heat followed by, not an unpleasant, numbing of the lips. The Sakhaan is peeled and cooked until its outer layers get texture similar to artichoke hearts.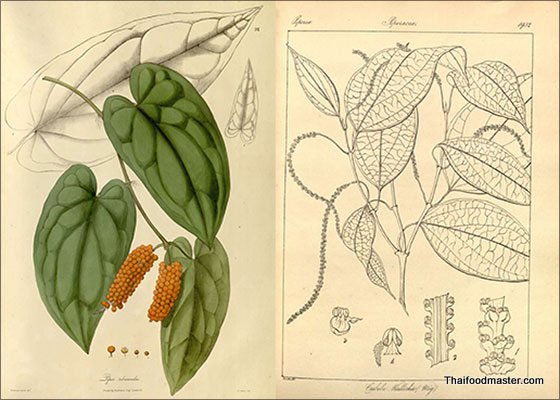 Once the broth is ready, and meat is well cocked, vegetables and black wood ear fungus (het hoo noo ; เห็ดหูหนู ) are added, followed by the bitter green leaves of ivy gourd (dtamleung ; ตำลึง).
The stew is then thickens to silkiness by adding sticky rice flour and mashed cooked eggplants.
To finish the dish, loads of fresh lemon basil (bai maaengak; แมงลัก) and dill are thrown in, a clear aromatic signal for an upcoming feast.
I assume that you would probably need to order a second or even third bowl as I did, before you could grasp the full range of tastes of Or Lam.
สวัสดีครับ
เอาะหลามเป็นอาหารพื้นบ้านของลาว โดยเฉพาะที่หลวงพระบาง มีลักษณะเป็นน้ำแกงข้น ๆ รสชาติกลมกล่อมออกเผ็ดร้อนอ่อน ๆ รสชาติของเนื้อสัตว์ที่ใช้ก็สามารถเข้ากันได้ดีกับความหวานที่ได้จากผัก และ รสขมอ่อน ๆ ที่ได้จากใบตำลึง แถมด้วยความหอมจากสมุนไพร ใบแมงลัก และ ผักชีลาว
เอาะหลามส่วนมากจะใช้ไม้สะค้านซึ่งเป็นไม้ป่า ตระกูลเดียวกับพริกไทย ที่ให้ความเผ็ดอ่อน ๆ และ ชาที่ลิ้น แต่ถ้าเราไม่มีสะค้านก็ไม่ต้องใส่ก็ได้ หรือ เราสามารถเพิ่มพริกหอม หรือ ชวงเจีย และ ก้านพลูเล็กน้อยลงไปแทนก็ได้
ความเข้มข้นของน้ำแกงนี้ได้จากแป้งข้าวเหนียว และ เนื้อมะเขือเปราะที่ต้มและโขลกจนละเอียด ก่อนที่จะนำมาใส่ลงในเอาะหลาม
นอกจากนั้นแล้วคนลาวนิยมที่จะใส่หนังควายแห้งที่ต้มจนนุ่มแล้วลงไปด้วย ส่วนเนื้อสัตว์ที่ใช้ ส่วนใหญ่จะใช้เนื้อควายแห้ง เนื้อนกกระทาเนื้อวัว เนื้อสัตว์ป่าต่าง ๆ หรือ แม้แต่เนื้อไก่ธรรมดา ก็สามารถทำเป็นเอาะหลามที่อร่อย ๆ ได้
วันนี้หนุมานนำสูตรการทำเอาะหลามแบบฉบับหลวงพระบางมาแนะนำ สูตรนี้ผมได้ไปศึกษามาจากแม่ครัวที่หลวงพระบาง รวมทั้งสูตรอาหารลาวพื้นเมืองอีกหลาย ๆ อย่าง ซึ่งจะนำมาทำให้ดูในคราวต่อ ๆ ไปครับ
Or Lam Gai Recipe
สูตรทำเอาะหลามไก่ใส่สะค้าน
Step by step tutorial: Or Lam (Aw-Laam, Thai: เอาะหลาม, Lao: ເອາະຫຼາມ), Mild spicy thick and aromatic Laotian stew of chicken.
Ingredients
chicken breasts meat, cut into large chunks
5 cups of water
4 tablespoons salt
50 g of sun-dried Buffalo skin (optional)
7 inch piece of sakhaan (about 18 cm) (optional)
1 teaspoon ground white pepper
2 tablespoons fish sauce
2 stalks of lemongrass, bruised
6-8 birds eye chilies
6+3 Apple eggplants
1 cup black ear mushrooms.
1 banana chili
1 cup long yarn beans
1 tablespoon sticky rice flour, mixed with water.
1 1/2 cups green leaves of Ivy gourd (bai dtamleun)
1 cup lemon basil (bai maaengak)
1/2 cup fresh dill
ส่วนผสม
เนื้ออกไก่หั่นเป็นชิ้น ๆ พอคำ 350 กรัม
น้ำเปล่า 5 ถ้วย
เกลือป่น 4 ช้อนโต๊ะ
หนังควายแห้ง 50 กรัม (ถ้ามี)
สะค้าน 1 ชิ้นขนาดประมาณ 7 นิ้ว (ประมาณ 18 ซม. ) (ถ้ามี)
พริกไทยป่น 1 ช้อนชา
น้ำปลา 2 ช้อนโต๊ะ
ตะไคร้ 2 ต้น
พริกขี้หนู 6-8 เม็ด
มะเขือเปราะ 6 +3 ลูก
เห็ดหูหนู 1 ถ้วย
พริกหยวก 1 เม็ด
ถั่วฝักยาว 1 ถ้วย
แป้งข้าวเหนียว 1 ช้อนโต๊ะ
ใบตำลึง 1 1/2 ถ้วย
ใบแมงลัก 1 ถ้วย
ผักชีลาว1/2 ถ้วย
Method
Bring water to a boil, add salt.
ตั้งหม้อใส่น้ำและเกลือลงไป ต้มให้เดือดจัด

Add stripes of sun-dried buffalo skin.
ใส่หนังควายแห้งลงไปต้ม

Simmer the buffalo skins in the boiling salted water for about 20 minutes over high flame.
ต้มไปเรื่อย ๆ

Discard and replace the cooking water couple of times in order to remove bad odors.
จากนั้นเทน้ำต้มหนังควายทิ้ง แล้วใส่น้ำใหม่ลงไป ต้มต่อไปเรื่อย ๆ ทำอย่างนี้ไป 2-3 รอบ

Cook the skins stripes until they become gelatinous and soft.
ต้มจนหน้งควายนุ่ม

Strain, and set aside.
กรองน้ำทิ้ง จากนั้นพักเอาไว้

With a heavy knife chop the sakhaan into 15" (4 cm) pieces, then peel off the outer woody layer, and set aside.
ฝ่าไม้สะค้านตามแนวยาว แล้วแบ่งออกเป็น 4 ส่วน แกะเปลือกออก

The sakhaan
เราจะใช้เฉพาะส่วนเนื้อไม้สะค้านข้างในที่เป็นสีขาว ๆ เท่านั้น

To a large cooking pot bring to a boil 5 cups of water over high heat, then add about two stalks of bruised lemongrass.
ตั้งหม้อใส่น้ำเปล่า 5 ถ้วยให้เดือด แล้วใส่ตะไคร้ลงไป

Add 5 to 8 Thai chilies.
ใส่พริกขี้หนูลงไป

Add the chopped sakhaan.
ใส่เนื้อไม้สะค้านลงไป

Season with ground white pepper.
ใส่พริกไทยป่นลงไป

Add fish sauce.
ใส่น้ำปลา

Let it all to simmer together until the sakhaan soften, than add the precooked buffalo skins stripes.
ต้มเครื่องปรุงทั้งหมดจนเนื้อไม้สะค้านเริ่มนุ่ม แล้วนำหนังควายที่ต้มเอาไว้แล้วใส่ลงไป

While the broth is simmering, add 6 to 8 Apple eggplants.
ใส่มะเขือเปราะลงไปต้ม

Cook the eggplants until soft.
ต้มจนมะเขือเปราะสุกนุ่ม

When cooked, remove the eggplants from the pot.
ให้ตักมะเขือเปราะออกมา

In the paste and mortar mash the eggplants until no lumps are left, set-aside.
นำมะเขือเปราะใส่ลงไปโขลกในครกให้ละเอียด จากนั้นพักเอาไว้

Add the chicken slices, and let it cook for about 10 minutes, or until done.
ใส่เนื้อไก่ลงไปต้มจนเนื้อไก่สุก

Add black ear mushrooms.
ใส่เห็ดหูหนูลงไป

Add sliced banana chili.
ใส่พริกหยวกลงไป

And long yarn beans.
ใส่ถั่วฝักยาวลงไป

And some more apple eggplants cut in quarters, and cook the vegetables for another 10 minutes or until soft.
เพิ่มมะเขือเปราะลงไปต้มจนสุก

Mix about 2 tablespoons of sticky rice flour with some water and mix well Add to the mixture to the broth; keep cooking until the broth thickened.
ผสมแป้งข้าวเหนียวกับน้ำเปล่า ค้นให้แป้งละลาย ใส่แป้งลงไป ต้มต่อไปจนน้ำแกงเริ่มข้น

Add the tumbling leaves, and cook for about 5 minutes.
ใส่ใบตำลึงลงไป

Add the mashed eggplants.
ใส่เนื้อมะเขือเปราะที่โขลกเอาไว้แล้วลงไป

Let everything to cook together for another 10 to 15 minutes so the flavors will merge together.
คนให้เข้ากัน และ ต้มต่อไปอีกสักพักให้รสชาติเข้ากันดี

Add lemon basil.
ใส่ใบแมงลักลงไป

Finish the dish with a handful of dill.
ใส่ผักชีลาวลงไป

serve
ตักใส่ถ้วยเสริฟ

And one last picture for food modeling.

Notes
Please adjust cooking time if using different meats than chicken. Dried meats should be put in to cook earlier, together with the sakhaan.