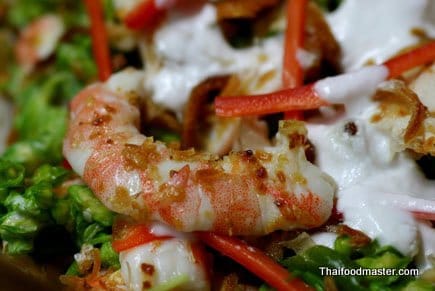 The first Thai restaurant in London was opened during the 1960's by HRH Princess Jurairat Nasiriman (1910-2000) (พระเจ้าวรวงศ์เธอ พระองค์เจ้าจุไรรัตนศิริมาน), the granddaughter of HRH King Mongkut (Rama IV). Princess Jurairat chose to offer this salad on the menu and named it "Salad of Thai Milkweed Flower". (Other names: Cowslip creeper, Telosma Cordata)
This fresh and tasty salad is so vibrant and easy for us to enjoy, it takes in the very basic flavors, sweet, salty, hot and sour and wrap them in a creamy coat of reduced coconut cream. The milkweed flower buds retain their crunchiness and their pleasant fragrance with only a gentle and very quick blanching in sweet boiling water.
This classy food is cooked in less than 10 minutes and the princess presents it with an extra crunch of deep fried sweet shallots and garlic and pleasantly decorates it with fresh red long chili juliennes and reduced coconut cream.
Everything you need to lift your spirits.
Besides being tasty and very easy to make, its cooking philosophy teaches us to be humble with our actions so not to obstruct the final goal, and to preserve the fundamental characters of the ingredients we use.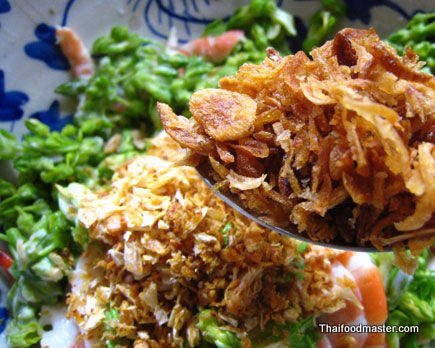 Salad of Thai milkweed flower buds
Ingredients
5-7

pieces

shrimp

heads on, shell on, about 150 gr

100

gr

lean pork meat

sliced thinly

200

gr

milkweed flower buds

(about 2 cups)

2

tablespoons

deep fried crispy shallots

2

tablespoons

deep fried crispy garlic

2

tablespoon

granulated sugar

1

piece

fresh red long chili

cut into juliennes
Salad Dressing
1

piece

garlic clove

medium size

5-6

pieces

fresh bird's eye chilies

1 1/2

tablespoons

lime juice

1 1/2

tablespoons

fish sauce

1/2

tablespoon

granulated sugar

1/3

cup

coconut milk

reduced to about 4 tablespoons
Instructions
Method
In boiling water, cook the shrimp until just done, for about 1-2 minutes.

Peel the shrimp and slice them halfway. Remove the black vein. Set aside.

In the same water, cook the pork until done, for about 1-2 minutes. Set aside.

Add granulated sugar to clean water and bring to the boil.

Place the flower buds on a strainer and dip the flowers in the sweetened boiling water three times, 1-2 second each time.

Transfer the flowers immediately to an ice bath, Strain and set aside
Method Salad Dressing
In a small saucepan over low heat bring the coconut cream to a boil, mix it constantly and keep stirring until the coconut cream thickens and small oil drops appear on its surface. Set aside and cool to room temperature.

In a mortar and pestle pound the garlic to a smooth paste, add chilies and roughly bruise them
Method Combine Salad
In a serving bowl, mix the cooked shrimps, the cooked pork and salad dressing

Add the blanched milkweed flower buds, mix well

Add half of the reduced coconut cream (about 2 tablespoons)

Add crispy deep fried garlic and shallots, toss everything gently to mix

Decorate with the rest of the reduced coconut cream and fresh red long chili juliennes
Tried this recipe?
We'd love to see it - tag it #THAIFOODMASTER on Instagram! Please leave a comment to let us know how it was!