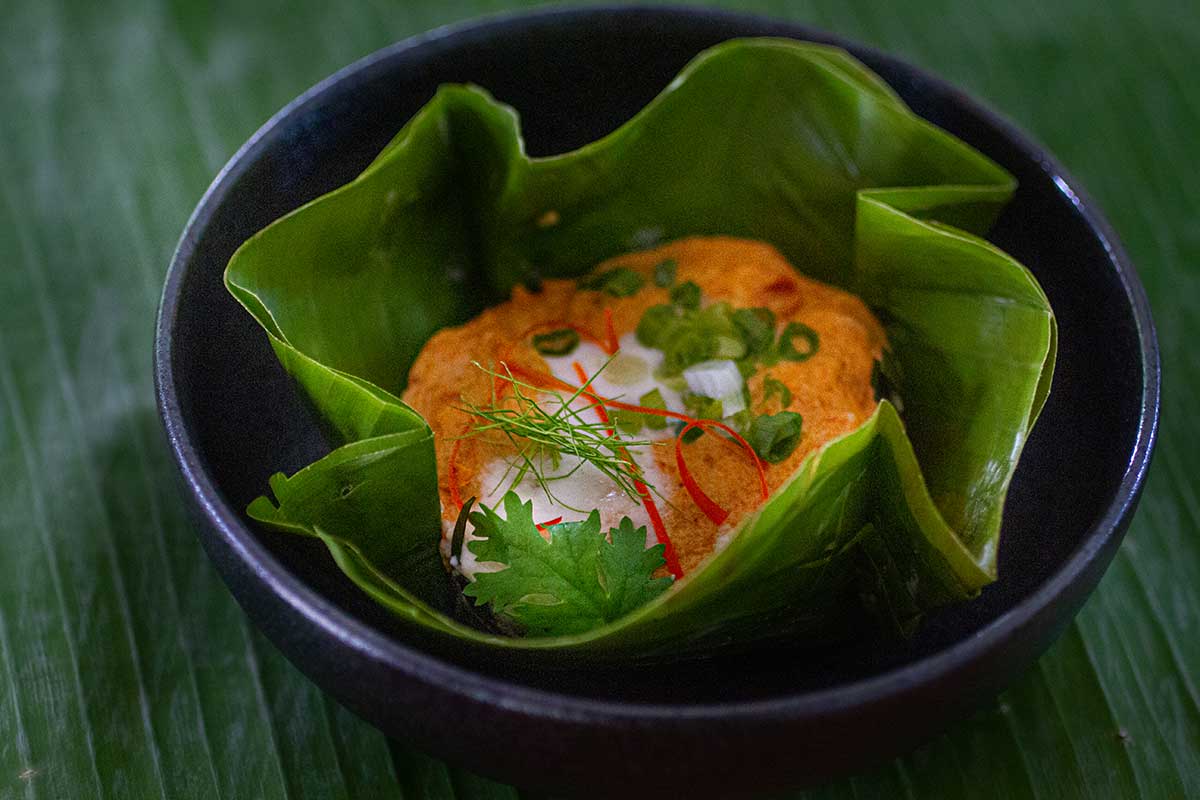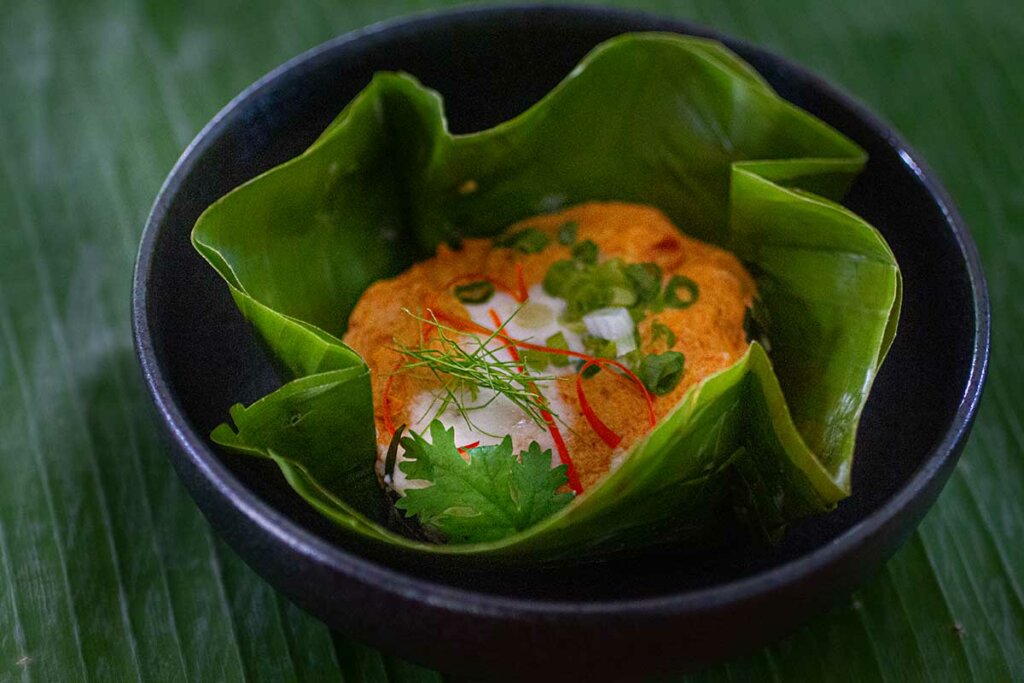 This recipe is for a coconut-based haaw mohk featuring clown featherback fish meat (เนื้อปลากราย) and slices of firm snakehead fish (ปลาช่อน). It is a classic recipe that follows the ancient haaw mohk tradition with a contemporary accent.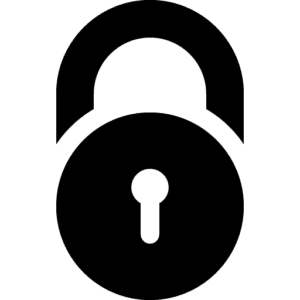 Unlock exclusive content!
Log in now or become a valued subscriber 
Login
Incorrect username or password.
Incorrect username or password.
Related Entries
This festive and rich recipe is for a coconut-based haaw mohk featuring chicken, crab and pork meats. This recipe was chosen from the various versions available at the time by Lady Plean Passakornrawong, for inclusion in her epic cookbook Maae Khruaa Huaa Bpaa (MKHP) (ท่านผู้หญิงเปลี่ยน ภาสกรวงศ์ตำราแม่ครัวหัวป่าก์).
For the khanohm jeen saao naam version that we present today, we turn again to the writing of Thanpuying (Lady) Gleep Mahithaawn for her unique take on the dish. Her version is quite similar to the common recipe encountered nowadays, but Lady Gleep enhances it with more ingredients, elevating the dish yet another notch to the level of a majestic masterpiece.
If we could strip away the spices, the seasonings, the vegetables and the herbs from savory dishes we could uncover their naked flavor profile core. There, we would encounter a strong savory-umami, sometimes coupled with other basic elements of smoke and fat. This flavor core is, for us humans, the sought-after taste of protein; our first sip of mother's milk, and the primal experience of burned game meat on the fire.
Today we would like to highlight a powerhouse for umami creation: the fermentation process. We will focus on fermented fish innards from southern Thailand (dtai bpla ไตปลา), one of about a dozen fermented products used in the country. We will show you how chefs for the capital's elite, as early as or, before the reign of King Phra Phutthaloetla Naphalai (Rama II, 1767-1824), harnessed its wild nature and created a dish similar to what we present today – a salad with infused fermented fish innards dressing.
The khaao ngohp goong (ข้าวงบกุ้ง) of Mom Chao Sai Ladawan (Princess Saisawali Phirom) is a dish of seasoned curried rice mixed with shrimp meat, shrimp tomalley, grated coconut, and herbs. The rice mix is then wrapped in banana leaves and grilled. Unwrapping the parcel reveals an intense orange- and russet-brown colored rice cake that is rich, savory and naturally sweet. It is served with a drizzle of thickened coconut cream and herbs.
Breaking news: The oldest Thai cookbook, as well as history's first-ever recorded recipe for Phanaeng curry, are revealed for the first time on Thaifoodmaster.com – A 126-year-old cookbook written by one of Siam's most revered singers, Maawm Sohm Jeen (Raa Chaa Noopraphan) (หม่อมซ่มจีน, ราชานุประพันธุ์), has been rediscovered, offering a unique glimpse into the culinary repertoire of 19th-century Siam. In this chapter we examine the different forms of phanaeng curry from the 1800s to the present day, as we reconstruct the 19th-century version and craft step-by-step a traditional beef phanaeng curry.