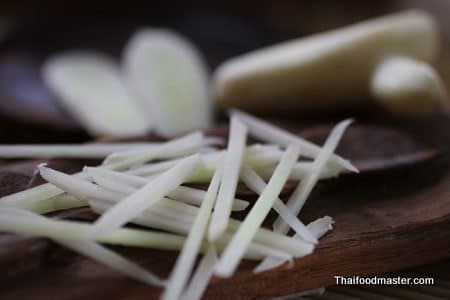 White turmeric is the underground stem (rhizome) of the tropical plant Curcuma zedoaria in the ginger family. About 80 species of Curcuma have been identified, including the better-known culinary member of the family, the turmeric, with its deep yellow pigment.
Quite rare in the west, white turmeric is used in Thai, Indonesian and Indian cuisines. It possess quite a long list of herbal remedies; maybe because its high levels of antioxidants.
With very light yellow-cream flesh and a unique pungent and sharp tasting with some fruit-sweetness. it is eaten fresh as a delicacy in salads, accompanies chili relishes or even cooked in curries.
In Thailand the fresh young white turmeric are sold at the markets already peeled and that's what I call service !
ขมิ้นขาวมีรสชาติเผ็ดซ่า เย็นอ่อน ๆ มีกลิ่นหอม สามารถใช้ทานเป็นผักสด คลุกกับอาหารประเภทหลน น้ำพริกต่าง ๆ หรือ ทำเป็นแกงต่าง ๆ  เช่น แกงเขียวหวาน แกงเผ็ด หรือ แกงคั่ว ก็ได้ โดยส่วนมากขมิ้นขาวที่วางขายในตลาดจะเป็นแบบที่ปอกเปลือกไปแล้ว วิธีเก็บให้เก็บใส่ถุง ปิดปากถุงให้สนิทและเก็บในตู้เย็นช่องธรรมดา