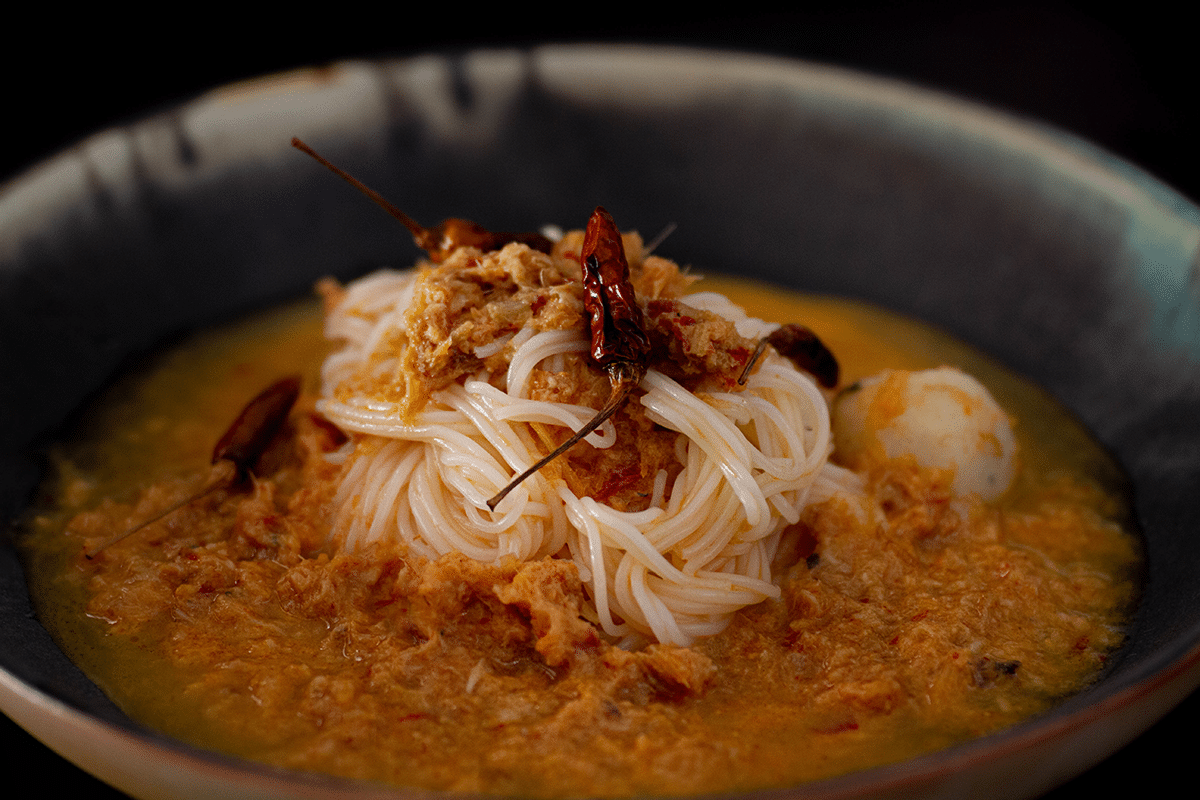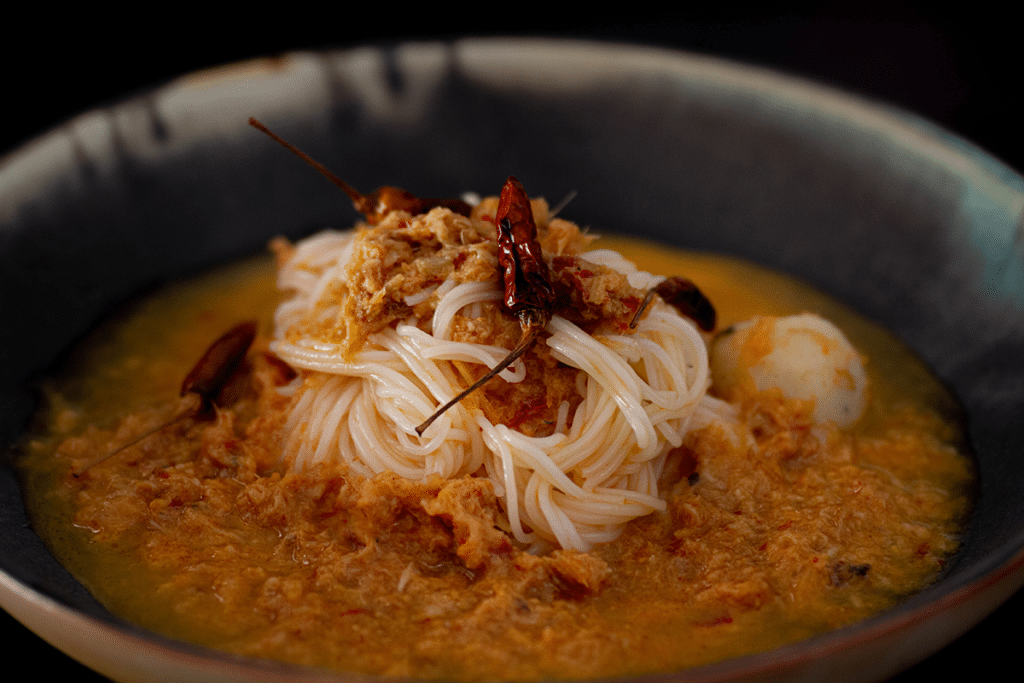 The history of fermented rice noodles (เส้นขนมจีนแป้งหมัก; khanohm jeen bpaaeng mak) reaches far beyond their literal length. The shared culinary heritage of these noodles connects the diverse peoples of the Greater Mekong Sub region, where the noodles are commonly consumed. From the Burmese-Mon (Raman) groups on the western edge to the Tai-Lao ethnicities of Sipsongpanna and down through Lanna, Lan Chang and Suvarnabhumi to the Cambodian and Vietnamese communities towards the east, these fermented rice noodles tie together distinct cultures. Among the Tai ethnic groups, khanohm jeen noodles are revered as a sacred dish, often prepared for merit-making, charitable events and communal ceremonies.
The noodles are dressed with various watery dishes that can take different forms. For example, in the south of Thailand, people eat their fermented rice noodles (หน้มจีน) with coconut-based curries such as gaaeng naam kheeuy (แกงน้ำเคย), or fermented fish innards curries such as gaaeng khee dee (แกงขี้ดี) and gaaeng phoong bplaa (dtai bplaa) (แกงพุงปลา, แกงไตปลา). The Issan and Laotian people mix their fermented rice noodles, which they refer to as khanom sen (ขนมเส้น) or khao poon (ข้าวปุ้น), with fermented fish (pla ra) (ปลาร้า) for a dish they call khaao bpoon saao (ข้าวปุ้นซาว); and, of course, in parts of northern Thailand, the noodles are deliciously paired with naam ngiaao (น้ำเงี้ยว), a water-based tomato, pork rib and chicken feet broth.
In the Central Plains of the Kingdom, fermented rice noodles are inextricably linked to a dish known as naam yaa. Composed of a dense, coconut-based minced fish curry, the dish is infused with layers of salted fish and possesses the distinctive, invigorating and purifying notes of fingerroot. Typically, naam yaa is served with fresh lemon basil as the herb of choice along with an array of side dishes collectively known as meuuat khanohm jeen (เหมือดขนมจีน). These include blanched bean sprouts seasoned with a touch of turmeric for color, fresh lemon basil leaves, thinly sliced three colored chilies, and ground chili for added heat. More elaborate versions will add blanched Chinese bitter gourd slices, batter-fried young morning glory shoots, and fresh shrimp minced and fried with its tomalley in pork lard, as well as crispy-fried shallots as the finishing touch.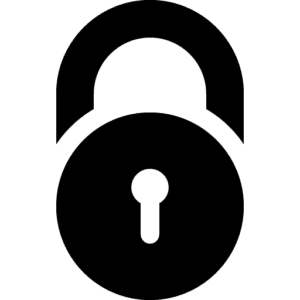 Unlock exclusive content!
Log in now or become a valued subscriber 
Login