This page is also available in: Thai
Thaifoodmaster's rich collection of free online-articles, research papers, reports, and news on virtually every aspect of Thai food preparation, history and the wisdom of Thai culinary arts.
Thai Cuisine – Articles
Posts with Thai Culinary, Historical and Cultural References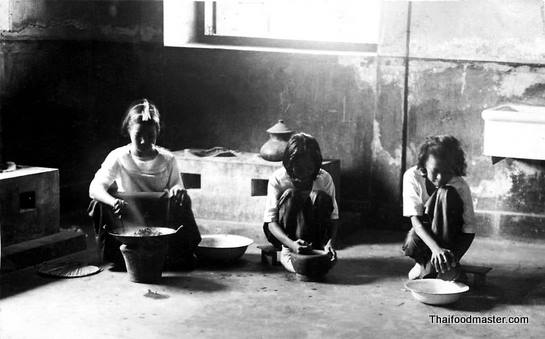 An Ancient Siamese Recipe for Tom Kha Pet (1890 AD) Duck Simmered in Light Coconut Cream and Young Galangal, and Served with Sour-Sweet Roasted Chili Jam
(Tom Kha Bpet; ต้มข่าเป็ด จิ้มน้ำพริกเผาแบบโบราณ)
Tom kha is a well-known and much-loved Thai soup: a creamy, soothing coconut blend, a warm, silky broth in which chicken, mainly, is simmered with young galangal, mushrooms, and, at times, charred-grilled banana blossoms. In other versions, lemongrass and kaffir lime leaves are added, blurring the boundaries between tom kha and the coconut-based tom yam ...
An Ancient Siamese Recipe for Tom Yum Soup (First Published in 1890). Sour Spicy Tom Yum Soup with Snakehead Fish, Roasted Chili Jam and Green Mango (Dtohm Yam Bplaa Chaawn, ต้มยำปลาช่อนแบบโบราณ อย่างหม่อมซ่มจีน ราชานุประพันธุ์ ร.ศ.๑๐๙)
Tom yum soup from the late 19th-century Siam to present days. Including a step-by-step recreation of tom yum soup with snakehead fish (dtohm yam bplaa chaawn, ตัมยำปลาช่อน) as recorded by Maawm Sohm Jeen (Raa Chaa Noopraphan) (หม่อมซ่มจีน, ราชานุประพันธุ์) in her book "Tam Raa Gap Khao" (ตำรากับเข้า), published in 1890 (2433 BE, 109RE).
Battered and Deep-Fried Unripe Rice and Grated Coconut Banana Rolls
(ข้าวเม่าทอด ; khaao mao thaawt)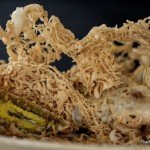 เมนูนี้จะมีคำอธิบายและวิธีทำเป็นขั้นตอนละเอียดเป็นภาษาไทยและภาษาอังกฤษ Deceptively simple, the recipe for battered, deep-fried unripe rice and grated coconut banana rolls (khao mao thaawt, ข้าวเม่าทอด) is actually quite challenging to master. Like so many Thai dessert recipes, this seemingly straightforward dish has a complex character.
Beef Curry Seasoned with Fermented Shrimp Paste Chili Sauce (แกงรัญจวน ; gaaeng ranjuaan)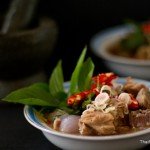 Gaaeng Ranjuaan is spicy, sour, sweet and salty beef curry seasoned with no more than fermented shrimp paste chili sauce. It should be served steaming hot, and must possess three distinct flavors, similar to fish Tom Yam soup. These modest ingredients and an intensely-flavored curry emerge from a story about love, things lost in translation ...
Beef Phanaeng Curry and Ancient Grilled Phanaeng Chicken Curry (พะแนงเนื้อ และ ไก่ผะแนง จากตำราอาหารที่เก่าสุดในสยาม)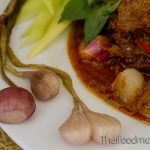 Breaking news: The oldest Thai cookbook, as well as history's first-ever recorded recipe for Phanaeng curry, are revealed for the first time on Thaifoodmaster.com – A 126-year-old cookbook written by one of Siam's most revered singers, Maawm Sohm Jeen (Raa Chaa Noopraphan) (หม่อมซ่มจีน, ราชานุประพันธุ์), has been rediscovered, offering a unique glimpse into the culinary repertoire ...
Coconut Balls Rolled in Ground Roasted Unripe Rice
(ข้าวเม่าบด ; khaao mao boht)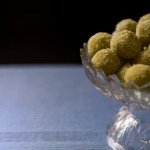 This ball-shaped dessert has a sweet coconut filling (gracheek), surrounded by a thin crust of pounded unripe rice crumbs, along with a tempting fragrance enriched with a Thai dessert candle or fresh flowers. Demonstrating brilliant creativity and attention to detail, this classical Thai dessert uses only three basic ingredients. In this article, we have elected to ...
Fat Horse – A Thai appetizer with an amusing name: (ม้าอ้วน ; maa uaan)
Maa ouan is a Thai appetizer with clear Chinese characteristics. It resembles the filling of khanohm jeep dumplings (ขนมจีบ), the crab and pork meat fillings of haawy jaaw (ฮ่อยจ๊อ), or the shrimp and pork meat mix of haae geun (แฮ่กึน). Minced pork and shrimp meat are seasoned with garlic, coriander roots, white peppercorns and salt, ...
Fermented Rice Noodles Served with Pineapple, Fish Balls in Coconut Milk, Grilled Curried Fish Cakes, Young Ginger and Dry Shrimp Powder
(ขนมจีนซาวน้ำ ; khanohm jeen saao naam )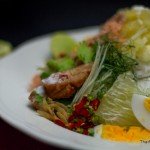 For the khanohm jeen saao naam version that we present today, we turn again to the writing of Thanpuying (Lady) Gleep Mahithaawn for her unique take on the dish. Her version is quite similar to the common recipe encountered nowadays, but Lady Gleep enhances it with more ingredients, elevating the dish yet another notch to ...
Fermented Rice Noodles, Shrimp and Pork Appetizer Dressed with Fried Chili Jam and Peanuts
(ขนมจีนญี่ปุ่น; Khanohm jeen Yee Poon)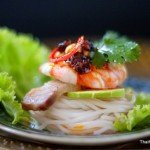 เมนูนี้จะมีคำอธิบายและวิธีทำเป็นขั้นตอนละเอียดเป็นภาษาไทยและภาษาอังกฤษ Khanohm jeen yee poon is an appetizer consisting of a small roll of fermented rice noodles laid on a green lettuce leaf and topped with a slice of cucumber and cooked shrimp and pork belly, dressed with sour-sweet and salty fried chili jam, sprinkled with roasted peanuts and decorated with coriander leaf and a thin ...
Fish Koi Recipe (Koi Pla)Vientiane Style Fish and Herbs Salad(gaawy bplaa nin vientiane ; ก้อยปลานิลเวียงจันทน์)
In 1833 Prince Mongkut, who later became King Rama IV, found a square stone inscription, known today as "The Ramkhamheang's Inscription", believed to be written 541 years earlier, in 1292, by King Ramkhamheang – the third king of The Sukhothai Dynasty (1279-1298). In this inscription King Ramkhamheang tells the story of the Sukhothai regime; He includes ...
Fried Dried Fish with Watermelon (ผัดปลาแห้งแตงอุลิต ; phat bplaa haaeng dtaaeng oo lit)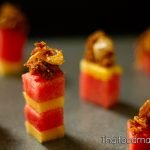 Here is a summer dish that showcases the wisdom of creating complex flavors through simplicity. Using just lightly salted semi-dried snakehead fish, golden deep-fried shallots and a sweetening agent (either sugar or coconut), we create a condiment that partners perfectly with pieces of sweet juicy watermelon.
Galloping horse & Crystal Dragon – Fruits Served with Sweet and Savory Peanut Sauce (มังกรคาบแก้ว กับ ม้าฮ่อ ; mohng gaawn khaap gaaeo + maa haaw)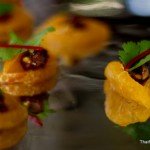 Sweet and sour fruit slices are served with a nutty, sweet-savory peanut sauce condiment that balances the fruits' natural tartness, and decorated with coriander leaves and julienned fresh long red pepper for a sophisticated finish. The paste-like condiment is typically made from the Three Kings of Thai cuisine (coriander root, garlic and ground white pepper) ...
Jee (Jeen) Juaan Red Curry of Chicken, Banana Chilies, Peanuts and Indian Spices (แกงเผ็ดไก่จี่จ๋วน, แกงจีนจ๊วน, แกงจ๋วน ; gaaeng phet gai jee juaan )
Also known as: gaaeng jeen juaan (แกงจีนจ๊วน), or gaaeng juaan (แกงจ๋วน). Gaaeng jeen juaan is a coconut-based red curry. With primary ingredients of chicken, light green banana chili peppers and peanuts, it is similar to Massaman curry (matsaman); and scented with the sweet aroma of dry Indian spices such as cumin, mace, nutmeg, clove, star anise ...
Laap (ลาบ), Saa (ส้า), Luu (หลู้), gaawy (ก้อย), Nam Dtohk (น้ำตก) – an Ethno Culinary Journey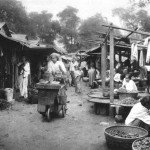 Generally speaking, laap is made from raw or cooked, minced meat, to which, depending on the type of laap and the region where it's made, different ingredients and seasonings are added–the animal fat, skin, internal organs, blood, bile juice, and gastric juice, along with simple or complex flavorings, comprising at a time of up to ...
Making Fermented Rice Flour Noodles
(การทำเส้นขนมจีน ; sen khanohm jeen)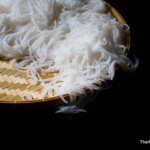 Khanohm jeen (ขนมจีน) are noodles made from rice starch. Their strands are long, round, thin and elastic, with a beautiful white sheen and a pleasant chewy texture. It is unclear exactly when khanohm jeen production arrived in Thailand; however, it is likely that production was already active during the Ayutthaya period (1351-1767), in communities along the ...
Massaman Curry – The Untold Story (แกงมัสมั่น – แกงมาชะแมน – แกงหมัดสมั่น)
Considered by some to be the most famous, and the most delicious, dish in Thai cooking, the story of Massaman curry is interwoven with trade, politics and religion in 17th-century Siam. The story is filled with mighty kings, legendary explorers and unsolved mysteries, adding an air of magic and power to this already-heavenly perfumed dish, ...
Miang kham – A royal leaf wrap appetizer เมี่ยงคำ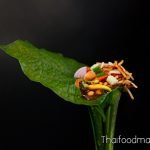 Each leaf-wrapped parcel is a kaleidoscope of flavors and richness, textures, aromas and sensations. Fresh green-earthy-chlorophyll-herby-tobacco-peppery wild betel leaves enfold bursts of flavor from nutty roasted peanuts and crispy roasted coconut matches, the umami of savory dry shrimp, pungent-sweet diced shallots, small ginger cubes with a warm bite, sour and bitter unpeeled lime cubes, citrusy ...
Naam Phrik Lohng Reuua (Boat Embarking Chili Relish), Relish of Fermented Shrimp Paste Sauce with Sweet Pork Condiment and Crispy Deep-Fried Fluffy Fish – (น้ำพริกลงเรือต้นตำรับ ; naam phrik lohng reuua)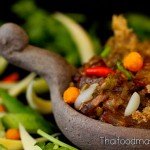 Naam phrik lohng reuua (น้ำพริกลงเรือ) – Literally translated as "boat embarking chili relish", this particular boat seems to have drifted a long way from port and these days, the actual dish served in Thai restaurants is far away from the original version. We want to tell you the real story behind this dish and to ...
Old Fashioned Pounded Unripe Rice Snack (ข้าวเม่าหมี่ ; khaao mao mee)
Unripe rice snack – "Khao Mao Mee" (ข้าวเม่าหมี่ ) also known as "Khao Mao Song Kreuang" (ข้าวเม่าทรงเครื่อง) or by it's royal name "Khanom Khao Mao Rang" (ขนมข้าวเม่าราง) is a delicious snack. It makes an unusual use of the unripe rice grains, which are normally used for desserts making. The following recipe describes an ancient and ...
Old-Fashioned Thai Red Curry of Grilled & Smoked Pork Neck and Unripe Green Bananas (แกงหมูย่างกับกล้วยดิบ ; gaaeng muu yaang gap gluay dip)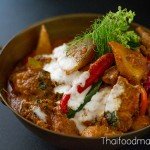 Thai red curry is a broad term describing any curry that is red in color, although variations exist among the dish's ingredients or their ratios. Today's menu features a Thai red curry paste to which we add higher quantities of coriander root and kaffir lime zest; this creates a more aromatic character that will enhance ...
Rice Seasoned with Shrimp Paste
(khaao khlook gabpi ; ข้าวคลุกกะปิ)
You would probably be surprised to learn that despite the diversity and richness of produce Thailand has to offer, the basic pillars of Thai cuisine are simply made of rice, salt, chili, and some proteins from fresh water fish. In the central and southern regions of Kingdom, fermented shrimp paste (gabpi), originally made as a ...
Roasted Pounded Unripe Rice Served with Shrimp Relish and Grated Coconut (ข้าวเม่าเบื้อง ; khao mao beuuang)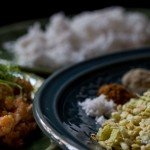 Khao mao bueang and khao Mao Mee (ข้าวเม่าหมี่) are the only two known savory dishes from antiquity made from pounded unripe rice grains (ข้าวเม่า; khao mao). While khao mao mee (ข้าวเม่าหมี่) is still a well-known and widely available dish, very few people remember khao mao bueang. Therefore, we are pleased to reintroduce into the Thai ...
Rose Petals Salad (ยำกลีบกุพชกะ ; yam gleep goop cha ga)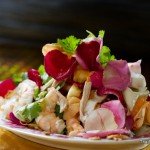 Chef Thapakorn Lertviriyavit (Gorn) brings us a rare perfumed and colorful starter dish that was rediscovered in a cookbook written by a former governor of Nakhon Ratchasima (พระยานครราชเสนี – สหัด สิงหเสนี), which contained a recipe that called for rose petals, called 'Yum Gularb' or 'Rose Petal Salad'. But I'd prefer to rename it, 'Yum ...
Salad of bitter orange peels, shrimp, poached pork belly and pork skin, roasted peanuts, golden deep-fried crispy shallots and garlic with sweet and sour tamarind dressing.
(ยำผิวส้มซ่า ; yam phiu sohm saa)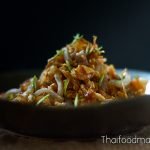 This salad recipe is adapted from the book "Maae Khruaa Huaa Bpaa" (แม่ครัวหัวป่าก์), published in 1971 as a memorial for Jao Jaawm Phit (เจ้าจอมพิศว์). Jao Jaawm Phit was the daughter of Thanpuying (Lady) Plean Passakornrawong, who was a pioneer of noble Thai cuisine.
Sand Ginger
(praw haawm ; เปราะหอม)
Sand Ginger (Kaempferia galanga), commonly known as kencur, aromatic ginger, cutcherry or resurrection lily, is known in Thai as praw haawm (เปราะหอม) or waan haawm (ว่านหอม) Sand ginger has a peppery camphory taste. It is one of four plants known as galangal, and is differentiated from the others by the absence of stem and dark ...
Sohm Choon Fruit Dessert of Lychee, Green Mango, Young Ginger in Jasmine, Bitter Orange, and Pandan-Scented Sweet and Salty Syrup, Topped with Grilled Shallots, Peanuts and Roasted Coconut
(ส้มฉุน ; sohm choon)
The first reference to sohm choon as a dessert appears in in the early 1800s, in the culinary poetry of King Rama II gaap heh chohm khreuuang khaao waan (กาพย์เห่ชมเครื่องคาว – หวาน). The poetry was sung during the royal barge's procession, and this verse refers to sohm choon as a dish made of lychees. A ...
Spicy Salad of Grilled Tiger Prawns, Mackerel, Lemongrass and Aromatics with Infused Fermented Fish Innards Dressing (ไตปลาทรงเครื่อง ; dtai bpla sohng khreuuang)
If we could strip away the spices, the seasonings, the vegetables and the herbs from savory dishes we could uncover their naked flavor profile core. There, we would encounter a strong savory-umami, sometimes coupled with other basic elements of smoke and fat. This flavor core is, for us humans, the sought-after taste of protein; our ...
Sweet Pounded Unripe Rice Flakes Cereal with Coconut Flesh and Banana (ข้าวเม่าคลุก ; khaao mao khlook )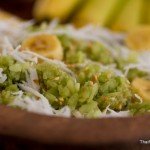 Sweet Pounded Unripe Rice Flakes Cereal – Rice harvesting takes place only once a year, and there are only two weeks where the ripening grains are suitable for producing Khao Mao. Khao Mao doesn't age well, it gets dry and tough quickly. The-once-vivid beautiful green color that portrayed the essence of its immaturity and the beginning ...
Thai Green Curry with Roasted Duck and Young Chilies (แกงเขียวหวานเป็ดย่าง ; gaaeng khiaao waan bpet yang)
Green curry, with its mellow, creamy green color and rich coconut base, has both fresh and mature flavors. Like new growth on plants, it brings brightness, youthfulness, spring and rebirth to the meltdown of flavors created in the curry paste. The green curry paste uses mainly the same standard ingredients as Thai spicy-red curry paste: lemongrass, ...
Thai Relish of Fermented Fish, Grilled Catfish, Pork and Shrimp (ปลาร้าผัดทรงเครื่องสูตรสายเยาวภา ; bplaa raa phat sohng khreuuang, suut saai yao wa phaa)
Fish fermentation consists of a simple salt-curing process: mixing or coating a whole fish, sliced fish or minced fish meat with salt and rice husks (or ground roasted rice). The mixture is then allowed to rest and ferment for few months. This fermentation process creates deep, intense umami flavor agents accompanied by a strong stench. ...