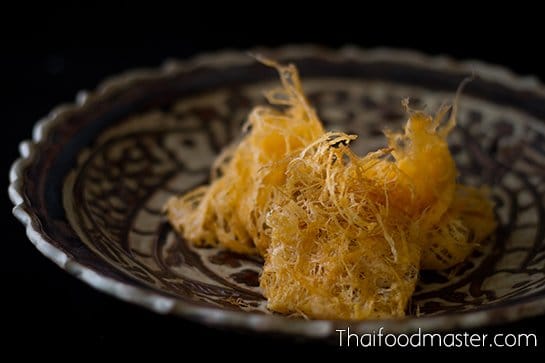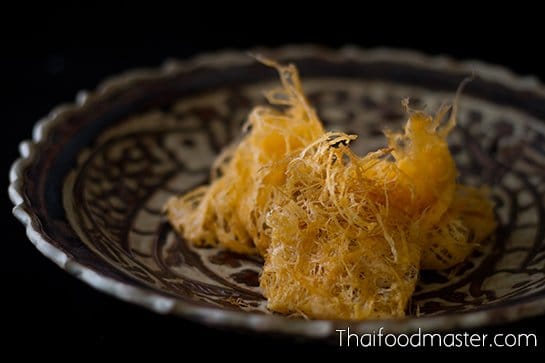 Known as Khanohm faawy (ขนมฝอย) or Khanohm handtraa, this sweet or savory packet can be a dessert or a snack. The dessert has a sweet filling of silky mung beans and a coconut marzipan-like paste, while the snack's savory filling consists of shrimp and pork minced and seasoned with garlic, coriander root and white peppercorns. Each is theatrically wrapped in a striking nest of skillfully crafted duck's egg thread.
Khanohm faawy has been forgotten; maybe because the mung bean and sweet coconut filling is almost identical to another popular Thai dessert, golden jackfruit seeds (met khanoon, ขนมเม็ดขนุน). Perhaps to differentiate it from the golden jackfruit seeds dessert, a catchier name was coined: khanohm handtraa, which means to stamp a seal mark: the mung bean-coconut filling is shaped into small squares, and sometimes an indentation is made in the middle, similar to pressing a royal seal in wax. Indeed, some sources claim that this recipe came from Queen Sri Suriyendra (Princess Bunrod) of King Rama II.
The first mention of the sweet version of khanohm faawy was in 1809, when King Rama I instructed the leader of the Thai Muslim community, Chularachamontree (Gorn Keaw) (เจ้าจอมหงส์ ธิดาพระยาจุฬาราชมนตรี, ก้อนแก้ว), to arrange refreshments for the auspicious celebration of the Temple of the Emerald Buddha (Wat Phra Kaew), to which 2,000 monks were invited along with many other guests.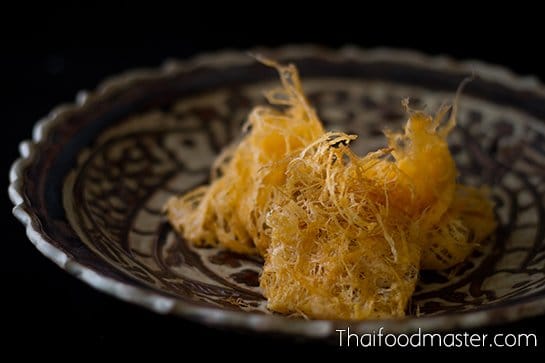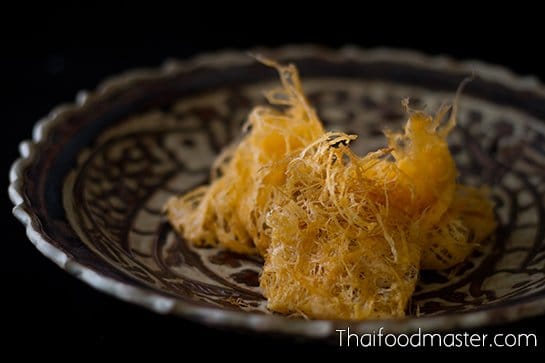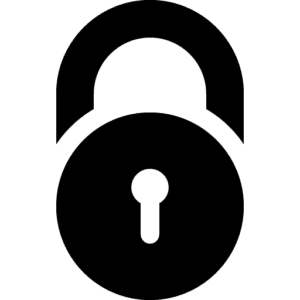 Unlock exclusive content!
Log in now or become a valued subscriber 
Login