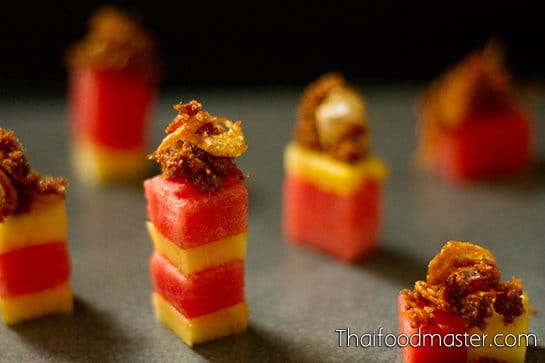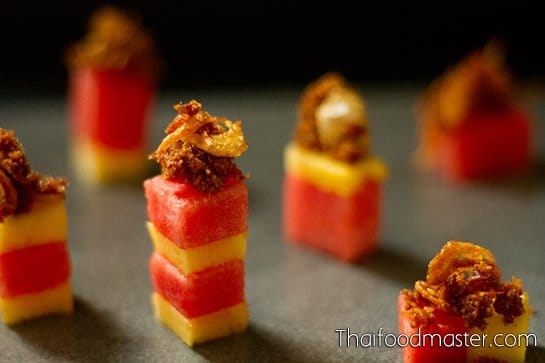 The ideal summer dish should be refreshing and cooling. It should also be unintimidated by the relentless summer heat, and able to withstand being left outside on the kitchen table without spoiling.
As such, it would make sense to use fewer ingredients, and choose only those which store well.
Here is a summer dish that showcases the wisdom of creating complex flavors through simplicity. Using just lightly salted semi-dried snakehead fish, golden deep-fried shallots and a sweetening agent (either sugar or coconut), we create a condiment that partners perfectly with pieces of sweet juicy watermelon.
The dry fish is rinsed, let to dry again, and then its meat is separated from the bones and skin. It is crumbled until it is fluffy, and then roasted or fried until completely dry. The final product is seasoned to a sweet-salty mixture which is sprinkled on top of cold, juicy and refreshing watermelon, pineapple or even sticky rice enriched with sweet coconut cream and a pinch of salt (khaao niaao naa bplaa; ข้าวเหนียวหน้าปลา).
The Modern Version
is called bplaa haaeng dtaaeng mo:h (ปลาแห้งแตงโม), in which the fish is roasted to a dry powdery form before it is seasoned with granulated white sugar and mixed with deep-fried crispy shallots.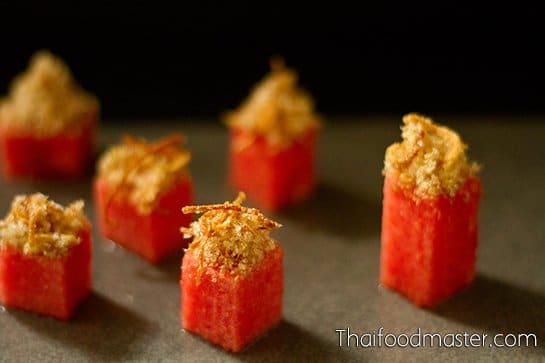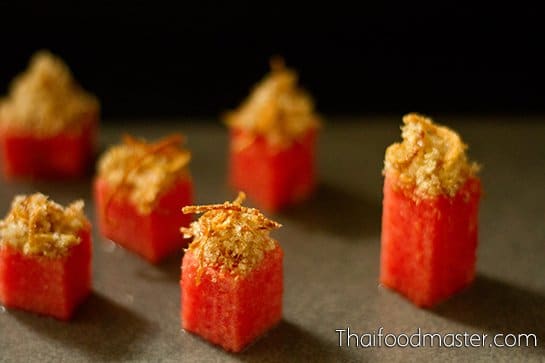 Khoon Muaang Raatniguun's version – Early 19th century
Coconut cream is slowly cooked until it cracks and separates to oil (khee lo:h ขี้โล้); to this, crumbled dried fish meat is added, with the fish bestowing its saltiness and umami essence to create an unusually complex flavor. It is slowly fried in the coconut oil until it caramelizes, absorbing the sweetness of the coconut. Once crispy and brown, it is mixed with sweet and crispy shallots deep-fried in khee lo:h oil for extra crunch and sweetness, and served either on watermelon or on pineapple.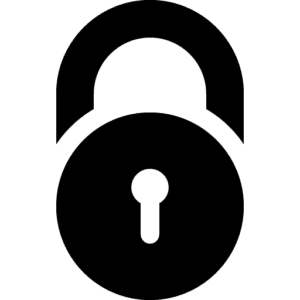 Unlock exclusive content!
Log in now or become a valued subscriber 
Login