This page is also available in: Thai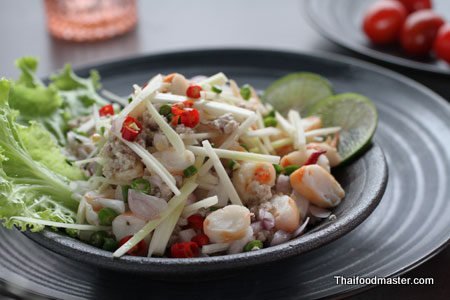 This dish brings yet another angle to celebrate the essence of Thai cuisine. The Thais dare pairing ingredients, which at first seem to be unmatchable, strong players with opposite characteristics, white turmeric and salted prawns, and guess what? It works beautifully!
The pairing actually has the intention to enhance the differences in flavor and texture, creating a playful dish, both in taste and in presentation. The delicate thin cut white turmeric juliennes with its crunchy-apple like texture matched well with the just made salted prawns chunks which still maintain some of their intrinsic sweetness.
It's a pleasant and aromatic dish flavored by fish sauce and limejuice. The use of palm sugar and shallots adds just a touch of sweetness to the dish rounding it nicely and making it a refreshing experience. Oh, and yes, please be careful of those red spots, these are not tomatoes.
วันนี้หนุมานมานำเสนอเมนู "ยำขมิ้นขาวกุ้งเค็ม" ซึ่งจะแตกต่างจากยำขมิ้นขาวที่มีขายทั่ว ๆ ไป โดยในเมนูนี้เราจะนำเนื้อกุ้งสดไปทำให้มันเค็ม โดยการลวกและแช่ในน้ำเกลือ ซึ่งเนื้อกุ้งจะนุ่มไม่แข็งและเค็มจนเกินไป และเนื้อกุ้งที่ได้จะเข้า กับขมิ้นขาวที่กรอบและเผ็ดซ่า เย็นอ่อน ๆ กันได้ดีเมนูนี้เป็นเมนูเพื่อสุขภาพ เพราะว่าขมิ้นขาวนั้นมีคุณสมบัติรักษาโรค และมีสารต้านอนุมูลอิสระ
Salad of White Turmeric, Salted Prawns and Pork Recipe
สูตรทำยำขมิ้นขาวกุ้งเค็ม
Ingredients
5 large Prawns, (head-on / shell-on / tail intact)
50 gr pork meat, minced
1/3 cup white turmeric juliennes
3 tablespoon shallots (about 5-6 small shallots)
2 stalks lemon grass
3 cups water
4 1/2 tablespoon salt
For the dressing:

2 cloves Thai garlic (or 1/2 clove garlic)
1/2 teaspoon palm sugar
4-7 bird's eye chilies
1 tablespoon fish sauce
2 tablespoon lime juice
ส่วนผสม
กุ้งแชบ๊วยตัวใหญ่ 5 ตัว
เนื้อหมูบด 50 กรัม
ขมิ้นขาวซอยยาว 1/3 ถ้วย
หอมแดงซอยละเอียด 3 ช้อนโต๊ะ (5 – 6 ลูกเล็ก)
ตะไคร้ 2 ต้น
น้ำเปล่า 3 ถ้วย
เกลือ 4 1/2 ช้อนโต๊ะ
ส่วนผสมน้ำยำ
กระเทียมไทย 2 กลีบเล็ก
น้ำตาลมะพร้าว 1/2 ช้อนชา
พริกขี้หนูสวน 4-7 เม็ด (หรือตามใจชอบ)
น้ำปลา 1 ช้อนโต๊ะ
น้ำมะนาว 2 ช้อนโต๊ะ
Method – Making Salted Prawns (วิธีทำกุ้งเค็ม)
Crash the lemon grass steams to allow it release maximum of its flavors.
ทุบตะไคร้ให้แตก
Prepare the brine: To a pot, add the bruised lemon grass, salt and water, in ratio of 1 1/2 tablespoons of salt for each cup of water.
ใส่ตะไคร้ เกลือ และ น้ำเปล่า ลงไปในหม้อในอัตรา เกลือ 1 1/2 ช้อนโต๊ะ ต่อ น้ำเปล่า 1 ถ้วย
Bring the brine to a boil.
นำหม้อตั้งไฟจนเกลือละลายหมด

Add the prawns and turn the heat just as it boils again. Leave the prawns in the brine until the brine has cooled completely to room temperature.
ใส่กุ้งลงไป และ รอให้น้ำเดือด ปิดไฟ และ แช่กุ้งไว้ในหม้อต่อไปจนน้ำเย็นลง ซึ่งระหว่างที่รอจนน้ำเย็นลง เนื้อกุ้งจะสุกพอดีและความเค็มจะซึมเข้าไปในเนื้อกุ้ง
Peel the prawns and slice into bit size pieces.
เมื่อน้ำเย็นลงแล้ว นำกุ้งออกจากหม้อ จากนั้นแกะเปลือกออก และ หั่นเป็นชิ้นพอคำ เสร็จแล้วใส่จานพักเอาไว้
Preparations (การจัดเตรียมส่วนผสมอื่น ๆ)
Cut the white turmeric into juliennes and thinly chop the shallots
หั่นขมิ้นขาวเป็นเส้นยาวบาง ๆ และ ซอยหอมแดงให้ละเอียด
In boiling water, cook the minced pork until done, for about 1-2 minutes. Set aside.
ลวกเนื้อหมูบดให้สุก พักเอาไว้
Making the salad dressing – (วิธีทำน้ำยำ)
In a pestle and mortar crush the Thai garlic, unpeeled.
โขลกกระเทียมไทย 2 กลีบให้พอแตก
Add bird's eye chilies and palm sugar and crush the chili. The finer you work the chilies the hotter the dish will be.
ใส่น้ำตาลมะพร้าว พริกขี้หนู ลงไป และโขลกต่อไป โดยยิ่งโขลกละเอียดรสชาติที่ได้ก็จะยิ่งเผ็ด
Add fish sauce
ใส่น้ำปลาลงไป (อย่าใส่มาก เพราะเนื้อกุ้งมีความเค็มอยู่แล้ว)
Add limejuice.  Mix and set aside.
เติมน้ำมะนาว ผสมให้เข้ากัน เสร็จแล้วพักเอาไว้
Combining the dish (การจัดเสริฟยำขมิ้นขาวกุ้งเค็ม)
In a mixing bowl, add all the ingredients. The white turmeric , salted prawns, pork, shallots and the salad dressing.
นำเอาส่วนผสมทั้งหมด ขมิ้นขาว กุ้งเค็ม เนื้อหมู หอมแดง และ น้ำยำ ใสลงในอ่างผสม
Toss everything together
ผสมให้เข้ากัน
Serve immediately
เสริฟทันที