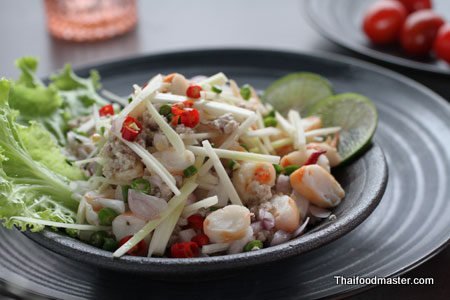 This dish brings yet another angle to celebrate the essence of Thai cuisine. The Thais dare to pair ingredients, which at first seem to be unmatchable, strong players with opposite characteristics, white turmeric and salted prawns, and guess what? It works beautifully!
Subscribe to Read More
Join Today to continue reading. 
Login
Incorrect username or password.
Incorrect username or password.
Related Entries
White turmeric is the underground stem (rhizome) of the tropical plant Curcuma zedoaria in the ginger family. About 80 species of Curcuma have been identified, including the better-known culinary member of the family, the turmeric, with its deep yellow pigment.
Quite rare in the west, white turmeric is used in Thai, Indonesian and Indian cuisines. It possess quite a long list of herbal remedies; maybe because its high levels of antioxidants.
In this straightforward and rewarding stir-fried dish, I am using boiled salted duck egg, available from Asian markets, as my flavoring assistant. During stir-frying, the egg yolk dissolves to a velvety sauce that softly coats the squids, and complimenting their ocean's flavor. The alternate reds and greens strips of the vegetables emerged from the buttery yellow sauce are tempting for a taste.
The original version uses three egg yolks – a bit too much for a health conscious person like me. Therefore, I am using only one whole egg, both the egg white and the egg yolk. I tune down the white's sharp saltiness with an additional portion of sugar, and compensate for the color lost by adding a spoon of commercial chili sauce to improve. The resulting is a well-balanced dish with the right texture that stands up in this healthy version against its original with a winning smile….
Tom Yam is a type of soup with distinct sharp hot and sour flavors, scented with pleasant citrusy aroma.
Tom Yam is known to seduce many westerners to fall in love with Thailand, its people and food. Many trips memories to Thailand were written in diaries, others are etched on film but all are stained by the Tom Yam charm.
I still remember with vivid colors my first bowl of Tom Yam, in the night market of the old neighborhood on a hot night in a ragged, unfashionable part of Bangkok. Where the smell of cooking and the glare of florescent lights decorated the alley where JeMoi used to own a restaurant, a very simple and very good one, decorated with cheap bamboo chairs and peeling orange walls. I would enjoy watching the streets of the early night turning into mornings, eating, drinking and sweating. It was hard to say if I was sweating from the hot and humid weather, the cheap whiskey or JeMoi's spicy food. I still smile when I think of her, standing by my table with a winning smile, as if she knew how much I enjoy the food.
The first Thai restaurant in London was opened during the 1960's by HRH Princess Jurairat Nasiriman (1910-2000) (พระเจ้าวรวงศ์เธอ พระองค์เจ้าจุไรรัตนศิริมาน), the granddaughter of HRH King Mongkut (Rama IV). Princess Jurairat chose to offer this salad on the menu and named it "Salad of Thai Milkweed Flower". (Other names: Cowslip creeper, Telosma Cordata).
This fresh and tasty salad is so vibrant and easy for us to enjoy, it takes in the very basic flavors, sweet, salty, hot and sour and wrap them in a creamy coat of reduced coconut cream. The milkweed flower buds retain their crunchiness and their pleasant fragrance with only a gentle and very quick blanching in sweet boiling water.
ผัดกะเพราหมูสับ – Stir Fried Pork With Holy Basil and Chilies Recipe – excerpt from the book "Classic Thai
Stir Fry Dishes" by Thaifoodmaster