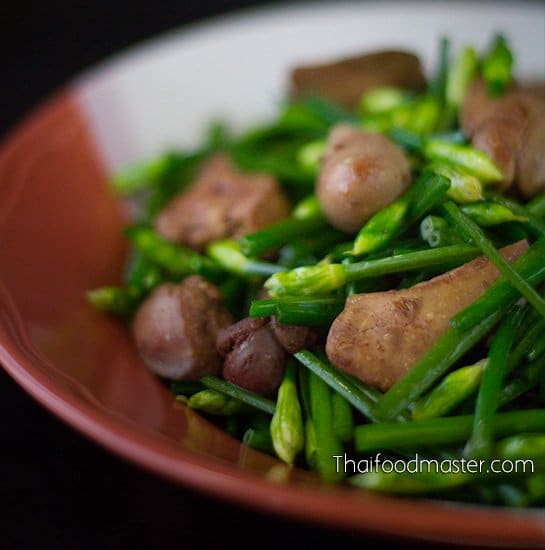 A quick and tasty dish from the hot mouth of the dragon with only three ingredients! Flowering Chives, Pork Liver, and Garlic.
Flowering Chives are all-year-round favorites for their mild garlicky flavor and can be purchased inexpensively at almost any Asian market.
In Thailand, we like to fry them with pork, pork liver, or shrimp. These flowering chives are actually the unopened bud stems of garlic chives, also known as Chinese chives.
Flowering chives have that lovely mild garlic chive flavor with a sweet core inside the long-fibered green stem. When choosing flowering chives, you should look for unopened flower buds with thick and juicy steam. This will provide a full flavor and a soft bit through the fibrous stem.
Stir-fried pork livers with flowering chives
Add your own recipe notes
You must be a member to use this feature
Add to Collection
Go to Collections
Add to Shopping List
Go to Collections
Ingredients
200

g

flowering chives (ดอกกุยช้าย)

cut into 4cm (1.5") long pieces.

100

g

pork liver (ตับหมู)

cut into thin bite size pieces.

3

cloves

Chinese garlic (กระเทียมจีน)

crushed and chopped roughly

2

tablespoons

light soy sauce (ซีอิ๊วขาว)

1/2

tablespoons

fermented soybean paste (tao chiao)(เต้าเจี้ยว)

1/2

teaspoon

ground white pepper (พริกไทยป่น)

1/2

teaspoon

granulated sugar (น้ำตาลทราย)

1

tablespoon

pork lard (น้ำมันหมู)
Instructions
Mix all the seasoning ingredients; set aside.

Place a well-seasoned wok over medium-high heat, and when the wok is hot, pour in the oil and then the garlic. Stir fry quickly until fragrant; do not allow the garlic to brown.

Add liver slices , and quickly stir fry until almost thoroughly cooked. Sprinkle some water into the wok to deglaze it and create some steam.

Add the flowering chives, mix, and then sprinkle more water to create steam and help the cooking process.

When the chives are glossy, add the seasoning sauce and continue stir frying until done.

Do not overcook - the chives should remain crunchy.
Tried this recipe?
We'd love to see it - tag it #THAIFOODMASTER on Instagram! Please leave a comment to let us know how it was!