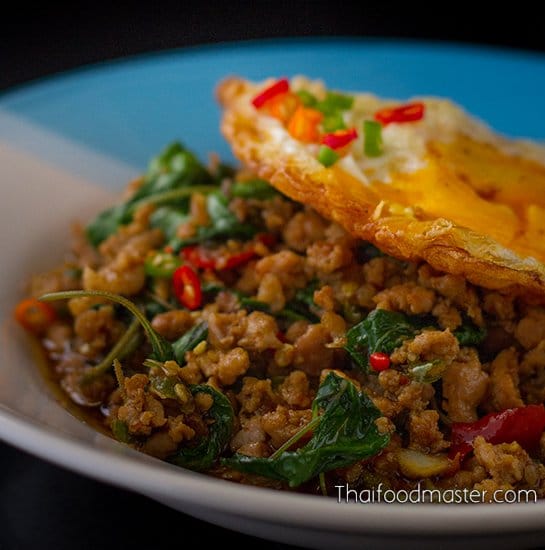 Stir Fried Pork with Holy Basil and Chilies Recipe (phat gaphrao muu sap)
Add your own recipe notes
You must be a member to use this feature
Add to Collection
Go to Collections
Add to Shopping List
Go to Collections
Ingredients
200

g

minced pork meat (เนื้อหมูบด)

1 1/2

tablespoons

Thai garlic (กระเทียมไทย)

1 1/2

tablespoons

fresh red and green Thai bird's eye chilies (phrik kee noo) (พริกขี้หนูแดง และ เขียว)

1

cup

holy basil (ใบกะเพรา)

1/2

teaspoon

dark soy sauce (ซีอิ้วดํา)

3/4

tablespoon

pork lard (น้ำมันหมู)
Season with:
1

tablespoon

light soy sauce (ซีอิ๊วขาว)

3/4

tablespoon

oyster sauce (ซอสน้ำมันหอย)

1/4

teaspoon

ground white pepper (พริกไทยป่น)

pinch

sea salt (เกลือทะเล)

3

tablespoons

water or stock (น้ำเปล่าหรือน้ำสต๊อก)
Instructions
In a pestle and mortar, roughly crush the garlic. Add the bird's eye chilies; pound together until all the chilies are bruised. Set aside.

Mix all the seasoning ingredients and set them aside.

Place a well-seasoned wok over medium-high heat.

When the wok is hot, pour in the oil followed by the garlic and chilies mixture. Stir fry quickly until fragrant; do not allow the garlic to brown.

Add the minced pork and quickly stir fry, breaking down all the lumps. Continue stir frying the meat until all the liquids have completely evaporated, and the meat dries up and start to brown.

Sprinkle dark soy sauce over the meat and stir fry until the meat turns a nice dark color.

Add the seasoning sauce. Mix together and wait for the sauce to thicken.

Turn off the heat and add the holy basil leaves. Incorporate the basil leaves into the dish using only the residual heat: cooking the basil leaves will cause them to turn black, and will also impair the flavor of the dish.
Tried this recipe?
We'd love to see it – tag it #THAIFOODMASTER on Instagram! Please leave a comment to let us know how it was!