This Thai spicy catfish recipe gives catfish a new and fabulous spin. You can either use farmed or game fish with the same phenomenal results. The intensity of the wild ginger combined with aromatic fresh peppercorn will turn even muddy flavor fish into a delicacy.
Slice the fish are first, then role it in flour and deep-fry it to a crispy crunch. Quickly stir-fry the crispy fish with wild ginger and the peppercorns releasing their aromatic oils, creating wonderful flavors. While seasoning with light soy sauce and oyster sauce, our fish is now regaining heavenly moisture without losing its tempting crispiness.
To perfect the obvious harmony, try this dish with glass of chilled beer and a bowl of steamy white rice. A simple but unforgettable treat.
สวัสดีครับเพื่อน ๆ ทุก ๆ คน
เมนูของวันนี้ที่หนุมานจะมานำเสนอคือ "ปลาดุกทอดกรอบผัดกระชายพริกไทยอ่อน" ครับ ซึ่งกระชาย และ พริกไทยอ่อน จะช่วยดับกลิ่นสาบของปลาดุกได้ แต่รับรองว่าเมนูนี้จะทำให้คนที่ไม่ชอบทานปลาดุกเนื่องจาก ปลาดุกมีกลิ่นสาบแรง จะสามารถทานเมนูนี้ได้ครับ เพราะว่าเนื้อปลาดุกในจานนี้จะได้กลิ่นหอมของกระชาย และ พริกไทยอ่อน และ เมนูนี้เหมาะสำหรับทานกับข้าวสวยร้อน ๆ หรือ ทานเป็นกับแกล้มกับเบียร์เย็น ๆ ก็ชื่นใจดีครับ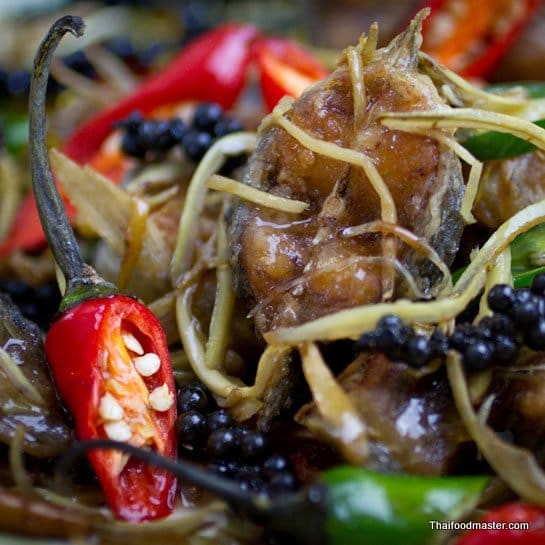 Crispy Catfish Stir Fried with Wild Ginger and Fresh Peppercorn Recipeสูตรทำปลาดุกทอดกรอบผัดกระชายพริกไทยอ่อน
A fabulous Thai spicy catfish recipe of crispy catfish stir fried with wild ginger and fresh peppercorns.
Ingredients
450

gr

catfish (ปลาดุก)

about two small fishes, cut into 2cm (1") slices

1/4

cup

all purpose flour

2

Chinese garlic (กระเทียมจีน)

1

cup

fingerroot (krachai) (กระชาย)

krachai, cut into thin julienne

1

fresh red long chili (phrik chee fa) (พริกชี้ฟ้าแดง)

1

fresh green long chili (phrik chee fa) (พริกชี้ฟ้าเขียว)

4

fresh peppercorns (พริกไทยอ่อน)

about 2 tablespoon

neutral tasting cooking oil (น้ำมันพืช)
Seasoning Sauce
1 1/2

tablespoons

light soy sauce (ซีอิ๊วขาว)

1

tablespoon

oyster sauce

1/4

cup

water or stock (น้ำเปล่าหรือน้ำสต๊อก)

pinch

granulated sugar (น้ำตาลทราย)

pinch

ground white pepper (พริกไทยป่น)
ส่วนผสม
ปลาดุก 450 กรัม

ประมาณ 2 ตัวเล็ก

แป้งเอนกประสงค์ 1/4 ถ้วย

กระเทียม 2 กลีบใหญ่

กระชายซอยบาง ๆ 1 ถ้วย

พริกชี้ฟ้าแดงสด 1 เม็ด

พริกชี้ฟ้าเขียวสด 1 เม็ด

พริกไทยอ่อน 4 ก้าน (ประมาณ 2 ช้อนโต๊ะ

น้ำมันสำหรับทอด
ส่วนผสมน้ำปรุง
ซีอิ๊วขาว 1 1/2 ช้อนโต๊ะ

น้ำมันหอย 1 ช้อนโต๊ะ

น้ำเปล่า หรือ น้ำสต๊อก 1/4 ถ้วย

น้ำตาลทรายขาว 1/2 ช้อนชา

พริกไทยป่น 1/4 ช้อนชา
Instructions
Clean the fish, remove the guts, wash well and slice into 2cm (about 1") thick slices.
ทำความสะอาดปลา ล้างน้ำให้สะอาด ควักไส้ออก และหั่น เป็นชิ้น ๆ หนาประมาณ 2 ซม


Roll the fish slices in all purpose flour until lightly coated.
คลุกเนื้อปลาดุกกับแป้งเอนกประสงค์


In a wok, heat oil for deep frying over medium-high heat, when the oil is hot, fry the flour coated fish slices.
ตั้งกะทะด้วยไฟกลาง ใส่น้ำมันสำหรับทอดลงไป รอจนน้ำมันร้อน จากนั้นให้ใส่เนื้อปลาดุกลงไปทอด


Fry until the fish is deep golden in color and crispy in texture. set aside on kitchen towels to drain excess oil.
ทอดจนปลาสุก เนื้อปลาออกสีน้ำตาลเข้ม หนังกรอบ ตักเนื้อปลาขึ้น พักไว้ให้สะเด็ดน้ำมัน เสร็จแล้วพักเอาไว้


Mix all the ingredients of the seasoning sauce and set aside.
ผสมส่วนผสมน้ำปรุงทั้งหมดเข้าด้วยกัน แล้วพักเอาไว้


Crush and roughly chop the garlic.
ทุบกระเทียม แล้วสับให้พอหยาบ ๆ


Cut the green and red fresh chilies into thick slices.
หั่นพริกชี้ฟ้าแดง และ เขียว เป็นชิ้นหนา ๆ แล้วพักเอาไว้


Remove the oil used to deep fry the fish from the wok.
เทน้ำมันที่เหลือจากการทอดปลาออกจากกะทะ จนเหลือน้ำมันในกะทะประมาณ 2 ช้อนโต๊ะ


leave only 2 tablespoons of oil for stir-frying. place the wok over high heat.
ตั้งกะทะด้วยไฟแรง


Begin by lightly frying the garlic until fragrant, don't wait until the garlic browns...
ใส่กระเทียมลงไปในกะทะ และ ผัดจนหอม


Return the deep fried fish to the wok and mix quickly with the garlic-oil.
นำเนื้อปลาดุกที่ทอดเอาไว้แล้วใส่ลงในกะทะ


Add the wild ginger (krachai) julienne.
ใส่กระชายซอยบางลงไป


Mix everything thoroughly and quickly.
ผัดกระชายกับเนื้อปลาเร็ว ๆ ให้เข้ากัน


Add the fresh peppercorns, green chilies and red chilies.
ใส่พริกไทยอ่อน และ พริกชี้ฟ้าลงไป


Give the chilies and peppercorn a quick stir-fry to release their aromatic oils.
ผัดส่วนผสมทั้งหมดให้เข้ากันจนได้กลิ่นหอม


Add the seasoning sauce.
ใส่น้ำปรุงที่เตรียมเอาไว้แล้วลงไป


Stir fry fast, making sure all the slices of the fish gets a glaze of the sauce, less than a minute is all it takes, at which point turn off the heat.
ผัดทั้งหมดเร็ว ๆ ให้เข้ากัน ก็เป็นอันเสร็จ


Serve immediately.
เสริฟ

Tried this recipe?
We'd love to see it - tag it #THAIFOODMASTER on Instagram! Please leave a comment to let us know how it was!