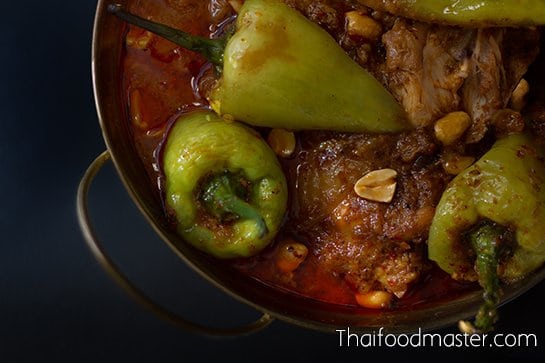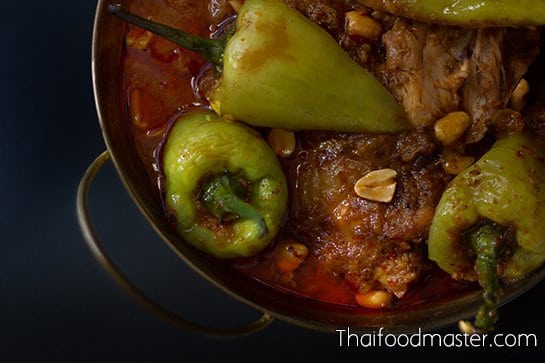 Also known as: gaaeng jeen juaan (แกงจีนจ๊วน), or gaaeng juaan (แกงจ๋วน).
Gaaeng jeen juaan is a coconut-based curry. With primary ingredients of chicken, light green banana chili peppers and peanuts, it is similar to Massaman curry (matsaman); and scented with the sweet aroma of dry Indian spices such as cumin, mace, nutmeg, clove, star anise and cinnamon. Pineapple adds sweetness and a thin layer of tartness. The sweet and sour flavors are echoed by the addition of fresh sugarcane juice and a squeeze of bitter orange juice (sohm saa). To enhance the aroma and texture of the curry, roasted grated coconut is added to the curry paste.
This recipe comes from Phra Sucharit Suda (1895 -1982), who was the first consort of King Rama VI (formerly Prueng Sucharitakul) (พระสุจริตสุดา (เปรื่อง สุจริตกุล)"). On her 60th birthday, in 1955, Phra Sucharit Suda published a cookbook called "How to Cook Thai and Western Food (วิธีทำอาหารไทยและฝรั่ง)", based on her own recipes.
The popularity of the richer, thicker Massaman curry came to overshadow this dish, and today it is barely present on the Thai culinary landscape. Food culture is constantly evolving and changing: Dishes that are less popular among wider populations have been known to entirely disappear: This is one of the reasons that we have chosen to write about this forgotten dish, and to hopefully preserve it for future generations.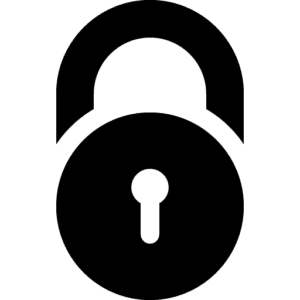 Unlock exclusive content!
Log in now or become a valued subscriber 
Login