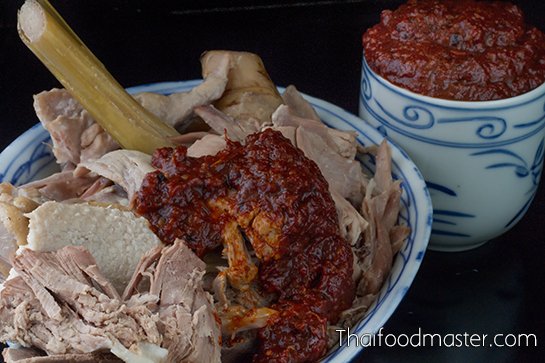 Tom kha is a well-known and much-loved Thai soup: a creamy, soothing coconut blend, a warm, silky broth in which chicken, mainly, is simmered with young galangal, mushrooms, and, at times, charred-grilled banana blossoms. In other versions, lemongrass and kaffir lime leaves are added, blurring the boundaries between tom kha and the coconut-based tom yam soup (tom yum kati; ต้มยำกะทิ).
Both The Royal Institute Dictionary (พจนานุกรม ฉบับ ราชบัณฑิตยสถาน), which is the official and authoritative dictionary of the Thai language, and the popular Thai dictionary compiled by Prof. Pleung Na Nakorn (พจนานุกรม ฉบับ อ.เปลื้อง ณ นคร พิมพ์โดยสำนักพิมพ์ไทยวัฒนาพานิช), define tom kha as:
"Tom Kha – a spicy chicken-curry in coconut milk – a name of a type of soup, similar to coconut-based tom yam soup, usually using chicken with young galangal and seasoned with roasted chili jam, fish sauce, lime juice and fresh bird's eye chilies." (translated)
However, in the late 19th century, tom kha was not a soup at all: it was a dish of chicken or duck simmered in a light coconut broth with a generous amount of galangal. The coconut broth added sweetness to the meat, and the galangal helped to mellow the meat odor. It was then served with a basic roasted chili jam as a dipping relish seasoned along the salty-sour-sweet spectrum.
In 1890 (2433 BE, 109RE), Maawm Sohm Jeen (หม่อมซ่มจีน, ราชานุประพันธุ์) produced a cookbook under the title "Tam Raa Gap Khao (ตำรากับเข้า)". Published by the Wacharin printing company (โรงพิมพ์วัชรินทร์), this somewhat obscure document – known to only a few people – was printed as Lady Plean's recipes began appearing in the city magazine, "Bpradtithin Bat Laae Joht Maai Haeht (ประติทินบัตร แล จดหมายเหตุ)", between 1889 and 1890.
Today we will reintroduce tom kha pet according to Maawm Sohm Jeen's recipe (1890). In the Thai version we have preserved the old Thai language and we will try to retain the old Siamese tone in our English translation:
Tom kha pet nam phrik phao ; ต้มข่าเป็ด น้ำพริกเผา อย่างหม่อมซ่มจีน (ราชานุประพันธุ์)
English transcript:
If duck chicken is cooked with galangal, take 1 duck and 1 coconut nut. If don't have full coconut nut, one slice will be enough. Grate and squeeze diluted coconut cream. Estimate the amount to cover the duck or chicken pieces. Use young galangal weight of 10 baht (150gr), crush the galangal and put into the pot until boiling. Then add to the pot the chicken or duck in whole or in slices. Boil until the coconut renders the oil and the meat is very tender. Add salt weight of 1 saleung (3.75gr); it will help to push the fat away and dry the meat. Take roasted chili jam and dilute with fish sauce, lime juice and sugar until watery; take the galangal duck meat or galangal chicken meat and dip it in the chili jam. Very tasty eat.
This recipe is very easy to follow and, as you can see, the ancient Siamese loved to eat tom kha by dipping meat into the roasted chili paste. It is not even remotely close to the modern recipe.
Thaifoodmaster would like to put back into the records this ancient version of the familiar modern version as an act of preserving the Thai national treasures, especially as Thailand progresses into the ASEAN Economic Community.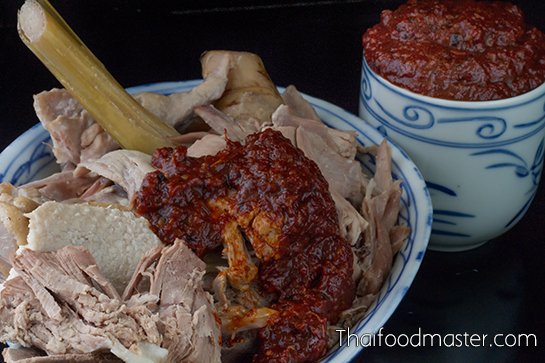 Ancient Tom Kha Bpet Recipe
Ingredients
1

Whole Duck

about 1.4 Kg

1 1/2

cups

Coconut cream

2 1/2

cups

Coconut milk

7 1/2

cups

Water

400

gr

Young galangal

4 roots

1 1/2

teaspoon

Salt
Roasted chili jam dipping sauce
15

dried red long chili (phrik chee fa) (พริกชี้ฟ้าแห้ง)

10

Shallots

charred (about 60 gr)

1/2

cup

Thai garlic

charred (about 45 gr)

1

tablespoon

fermented shrimp paste (kapi)(กะปิย่างไฟ)

grilled

6

pc Coriander roots

about 12 gr

1/2

teaspoon

Salt

3

tablespoons

Fish sauce

6

tablespoons

Lime juice

2

tablespoons

Palm sugar
Instructions
Prepare the roasted chili jam relish
Char-grill the dry chilies, fermented shrimp paste, unpeeled shallots and garlic.


Peel the shallots and clean the coriander roots.


Pound with salt all the ingredients to a consistent paste.


Season with fish sauce, lime juice and palm sugar.

Boil The Duck
Clean a whole duck.


Cut the duck into large pieces, discard excess fat, and select young galangal.


Bruise the galangal, add it to a pot with the duck, and cover with diluted coconut cream and water.


When the duck is ready and fat is floating, add salt.


Serve the cooked duck alongside the seasoned roasted chili jam relish.

Tried this recipe?
We'd love to see it - tag it #THAIFOODMASTER on Instagram! Please leave a comment to let us know how it was!