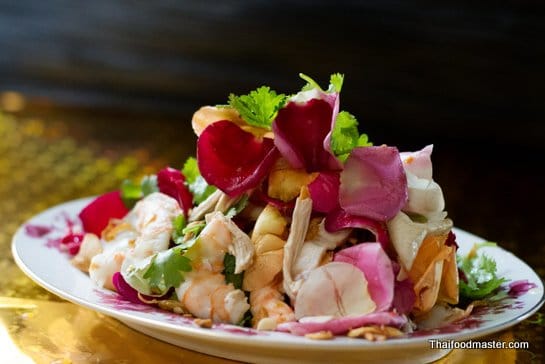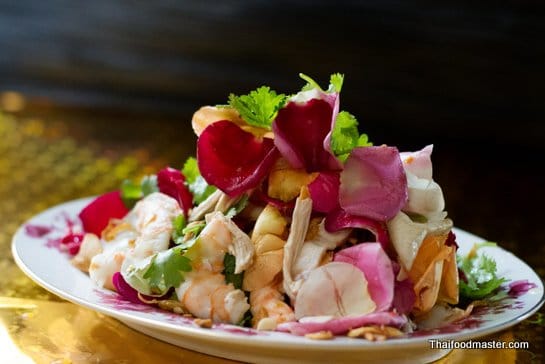 Chef Gorn's Rose Garden
Chef Thapakorn Lertviriyavit (Gorn) brings us a rare perfumed and colorful starter [salad] dish that was rediscovered in a cookbook written by a former governor of Nakhon Ratchasima (พระยานครราชเสนี – สหัด สิงหเสนี), which contained a recipe that called for rose petals, called 'Yum Gularb' or 'Rose Petal Salad'. But I'd prefer to rename it, 'Yum Gleep Kuppatchka'. You will soon understand why….
This salad is made from rose petals mixed with pork belly, chicken and shrimp, seasoned with chilies, fish sauce, lime juice, palm sugar, and mixed with roasted peanuts, deep-fried shallots and deep-fried-garlic.
Section A – Intro
This morning I got up really late. I stayed up all night last night, almost until the break of dawn, rushing to finish those dessert orders again. As I was coming downstairs, I heard a love song playing that hadn't heard in years.
"Roses Are Red (My Love)"
The last time I heard that song, I was still single. It was my youngest daughter who had put on the song. Wow, and she'll be 18 this year! And I still haven't seen her go out on a date once. She was sitting on the floor in front of an old cassette player and piles of old cassettes. She had a couple of old books out, and a vase of red roses in front of her.
"I found these cassettes in the storeroom, and thought I'd give them a listen. This one is excellent!"
I was still listening to the song as she started turning it down.
"Roses are red, my love. Violets are blue. Sugar is sweet, my love. But not as sweet as you."
Section A – Intro Cont.
In fact, I don't think I'd heard that song since back when I first started flirting with her mother! Obviously, that was quite a while ago.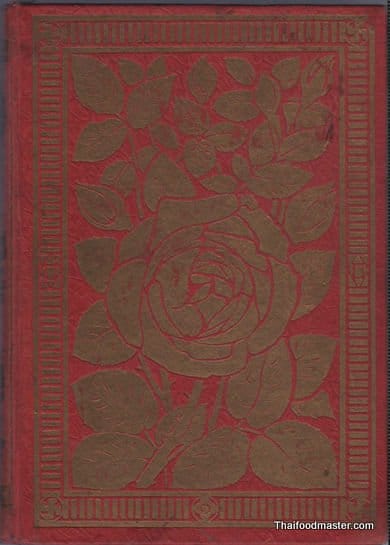 "So, what are you doing here?' I asked her! And then I noticed that she had a book of mine, MADANABADHA (or THE ROMANCE OF A ROSE). "And why do you have that? Are you reading it?"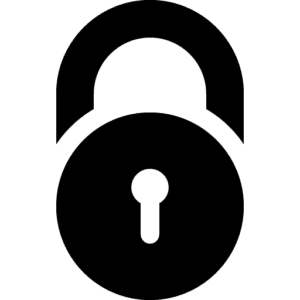 This Content is Locked
Join Today to unlock the content! 
Login