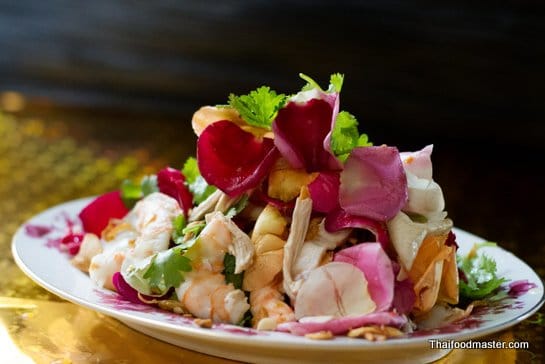 Chef Gorn's Rose Garden
Chef Thapakorn Lertviriyavit (Gorn) brings us a rare perfumed and colorful starter [salad] dish that was rediscovered in a cookbook written by a former governor of Nakhon Ratchasima (พระยานครราชเสนี – สหัด สิงหเสนี), which contained a recipe that called for rose petals, called 'Yum Gularb' or 'Rose Petal Salad'. But I'd prefer to rename it, 'Yum Gleep Kuppatchka'. You will soon understand why….
This salad is made from rose petals mixed with pork belly, chicken and shrimp, seasoned with chilies, fish sauce, lime juice, palm sugar, and mixed with roasted peanuts, deep-fried shallots and deep-fried-garlic.
Section A – Intro
This morning I got up really late. I stayed up all night last night, almost until the break of dawn, rushing to finish those dessert orders again. As I was coming downstairs, I heard a love song playing that hadn't heard in years.
"Roses Are Red (My Love)"
The last time I heard that song, I was still single. It was my youngest daughter who had put on the song. Wow, and she'll be 18 this year! And I still haven't seen her go out on a date once. She was sitting on the floor in front of an old cassette player and piles of old cassettes. She had a couple of old books out, and a vase of red roses in front of her.
"I found these cassettes in the storeroom, and thought I'd give them a listen. This one is excellent!"
I was still listening to the song as she started turning it down.
"Roses are red, my love. Violets are blue. Sugar is sweet, my love. But not as sweet as you."
Section A – Intro Cont.
In fact, I don't think I'd heard that song since back when I first started flirting with her mother! Obviously, that was quite a while ago.
"So, what are you doing here?' I asked her! And then I noticed that she had a book of mine, MADANABADHA (or THE ROMANCE OF A ROSE). "And why do you have that? Are you reading it?"
"Yea dad, I'm searching for information on Valentine's Day, but this is nearly impossible to understand, it's all poetry. Can you just sort of summarize it for me, so that I can get this?"
"Of course, my dear, I will summarize the story for you, but if you need the details, you'll have work that out yourself. You're a university student now; you need to learn how to research something."
I couldn't resist the invitation to teach her a little something about life, I so I began:
Section B – History
MADANABADHA (or THE ROMANCE OF A ROSE) is literary work by King Rama VI. The King composed the work in 1923, just a short time before he passed away.
There are 6 Acts divided into two parts: Heaven and Earth. The story is based on the origin of a rose or 'Kuppatchka'. A god named Sudhetdhepabut had a crush on a goddess named Madana, and used his powers to bring her to his residence, so that he could persuade her to fall in love with him. She refused. A spell was then cast upon her and she was exiled to earth and turned into a rose in the middle of a forest. She was allowed to return to her human form for only 1 day and 1 night per week, until she would agree to apologize or accept the love of Sudhetdhepabut.
Eventually, she met a King named Chaiyasen who was trekking in the forest. The two fell in love. Unfortunately, the King already had a wife, who was intensely jealous of Madana and treated her poorly. Madana and Chaiyasen, although in love, faced great obstacles to their happiness together.
And then when Sudhetdhepabut returned, again asking for Madana's love, she turned him down one last time. Sudhetdhepabut thus cursed her to be Kappatchka, or a rose, forever.
Section B – Moral
This Royal work suggests that love is not always easy. There will be obstacles. Anyone who has been in love can tell you, it doesn't always turn out like in the movies.
When my daughter was young I told her, merely as an amusement, that is one of the reasons why people use roses as a symbol of love … It is believed that if someone wants to divine whether or not his (or her) love will be returned, he (or she) only need pick off the petals of a rose, one by one, while saying, "he (she) loves me … he (she) loves me not" until they've picked the last petal. That is how the answer is reached, but if they don't get the answer they want, they can make an offering of the petals at the temple, in order to improve their luck.
Section C – Intro Wrap Up
"Does that help? Do you think you can make sense out of it now? I'll go check on the desserts first, I've gotta get them out right away."
Then I went out to check on my orders.
And tonight, I'll take my family out to dinner to celebrate our anniversary, and Valentine's Day, and our daughter's birthday. What an amazing coincidence!
When I came back, my little trouble maker was gone. She left behind a pile of cassettes and my books, and left that song playing. There was a big pile of rose petals, but clearly, some of the roses were gone.
There was a handwritten note on the table.
"Papa, I went to the temple for a bit. I forgot to ask, what do I do with the petals? What do I do if don't get the result wanted?"
I smiled. I knew exactly what to do, so I wrote back to her: "Eat them! I'll make you some Yum Gleep Kuppatcha."
Section D – Back To The Kitchen
While I was out delivering my dessert orders, I started going over in my head all the different recipes that make use of rose petals. Obviously, in Thai cooking, rose petals are usually used to perfume the dish, especially with desserts. And most commonly used rose is the red or pink Damask rose. The rose petals are usually floated on water and are used to make syrups, or mixed with coconut milk and then used to make sweets.
Additionally, rose petals are sometimes made into fritters, along with other kinds of flowers, and eaten with a dipping sauce or as a side dish for "Khanohm Jeen Naam Phrik" (ขนมจีนน้ำพริก ; Fermented rice noodles with coconut and peanut sauce).
Section E – Jam
I myself have used rose petals to make jam, using the Demask rose confitured with strawberry or ripe guava, with a little added sugar for consistency. It is best as a dipping sauce with Thong Plu (fried dough) or used as a spread with bread. I recently [read] about The Doi Kham Royal Project, a rural farm development project, started by HR King Bhumibol in 1969, that also sells rose petal jam.
Section G – Outro
I will go over the ingredients, and instructions, for making Rose Petals Salad at the end of this article.
Last Valentine's day, instead of taking the family out to dinner, we all stayed home, and I cooked up all sorts of dishes, using the rose petals.
I guess there must be a new love story behind that bouquet of roses my daughter picked apart, which sort of reminds me that song again….
"Roses are red, my love. Violets are blue. Sugar is sweet, my love. But not as sweet as you."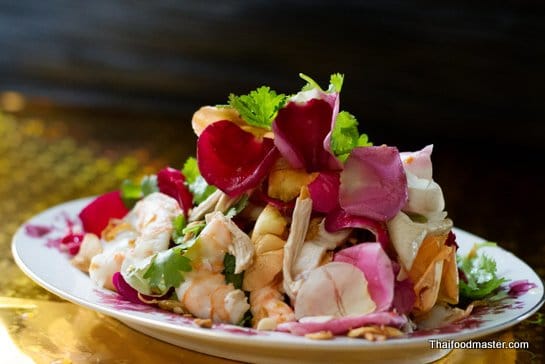 Rose Petals Salad (ยำกลีบกุพชกะ ; yam gleep goop cha ga)
A rare perfumed and colorful starter [salad] dish that was adapted from a recipe by a former governor of Nakhon Ratchasima (พระยานครราชเสนี – สหัด สิงหเสนี). This salad is made from rose petals mixed with pork belly, chicken and shrimp, seasoned with chilies, fish sauce, lime juice, palm sugar, and mixed with roasted peanuts, deep-fried shallots and deep-fried-garlic.
Ingredients
2

cups

Damask Rose Petals

1/3

cup

Chicken breasts

cooked and shredded

1/2

cup

Shrimp

cleaned, cooked and cut into halves

1/2

cup

Pork belly

cooked and cut into bite-size pieces

1/2

cup

Roasted Peanuts

1

cup

Deep Fried Shallots

1

cup

Deep Fried Garlic

1

cup

Coriander leaves

3

Tablespoons

fresh red long chili (phrik chee fa) (พริกชี้ฟ้าแดง)

cut into julienne
Dressing
1/2

cup

+ 2 tablespoons Fish Sauce

1/2

cup

Lime Juice

2

tablespoons

Palm sugar
Instructions
Select Damask roses of various colors.


Pick off the rose petals.


Place them in a bowl of cold water, to keep them fresh and crispy.


Cook the pork belly in water, you may add a pandan leaf to add another dimension of fragrance, and then when the pork cooled down, slice it into bite-size pieces.


Cook the chicken breast, and shred it to thin threads.


Cook the shrimp, peel and cut them into halves.


Roast the peanuts over low heat.


With a sharp knife, slice the peanuts into thin pieces.


Cut the fresh long red chilies into thin juliennes.


Deep fry the shallots and garlic until golden and crispy.


Place all the ingredients in a mixing bowl, add the salad dressing.


Mix everything together.


Plate and serve.

Tried this recipe?
We'd love to see it - tag it #THAIFOODMASTER on Instagram! Please leave a comment to let us know how it was!