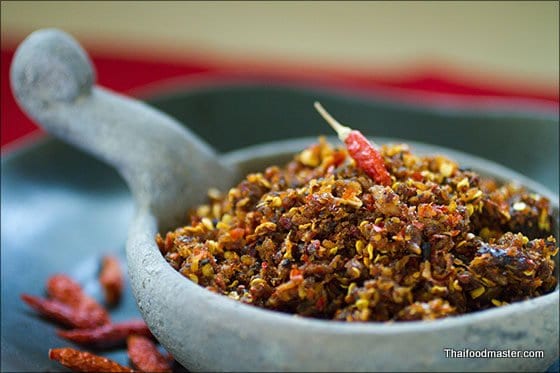 I love my food very spicy and I'm very generous with all things chili. People like me who also enjoy spicy food, in part, love it because It's truly a food & mood issue. Chilies are known to boost endorphin levels in the body and that makes us feel better. Maybe that's the reason why marketers get my immediate attention simply with red packaging and the naughty smile of the devil holding to the brand name logo of their products.
Thai people are using the same tactics in naming their fiery relishes; "Red eyes chili relish" for the beginners and "chili relish from hell" that would probably grab your attention, the chili pepper addict, rather than actually send you for a visit… While this dish is very spicy, by no means expect a heatwave that will leave your palate in a complete state of numbness. This relish has a wonderful combination of different tastes and aromas all sensationally and simultaneously working together on different parts of your palate. Like magic, saltiness with a cloud of heat will mature in your mouth and dissolve into a full-body smoked after-taste with notes of both sour and sweetness.
Subscribe to Read More
Join Today to continue reading. 
Login