This page is also available in: Thai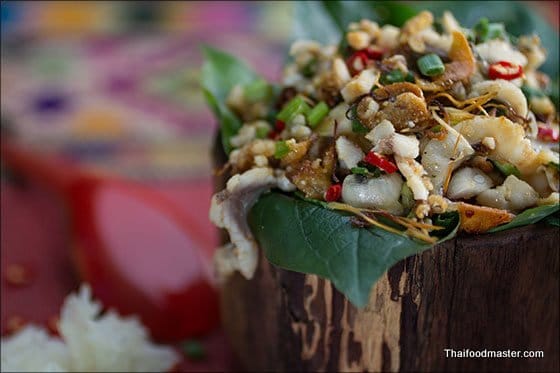 A marvelous Luang Prabang style fish salad recipe (Koi Pla), which is very easy to prepare and even though it looks simple, its flavors are complex and clever.
Fresh fish fillet is sliced into thin strips which are quick blanched in lemongrass infused boiling water – a cooking method that presenting it's natural flavors with an uplifting citrusy notes. The white fish slices are then mixed with, deep golden brown caramelized mix of fried garlic, shallots and lemongrass, which are not just visually pleasing but also add a unique sweetness and richness to the dish.
This salad is further enhanced by spicy, sour and salty dressing of fresh chopped chilies, lime juice and fish sauce, which together find a gratifying harmony with the nuttiness of ground roasted rice and the joyfulness of the fresh aromatic herbs.
"ก้อยปลาสูตรหลวงพระบาง" นี้มีการนำเอา หอมแดง กระเทียม และ ตระไคร้ มาทำเป็นเครื่องเจียวโดยจะใช้ไฟอ่อน ๆ ในการเจียวทำให้ได้สีเหลือง ๆ ดูน่ารับประทาน อีกทั้งเครื่องเจียวนี้ยังจะช่วยเพิ่มความหอม หวาน มัน ให้ก้อยปลาอร่อยมากยิ่งขึ้น ส่วนเครื่องปรุงอื่น ๆ ก็จะเหมือนกับการทำก้อยปลาทั่ว ๆ ไปทางภาคอีสาน โดยสูตรก้อยปลานี้ทำไม่ยาก สามารถทำทานเองที่บ้านได้ง่าย ๆ

Luang Prabang Style Fish Salad Recipe (Koi Pla)
สูตรทำก้อยปลาหลวงพระบาง
A marvelous Luang Prabang style fish salad recipe (Koi Pla), which is very easy to prepare. Even though it looks simple, its flavors are complex and clever
Ingredients
One piece of tilapia fillet, skin on about 120 - 150 g.
1 tablespoons shallots.
2 large cloves of garlic, approximately one and a half tablespoons
1 stalks of lemongrass, finely chopped
3 stalks of lemongrass, crushed.
3 birds eye chilies, chopped finely (or more)
1 tablespoon roasted rice powder.
1 tablespoon fish sauce or fermented fish sauce
1 tablespoon lime juice
1/4 cup spring onions, chopped
1/4 cup coriander leaves, chopped
3 tablespoons of mint leaves, hand torn
ส่วนผสม
ปลานิลแล่เนื้อประมาณ 120-150 กรัม (ครึ่งตัว)
หอมแดงซอย 1 ช้อนโต๊ะ
กระเทียมกลีบใหญ่ซอยหยาบ 2 กลีบ
ตะไคร้ซอยบาง ๆ 1 ต้น
ตะไคร้ ทุบหยาบ ๆ 3 ต้น
พริกขี้หนูหั่นบาง ๆ 3 เม็ด
ข้าวคั่ว 1 ช้อนโต๊ะ
น้ำปลา หรือ น้ำปลาร้าต้มสุก 1 ข้อนโต๊ะ
น้ำมะนาว 1 ช้อนโต๊ะ
ต้นหอมซอย 1/4 ถ้วย
ผักชีซอย 1/4 ถ้วย
ใบสะระแหน่ประมาณ 3 ช้อนโต๊ะ
Method
Place the wok on low heat, add oil together with the chopped garlic, shallots and the finely sliced lemon grass.
ตั้งกระทะไฟอ่อน ใส่น้ำมันลงไป พร้อมด้วย หอมแดงซอย กระเทียมซอยหยาบ และ ตะไคร้ซอยบาง ๆ

Fry on low heat, until light brown, strain and removed from the heat immediately. Be careful not to burn the ingredients
เจียวโดยใช้ไฟอ่อน ๆ ใช้ตะหลิวคนไปคนมา พอสีเริ่มเหลือง ให้ตักขึ้นทันที

Set aside
พักเครื่องเจียวเอาไว้

Slice the fish fillet, skin on, into thin strips. Discard any bones
นำเนื้อปลามาหั่นเป็นชิ้นบาง ๆ

In a wok bring water with lemon grass to a strong boil
ตั้งกระทะไฟแรง เติมน้ำเปล่าลงไป ตามด้วยตะไคร้ทุบพอหยาบ ๆ ใส่ลงไป

Place the fish meat on a handled strainer or a slotted spoon and blanch the fish just until almost done.
เมื่อน้ำเดือดจัดแล้ว นำเนื้อปลาที่หั่นไว้แล้วลงไปลวกในน้ำเดือดจนเกือบสุก

Transfer the fish into a mixing bowl, shake the strainer lightly leaving some cooking water
นำเนื้อปลาใส่ลงในอ่างผสม

Add the fried garlic mixture
นำเอาเครื่องเจียวที่เตรียมไว้ใส่ลงไป

Mix lightly,
ผสมคลุกเคล้าเครื่องปรุงเบา ๆ

Add the fresh red chilies
ใส่พริกขี้หนูหั่นบาง ๆ ลงไป

Add ground roasted rice
เติมข้าวคั่วลงไป

Add fish sauce
เติมน้ำปลา หรือ น้ำปลาร้า ลงไป

Add lime juice
เติมน้ำมะนาวลงไป

Add green onions
ใส่ต้นหอมลงไป

Add coriander
ใส่ผักชีลงไป

Add mint leaves
ใส่ใบสะระแหน่ลงไป

Toss all the ingredients together
ผสมคลุกเคล้าเครื่องปรุงเบา ๆ

Serve with steaming hot sticky rice
เสริฟพร้อมข้าวเหนียวร้อน ๆ