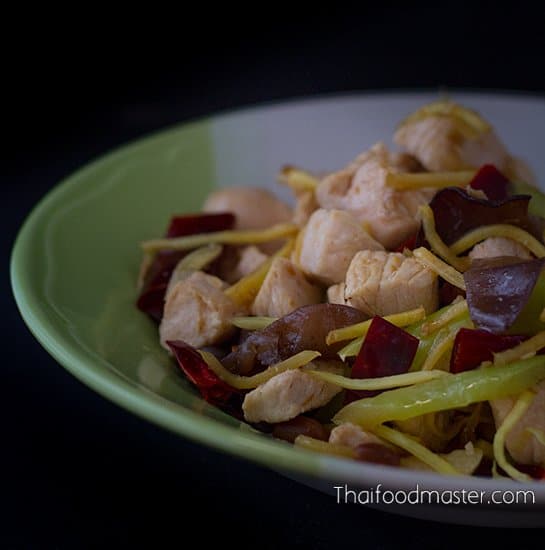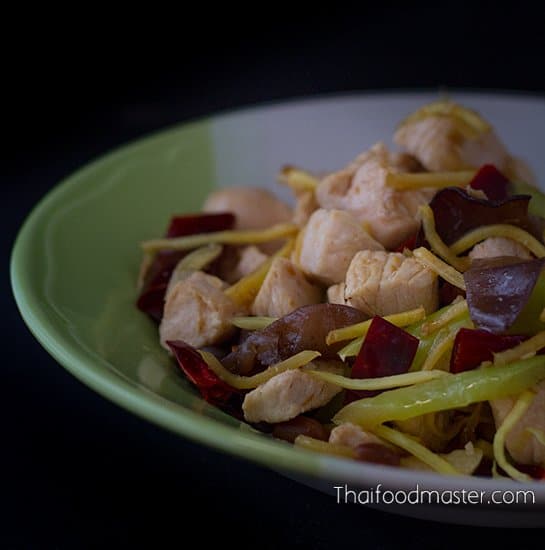 Stir Fried Chicken with Ginger and Black Fongus Recipe[br](ไก่ผัดขิง ; gai pat king)
Author:
Prep time:
Cook time:
Total time:
Ingredients
200 gr chicken breast, cut into bite-size cubes
1/2 cup fresh ginger, thinly julienned
1/2 cup fresh black ear mushrooms
1/2 cup fresh banana chilies, cut into long, thin strips
1/3 cup large dry chilies, cut into 2 cm (0.8″) pieces
1 tablespoon garlic, crushed and roughly chopped
2 tablespoons natural taste oil
Season with:
1 tablespoon light soy sauce
1 tablespoon fermented soybean paste ([i]tao chiao[/i])
1/4 teaspoon ground white pepper
pinch of sugar
pinch of salt
1/3 cup stock or water
Instructions
Mix all the seasoning ingredients; set aside.
Place a well-seasoned wok over medium-high heat. When the wok is hot, pour in the oil followed by the garlic.
Stir fry quickly until fragrant; do not allow the garlic to brown.
Add the chicken breast meat; quickly stir fry until the chicken color has changed, then add the ginger and continue stir frying until the chicken is almost thoroughly cooked.
Sprinkle some water to deglaze the wok and create steam, and then add the black ear mushrooms and the fresh and the dry chilies.
Continue stir frying for a few more seconds before adding the seasoning sauce, then stir fry until the chicken is well done.