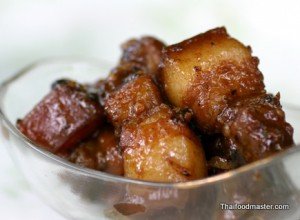 Southern Thai Cuisine (Dtai)
The food culture of Phuket, like its architecture, blends western colonial, Hokkien Chinese with Muslim and Thai motifs. The Hokkien Chinese who arrived from Singapore and Malaysia introduced Muu Haawng to the repertoire of the Phuket Thai style cuisine (bpoon dteh ; ปุ้นเต่).
It is very similar to the Teochew style Phalo, but here there is no use of Chinese five-spice powder, instead it is relaying only on soy sauce, sugar, garlic and black pepper to create a thick gravy that color the pork with a caramelized shiny red and tempting sheen.
Read More »