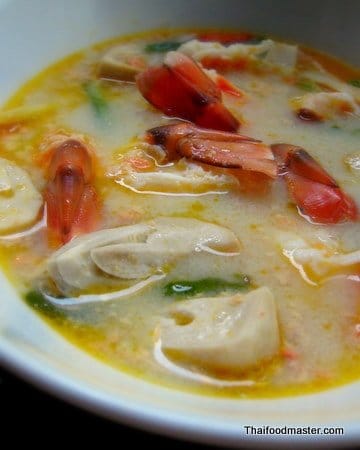 Tom Yam is a type of soup with distinct sharp hot and sour flavors, scented with pleasant citrusy aroma.
Tom Yam is known to seduce many westerners to fall in love with Thailand, its people and food. Many trips memories to Thailand were written in diaries, others are etched on film but all are stained by the Tom Yam charm.
I still remember with vivid colors my first bowl of Tom Yam, in the night market of the old neighborhood on a hot night in a ragged, unfashionable part of Bangkok. Where the smell of cooking and the glare of florescent lights decorated the alley where JeMoi used to own a restaurant, a very simple and very good one, decorated with cheap bamboo chairs and peeling orange walls. I would enjoy watching the streets of the early night turning into mornings, eating, drinking and sweating. It was hard to say if I was sweating from the hot and humid weather, the cheap whiskey or JeMoi's spicy food. I still smile when I think of her, standing by my table with a winning smile, as if she knew how much I enjoy the food.
Tom Yam is considered the best-liked Thai dish by westerners, is more than just a dish really; It is a full chapter of Thai cuisine with many recipes and a spectrum of variations.
Over time, I will list here different versions of Tom Yam.
The Scholar and Astrologer Prayoon Uroochata (Born 1921) said that Tom Yum has originated during the Ratanakosin period, which began with the founding of Bangkok as the capital in 1782.
It is not certain though if at times Tom Yam was part of the Royal Thai cuisine. King Rama II, in his "Boat epic poems" described incomparable dishes and arrangements at the hands of his queen. The poems are in praise of dishes, fruit arrangements, desserts, and significant occasions marked by the royal barge processions – neglected to mention Tom Yam.
It is only in "Suphasit Son Ying" were the poet Sunthorn Phu (1786-1855), the Shakespeare of Thailand, describing the ability to prepare Tom Yam as part of the desirable qualities that adds charm to a woman.
We can find written evidence that during the reign of HRH King Chulalongkorn the Great (Rama V, 1853 – 1910), Tom Yam has became part of the Royal Thai cuisine. It is described how a governor of a remote province welcomed the King with a meal that included Tom Yam.
Thai used mostly with Fish, Dried fish or fish heads in the preparation of Tom Yam. In the early days, the markets did not offer shrimp at wide variety and affordability of today.
Tom Yam Kung Recipe, Hot and Sour Soup with Shrimp (tom yum goong ; ต้มยำกุ้ง)
Author:
Prep time:
Cook time:
Total time:
Tom Yam is a type of soup with distinct sharp hot and sour flavors, scented with pleasant citrusy aroma.
Ingredients
10 large tiger prawns (head-on / shell-on / tail intact)
4 shallots
2 + 1 stalks lemon grass
1 + 2 tbs Fish sauce
4cm long (1.5″) galangal root, Crushed and sliced to thin slices.
6 large straw mushrooms cut into quarters (or oyster mushroom)
3 tbs lime juice
3-5 kaffir lime leaves
5-15 bird's eye chilies (depends on how spicy you like it)
2 long coriander leaves (saw coriander) or coriander
4 cups water
Instructions
Prepare the prawns. Discard the legs. Peel and devein.[br][br][img class="aligncenter size-full wp-image-327″ style="margin-top: 10px; margin-bottom: 10px;" title="IMG_2185″ src="https://www.thaifoodmaster.com/wp-content/uploads/2010/03/IMG_2185.jpg" alt="" width="450″ height="307″]
Squeeze and collect the fatty brains from the heads. Do not throw away the shells and heads.[br][br][img class="aligncenter size-full wp-image-328″ style="margin-top: 10px; margin-bottom: 10px;" title="IMG_2192″ src="https://www.thaifoodmaster.com/wp-content/uploads/2010/03/IMG_2192.jpg" alt="" width="450″ height="375″]
In a pestle and mortar bruise the shallots[br][br][img class="aligncenter size-full wp-image-329″ style="margin-top: 10px; margin-bottom: 10px;" title="IMG_2204″ src="https://www.thaifoodmaster.com/wp-content/uploads/2010/03/IMG_2204.jpg" alt="" width="450″ height="424″]
In a pot, bring to boil water, shallots and one stalk of lemon grass.[br][br][img class="aligncenter size-full wp-image-330″ style="margin-top: 10px; margin-bottom: 10px;" title="IMG_2224″ src="https://www.thaifoodmaster.com/wp-content/uploads/2010/03/IMG_2224.jpg" alt="" width="450″ height="281″]
Briefly and lightly, cook the prawns for 10-15 seconds until only 60% done. [br][br][img class="aligncenter size-full wp-image-331″ style="margin-top: 10px; margin-bottom: 10px;" title="IMG_2227″ src="https://www.thaifoodmaster.com/wp-content/uploads/2010/03/IMG_2227.jpg" alt="" width="421″ height="450″]
Remove them immediately from the pot and set aside. By doing so, We ensure that the prawns won't get overcooked.[br][br][img class="aligncenter size-full wp-image-332″ style="margin-top: 10px; margin-bottom: 10px;" title="IMG_2231″ src="https://www.thaifoodmaster.com/wp-content/uploads/2010/03/IMG_2231.jpg" alt="" width="421″]
Add the prawns heads and shells to the pot and cook only until the shells turn orange.[br][br][img class="aligncenter size-full wp-image-333″ style="margin-top: 10px; margin-bottom: 10px;" title="IMG_2237″ src="https://www.thaifoodmaster.com/wp-content/uploads/2010/03/IMG_2237.jpg" alt="" width="450″ height="264″ data-mce-src="https://www.thaifoodmaster.com/wp-content/uploads/2010/03/IMG_2237.jpg" data-mce-style="margin-top: 10px; margin-bottom: 10px]
Mix and press them but do not overcook more than 3 minutes or you risk in damaging the delicate sweet taste of the broth.[br][br][img class="aligncenter size-full wp-image-334″ style="margin-top: 10px; margin-bottom: 10px;" title="IMG_2244″ src="https://www.thaifoodmaster.com/wp-content/uploads/2010/03/IMG_2244.jpg" alt="" width="450″ height="333″]
Strain the liquids using a sieve. Press well to squeeze out all the juices.[br][br][img class="aligncenter size-full wp-image-335″ style="margin-top: 10px; margin-bottom: 10px;" title="IMG_2249″ src="https://www.thaifoodmaster.com/wp-content/uploads/2010/03/IMG_2249.jpg" alt="" width="331″ height="450″]
Add lemon grass[br][br][img class="aligncenter size-full wp-image-337″ style="margin-top: 10px; margin-bottom: 10px;" title="IMG_2259″ src="https://www.thaifoodmaster.com/wp-content/uploads/2010/03/IMG_2259.jpg" alt="" width="450″ height="327″]
Add galangal[br][br][img class="aligncenter size-full wp-image-338″ style="margin-top: 10px; margin-bottom: 10px;" title="IMG_2260″ src="https://www.thaifoodmaster.com/wp-content/uploads/2010/03/IMG_2260.jpg" alt="" width="450″ height="304″]
Add straw mushrooms.[br][br][img class="aligncenter size-full wp-image-339″ style="margin-top: 10px; margin-bottom: 10px;" title="IMG_2265″ src="https://www.thaifoodmaster.com/wp-content/uploads/2010/03/IMG_2265.jpg" alt="" width="450″ height="331″]
Season with one tbs of fish sauce and cook for couple of minutes until the mushrooms are done.[br][br][img class="aligncenter size-full wp-image-341″ style="margin-top: 10px; margin-bottom: 10px;" title="IMG_2266″ src="https://www.thaifoodmaster.com/wp-content/uploads/2010/03/IMG_2266.jpg" alt="" width="450″ height="291″]
Return the prawns to the pot.[br][br][img class="aligncenter size-full wp-image-342″ style="margin-top: 10px; margin-bottom: 10px;" title="IMG_2290″ src="https://www.thaifoodmaster.com/wp-content/uploads/2010/03/IMG_2290.jpg" alt="" width="338″ height="450″]
TURN OFF THE HEAT, we will now season the dish and finish it before serving. we turn off the heat to ensure the flavors will remain crisp and fresh.
Season with the rest of the fish sauce[br][br][img class="aligncenter size-full wp-image-343″ style="margin-top: 10px; margin-bottom: 10px;" title="IMG_2296″ src="https://www.thaifoodmaster.com/wp-content/uploads/2010/03/IMG_2296.jpg" alt="" width="450″ height="411″]
Season with lime juice[br][br][img class="aligncenter size-full wp-image-344″ style="margin-top: 10px; margin-bottom: 10px;" title="IMG_2291″ src="https://www.thaifoodmaster.com/wp-content/uploads/2010/03/IMG_2291.jpg" alt="" width="450″ height="293″]
Add hand torn kaffir lime leaves – to release the maximum of the aromatic oils[br][br][img class="aligncenter size-full wp-image-346″ style="margin-top: 10px; margin-bottom: 10px;" title="IMG_2303″ src="https://www.thaifoodmaster.com/wp-content/uploads/2010/03/IMG_23031.jpg" alt="" width="450″ height="238″]
Add crushed bird's eye chilies[br][br][img class="aligncenter size-full wp-image-347″ style="margin-top: 10px; margin-bottom: 10px;" title="IMG_2307″ src="https://www.thaifoodmaster.com/wp-content/uploads/2010/03/IMG_2307.jpg" alt="" width="450″ height="387″]
Add saw coriander[br][br][img class="aligncenter size-full wp-image-348″ style="margin-top: 10px; margin-bottom: 10px;" title="IMG_2309″ src="https://www.thaifoodmaster.com/wp-content/uploads/2010/03/IMG_2309.jpg" alt="" width="450″ height="293″]
Fry the prawns brain in oil until it gets a deep orange color.[br][br][img class="aligncenter size-full wp-image-349″ style="margin-top: 10px; margin-bottom: 10px;" title="IMG_2282″ src="https://www.thaifoodmaster.com/wp-content/uploads/2010/03/IMG_2282.jpg" alt="" width="450″ height="304″]
Finish the dish by adding the prawns brain it into the soup.[br][br][img class="aligncenter size-full wp-image-350″ style="margin-top: 10px; margin-bottom: 10px;" title="IMG_2313″ src="https://www.thaifoodmaster.com/wp-content/uploads/2010/03/IMG_2313.jpg" alt="" width="419″ height="450″]
Serve[br][br][img class="aligncenter size-full wp-image-352″ style="margin-top: 10px; margin-bottom: 10px;" title="IMG_2353″ src="https://www.thaifoodmaster.com/wp-content/uploads/2010/03/IMG_23531.jpg" alt="" width="360″ height="450″]