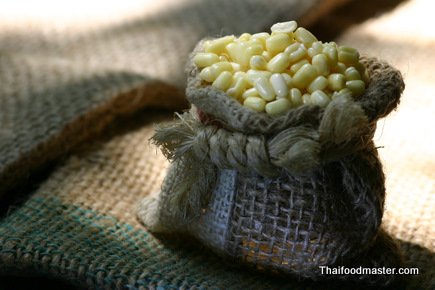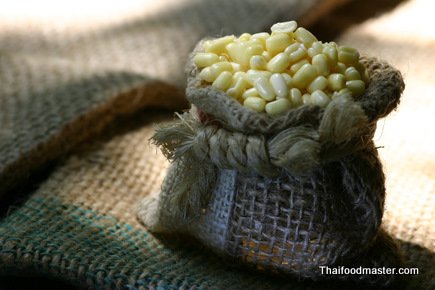 Mung beans, or green beans as they are known in Thailand, are ovoid in shape, and green in color.
They are generally eaten either whole (with or without skins), as bean sprouts, or used in cooking – mostly in Thai desserts. Mung beans are green with the husk and called in Thai thuaa khiaao (ถั่วเขียว), when dehusked they are light yellow in color and referred in Thai as Golden Beans (thuaa thaawng ; ถั่วทอง)
Both green and golden beans are available through Asian markets. The following is a quick method to dehusked green beans at home.
How to Dehusk Green Beans
Wash the beans well with plenty of water until the water is clear.
ทำถั่วทองโดยนำถั่วเขียวมาล้างน้ำให้สะอาด
Soak the beans in water overnight
แล้วนำไปแช่น้ำค้างคืน 1 คืน
Drain the beans. Fill a medium mixing bowl with plenty of water. Pour in the beans. Gently squeeze the beans between your fingers. The yellow meat of the bean will squirt out leaving the green husks floating. Let both fall back in the water. After a while, scoop out the husks that float. Continue until all the beans have been dehusked.
ถั่วเขียวจะดูดน้ำเข้าไป ซึ่งจะทำให้เปลือกถั่วเขียวนั้นนิ่มขึ้น
ใช้มือบี้ ๆ เม็ดถั่วเขียวที่แช่น้ำมา เพื่อให้เปลือกหลุดออก ก็จะได้ถั่วทองมา
Dry completely and store in a jar for future use.