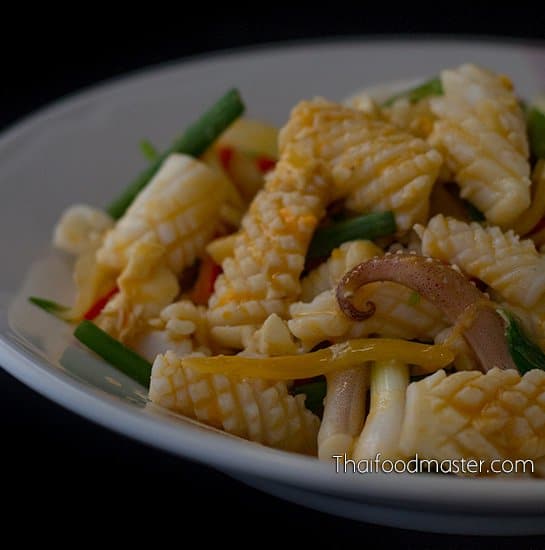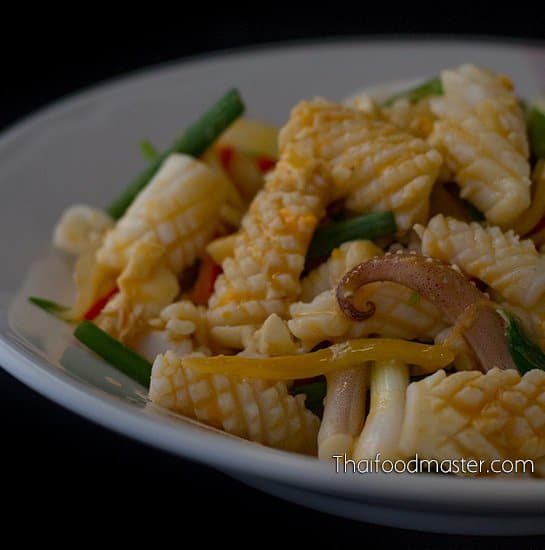 In this straightforward and rewarding stir-fried dish, I am using boiled salted duck egg, available from Asian markets, as my flavoring assistant. During stir-frying, the egg yolk dissolves to a velvety sauce that softly coats the squids, and complimenting their ocean's flavor. The alternate reds and greens strips of the vegetables emerged from the buttery yellow sauce are tempting for a taste.
The original version uses three egg yolks – a bit too much for a health conscious person like me. Therefore, I am using only one whole egg, both the egg white and the egg yolk. I tune down the white's sharp saltiness with an additional portion of sugar, and compensate for the color lost by adding a spoon of commercial chili sauce to improve. The resulting is a well-balanced dish with the right texture that stands up in this healthy version against its original with a winning smile….
For best results, select the freshest squids available and consult with your Asian market vendor for his top quality salted duck eggs. Tell him that Hanuman told you to get only eggs with the deepest glowing golden color egg yolks as possible – from the lot he hides for his regulars.
Stir-Fried Squid with Salted Duck Eggs Recipe
Yield: 3-4 servings
preparation time: 10 minutes
cooking time: 5 minutes
Ingredients
200g squid, cleaned, scored and cut into 2cm (1″) strips
1 Large boiled salted duck egg
2 cloves garlic, crushed and chopped
2 tablespoon neutral taste cooking oil
1/2 medium onion (about 1/4 cup) cut into thin wedges
1 large fresh long pepper (about 1/3 cup) cut into thin julienne
2-3 stalks Chinese celery (about 1/4 cup), roughly chopped.
1-2 spring onions, both the green and white portions (about 1/4 cup), cut into 3cm (1.5″) strips
Seasoning sauce
1/4 cup water
1 tablespoon oyster sauce
1 tablespoon light soy sauce
1 tablespoon granulated sugar
1 tablespoon commercial chili sauce or 1/2 tablespoon roasted chili jam
1/4 teaspoon ground white pepper
Method
Clean and score the squid with the back of your knife, than cut it into 2cm (1″) strips
Cook the squids in boiling water until only halfway done. This helps eliminate bad odor and prevent the squid from overcooking and becoming rubbery in consistency. Set aside.
Cut the boiled salted duck egg with its shell into halves and spoon out its content. Cut into quarters and set aside.
Cut the vegetables, prepare the seasoning sauce and set aside.

Place a wok on a medium high heat. Add the oil and then the garlic. Stir fry until fragrant. Do not burn the garlic.
Add the half-cooked squid and salted duck egg, Stir-fry fast until the egg yolk dissolves.
Add seasoning sauce and mix well
Add onion and stir-fry for about a minute or so, until the onions become transparent but not too soft.