This page is also available in: Thai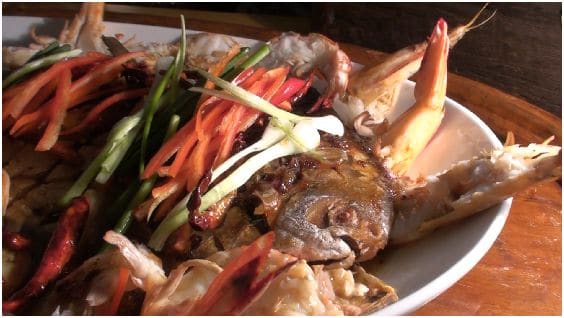 A friend and a colleague, who used to live on a boat for 10 years in the British Virgin Islands, told me recently, that they had lots of tamarind trees over there and how much she loves the sauces and jellies made from tamarind.
In Thai cooking we love tamarind as well. anyone who is familiar with Thai cuisine knows that it is built on three basic tastes: Sour, salty and sweet. A sauce made from tamarind simmered with palm sugar and fish sauce is made to combine sweetness, sourness and saltiness into the old fashioned and still very popular "saam roht" or "three flavors" tamarind sauce. The sauce is poured over fish or shrimps.
To the dish success, as important as the "three flavors" are the chilies heat from roasted chili paste and the crisp & crunchy texture of the fried fish skin and its firm somewhat sweet meat.
Palm sugar can be viewed almost as handicraft product. It is still largely made by families from the juice of a sweet-sapped palm trees. I drive to Samut Songran province to buy Palm sugar from my favorite producer. The light processing leaves much of the flavor of the sugar intact, creating an almost molasses-like flavor with beautiful aroma. In the west Palm sugar is readily available from Asian markets. When selecting a brand make sure it crumbles when you squeeze it. This is a good test that no white sugar was added. if you absolutely cannot find palm sugar you may substitutes it with a mix dark brown sugar with 2 teaspoons of molasses for every cup of brown sugar. Refined white sugar is absolutely NOT a suitable substitute for Palm sugar.

Palm Sugar Production; The palm sap is slowly reduced over traditional ovens

The recipe also calls for Roasted chili paste (nam prik pao), also sometime referred to as "Chili Jam" Roasted chili paste is also readily available from Asian markets under a wide range of brand names. I prefer to make my own, (I know.I should upload a tutorial), However, if you decide to use commercial brands please experiment and adjust the amount used in this recipe to suite your palate.
I chose to use Silver Pomfret, because of its delicate light fish taste, and white firm meat texture. You can freely substitute it with your favorite fish; Bass, Perch Snapper or Thai Red Tilapia – are all suitable substitutes.
An expert tip: Before frying he fish soak it in fragrant jasmine rice waters for 10 minutes or so. This will remove the fishy odors and the starch will help the skin to fry to a perfect crispy texture.
Silver Pomfret in Three Flavors Tamarind Sauce Recipe:
Ingredients:
Two silver pomfrets, gutted and scaled and cleaned. (Can substitute with Bass, Perch Snapper or Thai Red Tilapia)
10 fresh large shrimps (optional)
Bran rice oil for deep frying (or any other vegetable oil)
For the sauce:
1/2 cup fish sauce
1/2 cup tamarind paste
1 cup palm sugar
3 shallots, chopped
Garnish
10-15 dried birds eye chilies, slightly fried
1 red chili pepper, cut into thin julienne
2 scallions cut into 1.5″ (4cm) pieces.
Preparations
To 1 1/2 cups of jasmine rice add water. Gently work the rice with your hands. Save the fragrant starch rich milky waters.
On a cutting board score the fish diagonally on both sides, this allows the heat to penetrate for uniform cooking.
Soak the fish in the fragrant rice waters for 10 minutes, this will remove the fishy odors and the starch will help the skin to fry to a perfect crispy texture.
After 10 minutes remove from the rice water and dry on kitchen paper towels.
Deep fry the fishes in rice bran oil (or vegetable oil) on medium heat until golden and skin is crispy.
Remove and place on kitchen paper towel to absorb excess oil
Add 1tbs oil to a wok on a low heat; fry the dry chills until shiny and deep red. Be careful not to burn the chilies!
Remove and place on kitchen paper towel to absorb excess oil
On a lightly oiled grill pan arrange the shrimps, grill couple of minutes each side, until slightly charred.
With a sharp knife halve the shrimps lengthwise making sure they are still connected at the tail.
Soak the tamarind pulp in warm water to soften. Mix to dissolve. Strain to remove fibers and seeds.
To a wok on a medium heat add 1 part tamarind paste, 1 part fish sauce and 2 parts palm sugar. Stir well until the sugar is dissolved. Add 2 tbs of roasted chili paste and keep stirring. Add chopped shallots. Bring the sauce to boil until it thickens.
On a serving plate arrange the fried fishes and the "butterfly cut" shrimps. Pour over the sauce. Garnish with fried dried chills and alternate of 1 inch long scallions red chili pepper julienne
Watch the video: