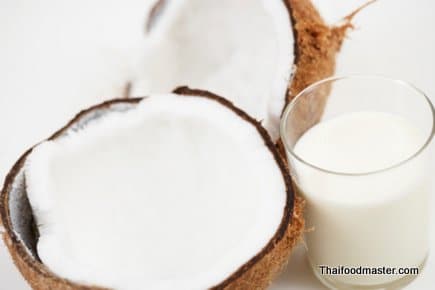 Coconut Cream (หัวกะทิ; huaa kathi) and Coconut Milk (หางกะทิ; hang kathi)
A good practice for the enthusiastic Thai food lover is to use freshly squeezed coconut cream when possible. The taste and depth of flavors will overcome any dish created with canned cream. Squeezing your own cream is very simple.
Select a coconut that feels heavy to its size. That is a sign the there more flesh inside and it would yield more cream.
Grate the coconut flesh and work it well with your hands with equal amount of lukewarm water, you can also run it in a blender. Strain and squeeze the cream through a tea cloth to extract all the liquids. Repeat twice.
The first squeeze will consist mostly of coconut cream. Let it stand for a while, the cream will separate and will float on top of the coconut milk.
Use immediately.