About this item
This page is also available in: Thai
49 Classic Thai Stir Fry Dishes:
49 kitchen tested recipes you can cook at home
(Thai traditional home cooking series)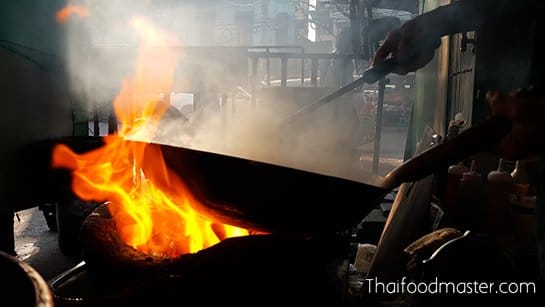 A Thaifoodmaster Ultimate Thai Cookbook Series
49 Classic Thai Stir Fry Dishes – Kitchen-Tested Recipes – Easy-To-Follow Delicious Recipes
Series: Thai traditional home cooking series (Book 1)
Format: PDF, 113 pages
Language: English
Other Editions
Paperback: $24.95
— Product Dimensions: 8.5 x 0.3 x 11 inches
— ISBN-10: 1521536627 (paperback edition)
— ISBN-13: 978-1521536629 (paperback edition)
Kindle Edition: $19.25
ASIN: B072V2KY7D (kindle edition)
Wok stir frying is a fast, exciting and energetic cooking technique that is absolutely perfect for preparing a tasty meal quickly. Stir frying is an ancient Chinese technique adapted by the Thai people to create an array of delicious favorites that can be enjoyed at home, in restaurants or in the context of speedy à la carte street food.
This Book is intended to teach you the basics of stir fry cooking: it will allow you to produce some of Thailand's most popular – and extremely tasty – stir fry dishes.
Wok cooking offers a unique flavor and distinctive qualities: the fast and furious heat – the short cooking time – allow meats and vegetables to cook quickly, preserving their shape, texture, color and nutritional benefits. The round shape of the wok, along with the heat source and its direction, influence the distribution of liquids in the cooking space, as well as the creation of steam and particle-rich vapors that give the food its exceptional taste.
With this Book you will learn to perfectly cook 49 classic Thai stir fry dishes:
Stir-fried minced pork with holy basil (ผัดกะเพราหมูสับ , phat gra phrao muu sap)
Stir-fried minced pork with turmeric and holy basil (ผัดกะเพราหมูสับใส่ขมิ้น, phat gra phrao muu sap sai kha min)
Stir-fried crab meat with holy basil (เนื้อปูผัดกะเพรา , neuua bpuu phat gra phrao)
Stir-fried crispy pork belly with holy basil (ผัดกะเพราหมูกรอบ , phat gra phrao muu graawp)
Stir-fried chicken livers with holy basil (ผัดกะเพราตับไก่ ,  phat gra phrao dtap gai)
Fried pork with garlic and pepper (หมูทอดกระเทียมพริกไทย , muu thaawt gra thiiam phrik thai)
Stir-fried chicken with ginger (ไก่ผัดขิง , gai phat khing)
Stir-fried chicken with cashew nuts (ไก่ผัดเม็ดมะม่วงหิมพานต์ , gai phat met ma muaang him ma phaan)
Stir-fried beef with oyster sauce (เนื้อน้ำมันหอย ,  neuua naam man haawy)
Stir-fried beef with fresh chilies and yellow onion (เนื้อผัดพริกสด ,  neuua phat phrik soht)
Sour-sweet stir-fried chicken (ไก่ผัดเปรี้ยวหวาน ,  gai phat bpriaao waan)
Stir-fried beef with black peppercorns (เนื้อผัดพริกไทยดำ , neuua phat phrik thai dam)
Stir-fried Chinese cabbage with pork (ผักกาดขาวผัดหมู , phak gaat khaao phat muu)
Stir-fried chicken livers with flowering chives (ดอกกุยช่ายผัดตับไก่ , daawk guy chaai phat dtap gai)
Stir-fried chicken livers, Chiang-Mai late night-style (ตับเหล็ก , dtap lek)
Fried chicken drumstick with dry chili glaze (น่องไก่เล็กทอดผัดพริกแห้ง , naawng gai lek thaawt phat phrik haaeng)
Stir-fried morning glory in red flame (ผักบุ้งไฟแดง phak boong fai daaeng)
Stir-fried morning glory with minced pork and fermented shrimp paste (ผักบุ้งผัดกะปิใส่หมูสับ , phak boong phat gabpi sai muu sap)
Stir-fried cabbage with fish sauce (กะหล่ำปลีทอดน้ำปลา , galam bplee thaawt naam bplaa)
Stir-fried Brussels sprouts with salted queenfish (ผัดแขนงปลาสละเค็ม, phat kha naaeng bplaa sala khem)
Stir-fried luffa gourds with eggs (บวบผัดไข่ , buaap phat khai)
Stir-fried pumpkin with shrimp and eggs (ฟักทองผัดไข่ใส่กุ้ง , fak thaawng phat khai sai goong)
Stir-fried Thai long eggplant with fermented soybean paste and Thai basil (มะเขือยาวผัดเต้าเจี้ยว , ma kheuua yaao phat dtao jiaao)
Stir-fried bean sprouts with firm tofu (ผัดถั่วงอกใส่เต้าหู้ , phat thuaa ngaawk sai dtao huu)
Stir-fried Chinese kale with oyster sauce (ผัดคะน้าน้ำมันหอย , phat kha naa naam man haawy)
Stir-fried mushrooms with oyster sauce (เห็ดผัดน้ำมันหอย , het phat naam man haawy)
Stir-fried mushrooms with garlic and salt (ผัดเค็มเห็ดกระเทียม , phat khem het gra thiiam)
Stir-fried black jelly fungus with pickled Chinese lettuce (เห็ดหูหนูผัดผักกาดดอง , het huu nuu phat phak gaat daawng)
Stir-fried yardlong beans with dry chilies and Sichuan pepper (ถั่วฝักยาวผัดเสฉวน , thuaa fak yaao phat saehchuaan)
Deep-fried shiitake mushroom stir-fried with soy sauce (เห็ดหอมทอดซีอิ๊ว , het haawm thaawt see-iu)
Stir-fried shrimp with banana chili (กุ้งผัดพริกหยวก , goong phat phrik yuaak)
Stir fried shrimps with garlic and jewels (กุ้งผัดกระเทียมทรงเครื่อง , goong phat gra thiiam sohng khreuuang)
Stir-fried crab meat with curry powder and eggs (เนื้อปูผัดผงกะหรี่ , neuua bpuu phat phohng garee)
Stir-fried squid with fermented shrimp paste (ปลาหมึกผัดกะปิ , bplaa meuk phat ga bpi)
Stir-fried squid with chili jam (ปลาหมึกผัดน้ำพริกเผา , bplaa meuk phat naam phrik phao)
Stir-fried squid with salted duck eggs (ปลาหมึกผัดไข่เค็ม , bplaa meuk phat khai khem)
Deep-fried barramundi stir-fried with Chinese celery and fermented soybean paste (ปลากะพงปลาผัดคื่นช่าย , bplaa gra phohng phat kheuun chaai)
Deep-fried Barramundi stir-fried with pickled elephant garlic and black pepper (ปลากะพงผัดพริกไทยดํากระเทียมโทนดอง , bplaa gra phohng phat phrik thai dam gra thiiam tho:hn daawng)
Stir-fried beef with bamboo shoots (เนือผัดหน่อไม้ , neuua phat naaw mai)
Stir-fried pork neck with lemongrass and black pepper (คอหมูผัดตะไคร้พริกไทยดำ , khaaw muu phat dta khrai phrik thai dam)
Stir-fried minced pork roasted curry, Southern Thai style (ผัดคั่วกลิ้งหมู , phat khuaa gling muu)
Stir-fried pork with red curry and coconut cream (หมูผัดเผ็ดกะทิสด , muu phat phet gathi soht)
Stir-fried pork with red curry and bamboo shoots (หมูผัดพริกแกงหน่อไม้ , muu phat phrik gaaeng naaw mai)
Stir-fry phrik khing curry with pork belly and yardlong beans (หมูสามชั้นผัดพริกขิง , muu saam chan phat phrik khing)
Stir-fried crab meat in spicy yellow chili paste (เนื้อปูผัดพริกเหลือง , neuua bpuu phat phrik leuuang)
Kee mao style stir fry with fluffy crispy catfish (ปลาดุกฟูผัดขี้เมา , bplaa dook fuu phat khee mao)
Crispy pork belly (หมูกรอบ , muu graawp)
Fluffy crispy fish (ปลาฟู , bplaa fuu)
Chili Jam (น้ำพริกเผา , naam phrik phao)