Here is a dish with a modest name that has been part of Thai culture for at least couple of hundred years. Traditionally Thai salads are divided into three main categories based on the dressing type. The most popular salads are those with with clear dressings made of lime juice, fish sauce, crushed chilies and a touch of sugar.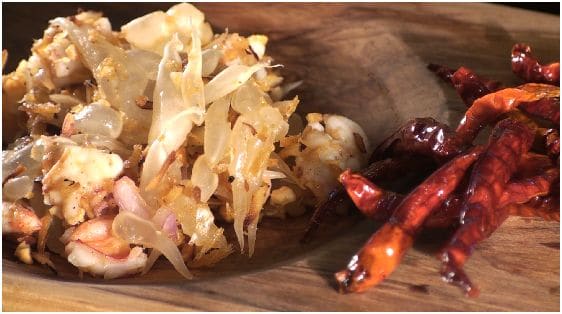 Fruit salads, like Pomelo and mango are made with what is referred to as "black dressing" (Yam Dam) made of palm sugar, fish sauce, tamarind juice, coconut cream and roasted chili paste.
In this beautiful and simple dish, The sweet-sour juice exploding Pomelo pulps are smoothing on the tangy, salty, sweet and hot creamy dressing and crunching with coat of fried garlic, dry-roasted peanuts, and grated coconut. If that's not enough the fried dried shrimp add a savory dimension to each bits of this playful dish. The salad is meant to be assembled at the last minute, so all of the flavors stay crisp and clean.
Pomelo Salad Recipe
Prepare The Ingredients:
Peel the pomelo, and remove all membrane from the pulp.
With your fingers break the pomelo pulps into small bite size pieces.
Fry dry bird's eye chilies until deep red and shiny in color
Crack and grate fresh coconut. Over low heat dry roast the coconut until golden and crispy
Cook bite-size shrimp pieces until just done.
Dry roast and crush unsalted peanuts
Fry and ground dry shrimp
Dice shallots and fry crushed garlic until crispy
Roasted chili paste and palm sugar
Fish sauce and tamarind juice.
Coconut cream
Prepare the dressing
In a mixing bowl add 2 parts of palm sugar
Add 1 part of fish sauce
Add 2 parts of tamarind juice
Add 1 part of roasted chili paste
Add 2 parts of coconut cream
Mix well until blended and smooth
Combine the dish
In a mixing bowl add the pomelo pulps
Add the cooked shrimp meat
Add diced shallots
Add seasoning sauce to well coat the ingredients
Mix well
Add the crispy ingredients
Add ground fried dry shrimp
Add Fried Garlic
Add grated and roasted coconut
Add roasted and crashed peanuts
Toss everything together