Botanic name: Solanum xanthocarpum Schrad. & Wendl.
In Thai, khuen means nasty, and this member of the eggplant family has beyond words a wrong flavor.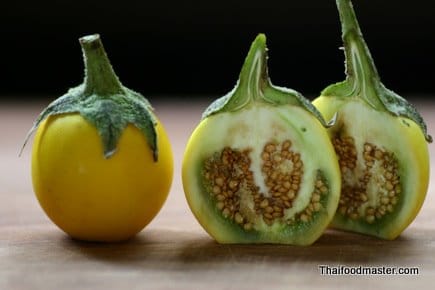 Thai people know how to bring the best out of their ingredients, even from those that in first glance seem helpless.  Luckily, it is awful only in its greenish interior. Remove the seeds, soak it in water for 20 minutes and a star is born.
Commonly used in curries, Issan style papaya salads and as an companion to chili relishes.  Bitter yellow eggplant is said to round up the sharp heat of chilies and even to cure stomach ulcers.