Goong Saawn Glin - A Thai Royal Appetizer of Flaky Acid-Cooked Shrimp, Peanuts and Pickled Garlic, with a Sour-Salty-Sweet Shrimp Tomalley Dressing. (กุ้งซ่อนกลิ่น)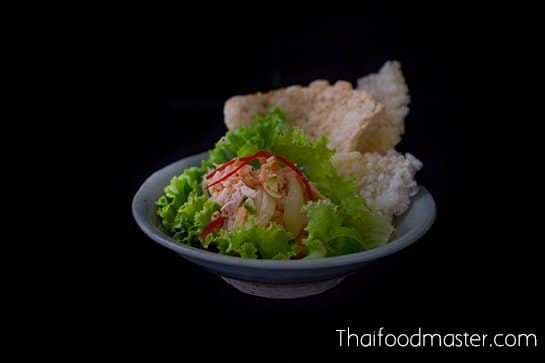 By:
Hanuman and Chef Thapakorn Lertviriyavit (Gorn)
1 cup shrimp meat
3 tablespoons shrimp tomalley
1/3 cup firm pork fat
1 1/2 tablespoons lime juice
2 teaspoons salt
1/2 teaspoon granulated sugar
2 tablespoons roasted peanuts
2 tablespoons cup bitter orange (ส้มซ่า), unpeeled and diced
1 tablespoon bitter orange juice (น้ำส้มซ่า)
2 tablespoons pickled garlic, peeled
1/2 tablespoon fresh long red chili pepper, cut into thin juliennes
iceberg lettuce
young thaawng laang leaves (Erythrina orientalis, ใบทองหลางอ่อน)
Thai deep-fried crispy rice cakes (ข้าวตังทอด) or deep-fried crackers (ข้าวเกรียบ)
Using a sharp knife, thinly slice the roasted peanuts; set aside.
Dice unpeeled bitter orange; set aside.
Thinly slice peeled pickled garlic; set aside.
Julienne fresh red long chili peppers; set aside.
Deep-fry Thai crispy rice cakes; set aside.
Peel the shrimp, and cut them into small pieces.
Save the shrimp tomalley; set aside.
Squeeze lime onto the shrimp meat, and add a pinch of salt.
Using your hands, knead the shrimp meat vigorously until it is well cooked, and liquids begin oozing out the meat.
Squeeze the meat dry.
Using your hands, crumble the lime juice-cooked shrimp meat into thin flakes.
Season the remaining shrimp liquids with sugar.
Add salt.
Place the liquids in a pot over low heat, and reduce until the mixture thickens slightly.
Add the shrimp tomalley, and cook until the mixture achieves a thick consistency. Taste, and season with lime juice, bitter orange juice, sugar and salt to sour-salty and sweet; set aside.
Cut the firm pork fat into thin strips.
Knead the pork fat with lime juice and a pinch of salt.
Blanch the fat in boiling water until it is fully cooked; set aside.
In a mixing bowl, combine the shrimp meat, pork fat and shrimp tomalley dressing.
Add the peanuts.
Add the diced bitter orange.
Add the sliced pickled garlic.
Add the julienned red long chili peppers, and toss-mix all the ingredients.
Wrap the mixture in an iceberg lettuce leaf.
Serve with Thai deep-fried crispy rice cakes.
Recipe by
Thaifoodmaster
at https://thaifoodmaster.com/thai_food_recipes/thai_appetizers_recipes/40772