Thae Phoh Thai Red Curry with Pork Neck and Water Spinach (แกงหมูเทโพใส่ผักบุ้ง)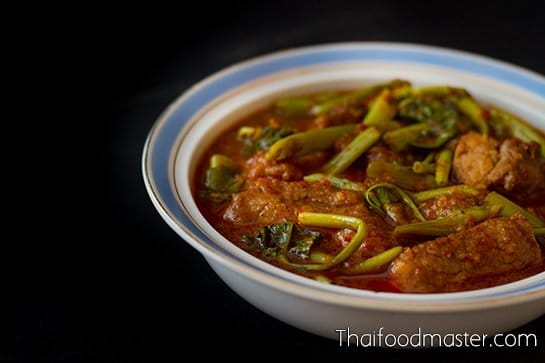 By:
Hanuman and Chef Thapakorn Lertviriyavit (Gorn)
500 gr pork neck meat
8 cups water spinach (ผักบุ้ง), cut into 10cm (4") pieces
3 tablespoons pork lard
3 tablespoons fish sauce
1/2 tablespoon palm sugar
4 tablespoons tamarind paste
2 tablespoons kaffir lime leaves
2 teaspoons kaffir lime juice
3 cups water
10 long dry red chilies (approximately 1/2 cups)
1/2 teaspoon salt
3 tablespoons smoked-dry fish coarse powder
3 tablespoons lemongrass, thinly sliced
1 tablespoon galangal, thinly sliced
1/3 cup shallots, finely chopped
2 tablespoons deep-fried Thai garlic
1/2 tablespoon white peppercorns
1/2 tablespoon fermented shrimp paste (kapi)
Char-roast the smoked dried fish until it is fragrant; then, using your hand, crumble it, discarding the fish bones and the abdomen. (Parasites often reside in the abdomens of freshwater fish). In a pestle and mortar, pound the fish meat into a coarse powder.
In a pot, melt pork lard over medium-low heat. Fry thinly sliced garlic until it is golden. Strain and reserve both the fried garlic and oil. Set aside.
The complete set of ingredients used to prepare the curry paste: lightly char-roasted dry bird's eye chilies, finely chopped lemongrass, pounded smoked dried fish meat, deep-fried garlic, peeled shallots, sliced galangal, high-quality fermented shrimp paste, and white peppercorns.
Slice the pork neck into large bite-size pieces.
Wash the water spinach with plenty of water, and cut into 10cm (4") pieces.
The complete set of ingredients ready to cook the curry; the pork cubes, curry paste and water spinach.
In a pot, melt pork lard over medium-low heat. (You can use all or some of the oil used to fry the garlic).
Add the pork meat and fry the pork meat until it is seared on all sides.
Add the curry paste.
Continue frying the meat until the curry paste is fragrant, and the pork is almost fully cooked.
Season with fish sauce.
Add water to cover the pork, and bring to a boil.
Season with palm sugar.
Season with tamarind paste.
Cook until the pork is tender.
Add hand-torn kaffir lime leaves.
Add a squeeze of kaffir lime.
Add the water spinach.
Cook until the water spinach is soft.
Serve.
Recipe by
Thaifoodmaster
at https://thaifoodmaster.com/thai_food_recipes/thai_curry_recipes/40489