Clear Soup of Bitter Gourd Stuffed with Pork and Glass Noodles
ต้มจืดมะระยัดไส้หมูสับ ; dtohm jeuut mara yat sai muu sap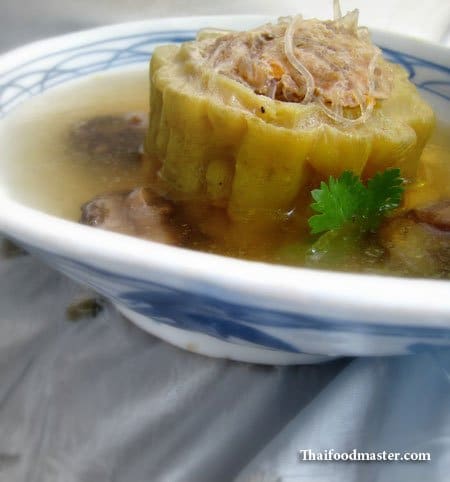 1 large bitter gourd
1 1/2 cups salt
5-6 cups stock
4-6 dry shiitake mushrooms
3 tablespoons light soy sauce
150 gr minced pork
2 coriander roots
2 garlic cloves
1 teaspoon white peppercorns
Pinch of salt
Pinch of sugar
1 tablespoon light soy sauce
1 tablespoon oyster sauce
50 gr dry glass noodles, soaked in water and cut to 2.5cm (1″) length
2 tablespoons carrots, finely shredded
Coriander leaves
Ground white pepper
Cut the bitter gourd into 5cm (2″) length pieces.
With a spoon, remove the seeds and sprinkle them generously with salt. Leave for about 20 minutes, allowing the salt to draw out some of the bitterness.
Wash, and set aside.
In a pestle and mortar, pound the garlic, coriander roots, white pepper, sugar and salt into a fine paste.
Mix the pork and the coriander-garlic paste, along with the softened rice vermicelli and the carrots; season with light soy sauce and oyster sauce. Mix well.
Stuff the bitter gourd pieces with pork filling. When the gourds are stuffed, tap them with your hands on both sides to secure the filling.
Bring the stock to boil, add the dry shiitake mushrooms, and place the stuffed bitter gourds in the pot.
Cook until the bitter gourds are soft.
Season with light soy sauce.
Serve in individual bowls; garnish with the coriander leaves and sprinkle white pepper to finish.
Recipe by
Thaifoodmaster
at https://thaifoodmaster.com/thai_food_recipes/thai_soup_recipes/402