Northern Style Hang Lay Curry <br>(gaaeng hang laeh muu ; แกงฮังเลหมู)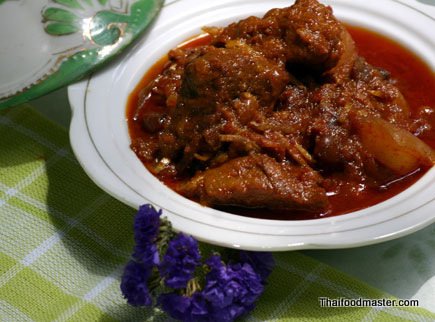 500 gr pork, shoulder or collar, cut into 3cm (1.5″) cubes
500 gr pork belly (sliced bacon), cut into 3cm (1.5″) cubes
1/2 cup fresh pineapple, roughly chopped
1 tablespoon thick dark soy sauce
25 small shallots, peeled and cut into halves
3 cups ginger, peeled and cut into julienne
4 whole pickled garlic
1 cup pickled garlic brine
1/2 cup freshly roasted peanuts
1 teaspoon hang lay masala spice mix or curry powder
3 tablespoon tamarind paste
4 tablespoon fish sauce
3 tablespoon palm sugar
2 cups water
2 tablespoon neutral flavor oil for frying
8-10 long dried chilies
1/2 teaspoon salt
3 stalks medium size lemongrass (about 5 tablespoon) , finely chopped
1 tablespoon galangal, finely chopped
2/3 cup shallots, finely chopped
1/2 cup garlic cloves, finely chopped
1 tablespoon fresh turmeric, finely chopped
1 tablespoon gabpi (fermented shrimp paste)
1 teaspoon hang lay masala spice mix or curry powder
Clean, peel, chop and prepare all the ingredients for the curry paste.
Soak the chilies in water until soft.
In a mortar and pestle, start pounding the chilies with salt as an abrasive.
Add lemongrass and pound it finely.
Add galangal and pound it finely.
Add shallots, garlic and fresh turmeric, and pound everything to a fine paste.
Add hang lay masala spice mix.
Add gabpi and mix well. Set aside.
In a mixing bowl mix the two kinds of pork cuts cubes with the pineapple and all the amount of curry paste.
Add thick dark soy sauce and mix well.
Let the pork mixture to marinate for at least 1 hour.
Heat oil in a pan.
Fry the pork mixture on low heat until the fat renders out.
Add shallots and ginger and mix well.
Add pickled garlic and its brine.
Add roasted peanuts.
Add hang lay masala spice mix.
Mix everything well together
Season with tamarind paste, fish sauce and palm sugar.
Add water to cover.
Simmer on low heat for about 1 hour until pork is soft and sauce is thick.
Serve.
Recipe by
Thaifoodmaster
at https://thaifoodmaster.com/origin/northern_thai/1185