Thai Appetizer - Fat Horse (maa uaan) Recipe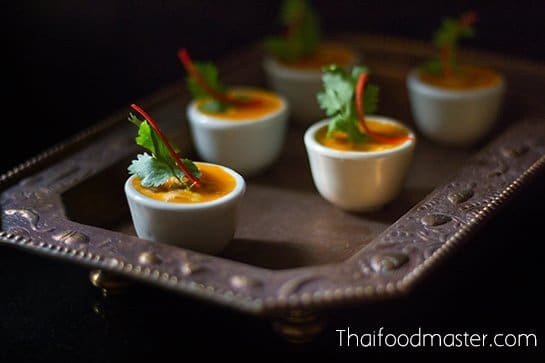 By:
Hanuman and Chef Thapakorn Lertviriyavit (Gorn)
3/4 cup pork meat, minced
1/2 cup shrimp meat, minced
2 tablespoons shrimp tomalley
4 tablespoons pork fat, uncooked
2 tablespoons coriander roots
1 1/2 tablespoons garlic
2 teaspoons white peppercorns
1 1/2 teaspoon salt
1 duck egg
2 duck eggs yolks
2 tablespoons coconut cream
coriander leaves and fresh long red chili pepper for decoration
In a pestle and mortar, pound together coriander roots, garlic, white peppercorns and salt. Set aside.
Boil thin slices of pork fat until cooked. Strain, and cool to room temperature.
Slice the pork fat into small cubes. Set aside.
Place in a mixing bowl the minced shrimp meat, minced pork meat, the pork fat cubes, duck eggs and the garlic-coriander-white pepper paste.
Mix well.
Add coconut cream.
Knead the mixture thoroughly, throwing the mixture into the bowl a few times to help condense the texture of the meats.
Place small ceramic cups (thuay dta lai, ถ้วยตะไล) on a steaming tray.
Spoon the meat filling into each cup, leaving a 0.5 cm gap from the rim.
Steam the cups for about 5 minutes.
Mix the shrimp tomalley with the duck egg yolks.
Drizzle the yolks, filling each cup completely.
Steam for additional 2 minutes.
Decorate with coriander leaves and julienned fresh red chili pepper. Serve.
Recipe by
Thaifoodmaster
at https://thaifoodmaster.com/thai_food_recipes/thai_appetizers_recipes/10284