Ancient Siamese Recipe for Tom Yum Soup with Snakehead Fish, Roasted Chili Jam and Green Mango (First Published in 1890)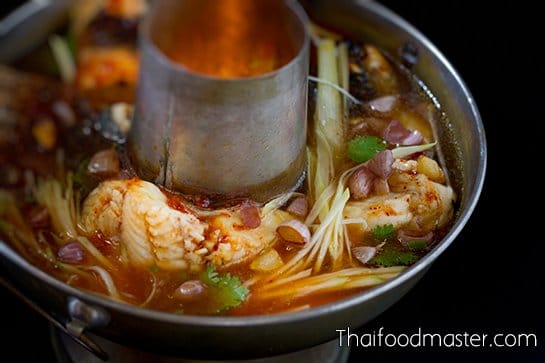 By:
Hanuman and Chef Thapakorn Lertviriyavit (Gorn)
500 gr snakehead fish
2 stalks lemongrass
1/2 cup uncooked jasmine rice
7 cups water
1 teaspoon salt
2 1/2 tablespoons ancient chili jam
1/3 cups green mango, shredded
2 tablespoons pickled garlic brine
2 tablespoons fried garlic
3 tablespoons coriander leaves
1 1/2 tablespoons fish sauce
5 large dried red chilies
4 shallots
3 tablespoons thai garlic
1 teaspoon fermented shrimp page
2 coriander roots
1 tablespoon fish sauce
2 tablespoons lime juice
2 teaspoons palm sugar
Char-grill the dry chilies, fermented shrimp paste, unpeeled shallots and garlic. Peel the shallots, and clean the coriander roots.
Pound all the ingredients, with salt, into a consistent paste.
Season with fish sauce, lime juice and palm sugar. Set aside.
Bruise the lemongrass with a pestle and mortar.
Fry unpeeled Thai garlic (whole cloves cut into halves) in hot oil until golden.
Clean the fish, and remove the back bones.
Cut the fish into three large segments. Split the head into two lengths, and clean thoroughly to eliminate all the slime. Set aside.
Place a cooking pot with water over medium high heat, and add salt, the bruised lemongrass and uncooked rice. Bring water to a strong boil.
Add the fish to the boiling water, and cook until the fish is well cooked. Turn off the heat.
Dissolve the roasted chili paste in the broth, and add shredded green mangos.
Season with pickled garlic brine.
Squeeze lime juice.
Season with fish sauce and add coriander leaves, the fried garlic and some of the oil to the tom yum soup.
Serve.
Recipe by
Thaifoodmaster
at https://thaifoodmaster.com/origin/traditional/10192