Thaifoodmaster's rich collection of free online-articles, research papers, reports, and news on virtually every aspect of Thai food preparation, history and the wisdom of Thai culinary arts.
Thai Cuisine – Articles
Posts with Thai Culinary, Historical and Cultural References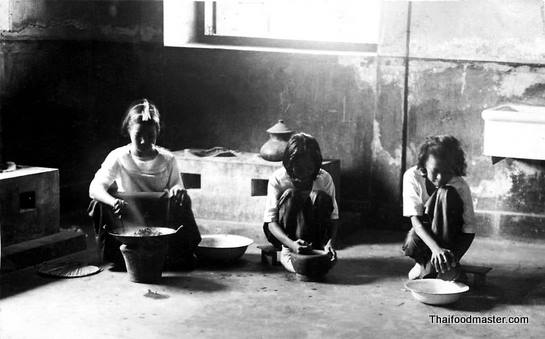 Thae Phoh Thai Red Curry with Pork Neck and Water Spinach (แกงหมูเทโพใส่ผักบุ้ง ; Gaaeng Muu Thaeh Phoh Sai Phak Boong)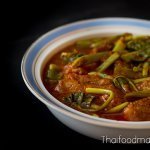 แกงหมูเทโพใส่ผักบุ้ง – Thae phoh curry is a spicy and salty Thai red curry with sour-sweet flavor shades. Thae phoh falls into the category of the gaaeng khuaa (แกงคั่ว) style of Thai red curries, as it contains no dry spices except white peppercorns. Instead, smoked dried fish meat is added to the red curry paste to ...
Thai Green Curry with Roasted Duck and Young Chilies (แกงเขียวหวานเป็ดย่าง ; gaaeng khiaao waan bpet yang)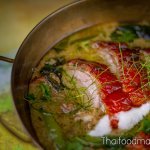 Green curry, with its mellow, creamy green color and rich coconut base, has both fresh and mature flavors. Like new growth on plants, it brings brightness, youthfulness, spring and rebirth to the meltdown of flavors created in the curry paste. The green curry paste uses mainly the same standard ingredients as Thai spicy-red curry paste: lemongrass, ...
Thai Relish of Fermented Fish, Grilled Catfish, Pork and Shrimp (ปลาร้าผัดทรงเครื่องสูตรสายเยาวภา ; bplaa raa phat sohng khreuuang, suut saai yao wa phaa)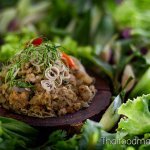 Fish fermentation consists of a simple salt-curing process: mixing or coating a whole fish, sliced fish or minced fish meat with salt and rice husks (or ground roasted rice). The mixture is then allowed to rest and ferment for few months. This fermentation process creates deep, intense umami flavor agents accompanied by a strong stench. ...
White Turmeric
(khamin khaao ; ขมิ้นขาว)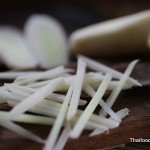 White turmeric is the underground stem (rhizome) of the tropical plant Curcuma zedoaria in the ginger family. About 80 species of Curcuma have been identified, including the better-known culinary member of the family, the turmeric, with its deep yellow pigment. Quite rare in the west, white turmeric is used in Thai, Indonesian and Indian cuisines. It ...
Yam Sohm Choon Mango Salad with Sweet Pork Condiment, Fermented Shrimp Paste, Shallots, and Crispy Deep-Fried Fluffy Fish (ยำส้มฉุน ; yam sohm choon)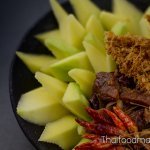 Yam sohm choon is a sour green mango salad served with grilled fermented shrimp paste; roughly chopped shallots; sweet pork condiment, deep-fried fluffy grilled catfish and seasoned with fish sauce, palm sugar and lime juice and topped with deep-fried dry chilies cut into small pieces. If you follow Thai movies and TV dramas, you probably remember ...